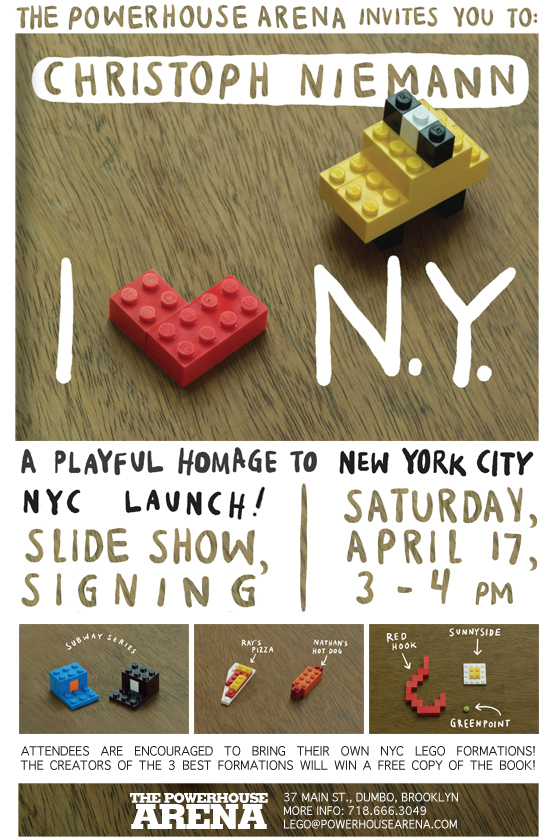 The powerHouse Arena is pleased to invite you to the NYC book launch party for:
I LEGO® N.Y.

by Christoph Niemann
Saturday, April 17, 3–4

PM


powerHouse Arena · 37 Main Street (corner of Water & Main St.) · DUMBO, Brooklyn
For more information, please call 718.666.3049
RSVP: lego@powerHouseArena.com

What would New York City look like if it were made out of LEGO® pieces? In I LEGO® N.Y. author and award-winning illustrator Christoph Niemann takes us on an imaginative journey through the five boroughs, stopping to sight-see and grab a bite to eat along the way. This will be Niemann's only I LEGO® N.Y. event in New York!
Call for attendee participation!
Attendees are encouraged to bring their own NYC LEGO® formations! The creators of the 3 best NYC themed LEGO® formations will win a FREE copy of the book!
About the book:
Niemann's inspiration to create a series of miniature New York vignettes came from his sons' toys during a few cold and dark winter days in Berlin. The ex-pat New Yorker then posted photographs of his creations along with his handwritten captions on his celebrated New York Times blog. Resident and honorary New Yorkers around the world responded enthusiastically to the clever and minimalist inventions, which captured both the iconic (the Empire State Building) and the mundane (man standing on a subway platform) in fewer pieces then one might think possible.
I LEGO® N.Y. includes all of the original images, plus 13 new creations. The resulting collection is delightful in its simplicity and moving in its ability to capture the spirit of life in New York in so few strokes.
About the author:
Christoph Niemann is an award-winning illustrator and children's book author. He is a regular contributor to The New Yorker, Wired, and The New York Times. He has won numerous awards from the American Institute of Graphic Arts, the Art Directors Club, and American Illustration. He is the author of two children's books, The Pet Dragon and The Police Cloud.