The powerHouse Arena is pleased to invite you to the re-release launch party for:
The Faith of Graffiti

By Norman Mailer and Jon Naar
Thursday, January 21, 7–9

PM


powerHouse Arena · 37 Main Street (corner of Water & Main St.) · DUMBO, Brooklyn
RSVP: rsvp@powerhousearena.com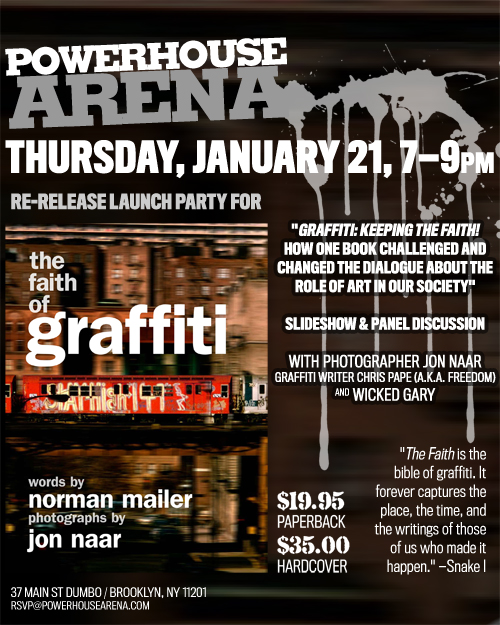 This classic, definitive look at the birth of graffiti pairs Norman Mailer's fascinating 1974 essay with the internationally acclaimed Jon Naar's stunning photography. At this event, Jon Naar will present a slideshow of his photographs followed by a panel discussion on the topic of "Graffiti: Keeping the Faith! How one book challenged and changed the dialogue about the role of art in our society," with photographer Jon Naar, graffiti writer Chris Pape (a.k.a. Freedom) and Wicked Gary. Refreshments will be provided compliments of Bear Flag.
About The Faith of Graffiti:
During the late 1970's in New York City, a new culture had emerged. Men and women of all ages were scrawling their aliases on train cars and the rest of their urban landscape with spray cans and paint pens. Some saw it as vandalism and to others it was art. Widely touted as the definitive book on graffiti as an art form, in The Faith of Graffiti, Norman Mailer identifies the emerging culture—its various styles, its creators, its place as art in an urban environment—in a remarkably insightful and amazingly accurate portrait. Paired with the photos of world-renowned photographer Jon Naar, The Faith of Graffiti brings this era of street art to life. When Mailer wrote his essay in 1974, it articulated the core issues and questions that street artists still grapple with 35 years later.
Graffiti terminology, from graffiti.org
[to] bite: to copy or rip off another's style.
[to] bomb: to cover in graffiti, most often to cover with tags.
[to] buff: to clean off graffiti, using chemicals or by painting over.
[to] cap: to cross out or deface another writer's work (a.k.a. to "line out" or to "cross out").
[to] rack: to steal, usually paint.
the line: the train line.
the yard: a place where trains are housed over night or when not in use.
layup: see, yard.
About Norman Mailer
Norman Mailer (1923-2007) was one of the most important American voices of the twentieth century—a journalist, essayist, novelist, poet, playwright, screenwriter, film director, and public intellectual. The author of more than 40 books including The Naked and the Dead, The Executioner's Song, and Armies of the Night, he was twice awarded the Pulitzer Prize, received the National Book Award, and was a member of the American Academy of Arts and Letters.
About Jon Naar:
Jon Naar is an internationally acclaimed documentary and fine art photographer and the author of 12 books, including The Birth of Graffiti and the best-selling Design for a Limited Planet. His photography has been exhibited at the Metropolitan Museum of Art; The Museum of Modern Art, New York; the Centre Pompidou, Paris; and many other museums and art galleries worldwide. He lives in New Jersey.