Festival Neue Literatur and the powerHouse Arena are pleased to invite you to a panel discussion:
The Future of the Novel
With Novelists Rivka Galchen, Andrea Grill, Peter Weber, Andrea Winkler, and Moderator Paul North


Saturday, February 12, 6–8

PM



The powerHouse Arena · 37 Main Street (corner of Water & Main St.) · DUMBO, Brooklyn
For more information, please call 718.666.3049
rsvp: rsvp@powerHouseArena.com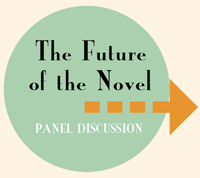 Stop by the powerHouse Arena Saturday, February 12 for what is sure to be a riveting literary discussion. Three novelists from Austria and Switzerland join American novelist Rivka Galchen (Atmospheric Disturbances, 2009) to discuss the continuing potentials of the novel, from the perspective of our contemporary techno-mediacracy.
About the discussion:

Andrea Grill (The Beautiful and the Necessary, 2010), Peter Weber (The Years without Melody, 2007), and Andrea Winkler (Hannah and I, 2008) are prizewinning authors writing in German who, each in their own way, have determined new possibilities for the structure, form, and effects of novel writing. In an epoch when the genre seems imperiled by a thousand threats, Grill discovers a new aesthetic for transnational capitalism in a coffee fermented in the digestive system of a civet cat. Weber hears a new music for prose in the boom of industrial music in Germany in the 1980s. Winkler reopens the wounds made to narrative by writers like Ingeborg Bachmann and Samuel Beckett. These things—a capitalist aesthetic, prose's new musical potentials, and the end of narrative (again)—and more will be discussed.
About the speakers: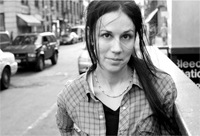 Rivka Galchen is the author of the novel Atmospheric Disturbances, winner of the William J. Saroyan International Prize for Fiction. Her stories and essays have appeared in publications including Harper's, The Believer, The New Yorker, and The New York Times, and she was recently named to The New Yorker's list of "20 Writers Under 40."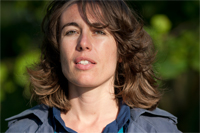 Andrea Grill was born in Bad Ischl in 1975 and studied in Salzburg before earning her doctorate at the University of Amsterdam with a dissertation on "The Evolution of Butterflies Common to Sardinia." Her essays, stories, and poetry have appeared in newspapers and journals. She has published three novels: Zweischritt (2007), Tränenlachen (2008), and Das Schöne und das Notwendige, all with Otto Müller Verlag, Salzburg. Grill also translates from Albanian into German. She has lived in Tirana, Cagliari (Sardinia), Neuchatel und Bologna, and today resides in Vienna.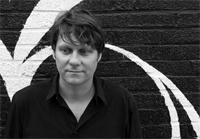 Peter Weber was an accomplished athlete while in school, but, following an accident when he was 19, he began to write. His first novel, Der Wettermacher, was published in 1993. This was followed by Silber und Salbader (1999), Bahnhofsprosa (2002), and Die melodielosen Jahre (2007), all from Suhrkamp Verlag. Die melodielosen Jahre was awarded the Solothurner Literature Prize. From 2004–2005, he was the official writer of the city of Bergen. He currently lives in Istanbul.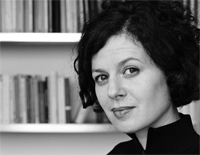 Andrea Winkler was born in Freistadt in 1972, and studied German Literature and Theater. She has received a number of literary awards, among them the Abraham Woursell Award and the Förderungspreis der Republik Österreich. Her publications include: Schatten(spiele), Poetologische Denkwege zu Friederike Mayröcker (Kovac, 2004), Arme Närrchen. Selbstgespräche (Droschl, 2006), Hanna und ich (Droschl, 2008) and Drei, vier Töne, nicht mehr. Elf Rufe (Zsolnay, 2010). Andrea Winkler has lived as a writer in Vienna since 2006.

Paul North is Assistant Professor of German at Yale University. His recent book, entitled The Problem of Distraction (Stanford, 2011), critiques the history of Western thought for its emphasis on mind, through an obscure counter-point: not thinking. He has published articles and reviews on Johann Nestroy, Franz Kafka, and Hannah Arendt, among others, and is currently co-editing a volume on messianic thought in critical theory. Presently he is writing a book-length study of Kafka's theological-philosophical treatise, known as the Zürau Aphorisms.
---