The powerHouse Arena invites you to the book launch party for:
Thrive Foods:
200 Plant-Based Recipes for Peak Health
Wednesday, September 14, 7–9 PM
Vegan goodies provided by Candle 79.
The powerHouse Arena · 37 Main Street (corner of Water & Main St.) · DUMBO, Brooklyn
For more information, please call 718.666.3049
rsvp@powerHouseArena.com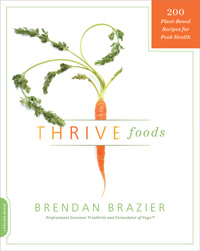 "Brendan's book clearly shows that choosing to eat plants is not only the best thing you can do for your own health, but also for the health of the planet. Thrive Foods keeps me healthy and performing at my best, even throughout the longest of tours."
—Moby
Vegan triathlete Brendan Brazier presents his new nutrition guide, which features recipes from chefs at award-winning restaurants. Vegan goodies provided by Candle 79.
About Thrive Foods:
In his brand new book, Thrive Foods, Brendan Brazier—bestselling author, professional Ironman triathlete, and formulator of Vega (an award-winning line of whole-food nutritional products)—introduces the "Nutrient-to-Resource Ratio," which he believes, when applied, will cause sickness and disease to greatly decline, while, at the same time, significantly reducing our environmental impact.
Included are 200 plant-based whole food, nutrient-dense, alkaline-forming recipes that are in line with Brazier's high net gain nutritional philosophy, first introduced in his acclaimed bestseller, The Thrive Diet. Contributions from Brazier's favorite chefs—including celebrity chef Tal Ronnen, and Iron Chef competitor Amanda Cohen— round out this unique collection of health-boosting recipes.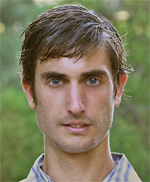 About the author:
Brendan Brazier a professional Ironman triathlete, bestselling author on performance nutrition, and the creator of an award-winning line of whole food nutritional products called VEGA. He is also a two-time Canadian 50km Ultra Marathon Champion.
---