The powerHouse Arena invites you to the book launch party for:
Haiku for the Single Girl
Thursday, October 27, 7–9
PM
Drinks and Cheetos will be served

The powerHouse Arena · 37 Main Street (corner of Water & Main St.) · DUMBO, Brooklyn
For more information, please call 718.666.3049
rsvp: rsvp@powerHouseArena.com

Beth Griffenhagen celebrates the life of a single girl in this brilliantly incisive and wittily illustrated collection. She's throwing a huge party for the launch, which will feature:
Murray's Cheese
Cheetos
Beer provided by Brooklyn Brewery
Party photos by howaboutwe.com
Limited edition HFTSG tees from artist Cacho Falcon
Guest readings of Beth's haikus, followed by a HaiQ & A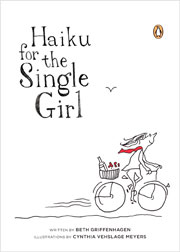 About Haiku for the Single Girl:
Haiku for the Single Girl by Beth Griffenhagen with illustrations by Cynthia Vehslage Meyers is a celebration of the single girl's life, and everything that comes with it. Unsolicited relationship advice from relatives, disastrous dates, men who wear thumb rings, and the moments of deep satisfaction when a single girl realizes that she can do whatever she wants with her time—they're all here in Haiku for the Single Girl.
Haiku for the Single Girl is essentially a collection of anecdotes, and most any one of the haikus could be unpacked to reveal a larger (and likely hilarious) story. The idea for the project originated when New Yorker Beth Griffenhagen was out for a "single girl's night" with a good friend (note: they did not/do not call it "single girl's night"). On the way to the train, she stopped at a bodega and picked up a bag of Cheetos. Devouring half the bag before she go to the station, Beth realized that her hands were coated in orange powder, and she had nothing with her to clean them off. She remembers this moment as "so comically pathetic," but at the same time realized she was incredibly happy. She says, "I just had a blast spending time with a good friend, and didn't need to be anywhere, I was living in the greatest city in the world, I was snacking on Cheetos with gusto—life was good! And, in a cocktail haze, I found the phrase 'Cheeto dust' to be unbearably beautiful just then. So I dusted off my hands on my purse and thought: I walk home alone/ Bag covered in Cheeto dust/ Should this depress me? Hot damn—I just wrote a haiku! And then I wrote a bunch more, was introduced to Cynthia, and the rest is history!"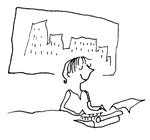 About the author:
Beth's a single girl
Living in New York City
This is her first book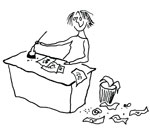 About the illustrator:
Cynthia Meyers
Lives and draws in Ridgefield, Conn.
She was once single
---