The powerHouse Arena invites you to
the book launch for

The Where, the Why, and the How:
75 Artists Illustrate Wondrous Mysteries of Science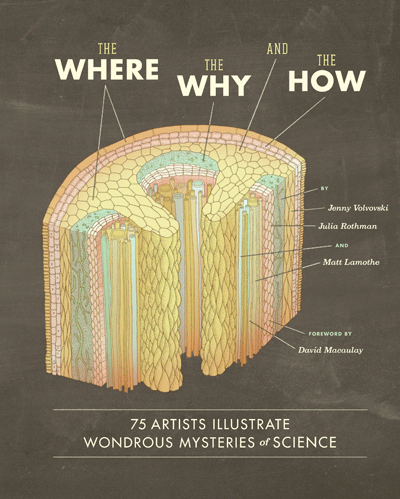 Thursday, October 11, 7–9

PM


Drinks will be served
The powerHouse Arena · 37 Main Street (corner of Water & Main St.) · DUMBO, Brooklyn
For more information, please call 718.666.3049
RSVP appreciated: RSVP@powerHouseArena.com
Scientists explain the mysteries of the natural world and artists illustrate them! Contributors to this volume—both artists and scientists—will discuss the collaborative process behind this fusion of art and science.
About The Where, the Why, and the How:
A science book like no other, The Where, The Why, and The How turns loose 75 of today's hottest artists onto life's vast questions, from how we got here to where we are going. Inside these pages some of the biggest (and smallest) mysteries of the natural world are explained in essays by real working scientists, which are then illustrated by artists given free rein to be as literal or as imaginative as they like. The result is a celebration of the wonder that inspires every new discovery.
Lisa Congdon illustrates "Why Do Whales Sing?" with a fanciful drawing of a very musical mammal. Josh Cochran created an intricate and mind-bending labyrinth of staircases to accompany a piece on "What Existed Before the Big Bang?" "Do Trees Talk to Each Other?" is illustrated with Lilli Carré's whimsical depiction of a forest buzzing with secret arboreal messages. Jenny Volvovski imagines a galactic nursery in her drawing to accompany "How Are Stars Born?" And an essay on "How Flexible Is the Human Brain?" is paired with beautifully surreal art by Matt Leines.
Other featured artists include Jon Klassen, Ole Tillmann, Susie Ghahremani, Jacob Magraw, Jen Corace, Camilla Engman, Gemma Correll, Neil Farber, Michael Dumontier, Jon Han, Jeremyville, Caitlin Keegan, and many others.
About the Participants:
Artists:
Jennifer Daniel is the Graphics Director at Bloomberg BusinessWeek. Acclaimed for her conceptual, clever, and content-driven approach to illustration and writing her work has also been published in the New York Times, Good Magazine, Wired, The Walrus, among others. She teaches Visual Narratives at SVA and has been a guest critic at Pratt Institute, Maryland Institute College of Art, and Portland University. Jason Kottke calls her "hilariously mysterious" and her work has been recognized by many fancy awards. She is currently working on her first children's book scheduled to publish in 2014 by Templar Publishing.
Josh Cochran grew up in Taiwan and the United States. He graduated with honors from Art Center College of Design and started working as an illustrator immediately after school. His work is commmissioned by a diverse group of clients in editorial, advertising, publishing, broadcast and the web. Josh also teaches at the School of Visual Arts and occasionally fills in art directing for the New York Times Op-Ed page. He enjoys working on a variety of side projects and exhibits his silkscreens and drawings in galleries. Josh lives in Brooklyn with his small dog Porkchop.
Matt Leines is a Brooklyn based artist. Leines' finely detailed paintings and drawings are an amalgam of memories, filtered influences from the long and varied histories of art and culture, and life's obsessions. The emphatically meticulous lines speak to a primitive, yet undeniably modern aesthetic. His work has been showcased in exhibitions and collections across the globe and his first monograph, You Are Forgiven, was published by Free News Projects in 2008.
Scientists:
Meehan Crist is Resident Writer in Biological Sciences at Columbia University and her work has appeared or is forthcoming in publications such as The Los Angeles Times, Lapham's Quarterly, The Believer, The New Republic, N+1BR, Ecotone, Bookforum, Scientific American, and Science. Previously, she was reviews editor at The Believer. She has taught creating writing at Colgate University and Columbia University, where she earned an MFA in nonfiction and is a founding member of Neuwrite, a collaborative working group for scientists and writers. Honors include the Olive B. O'Connor Fellowship as well as fellowships from MacDowell, The Blue Mountain Center, Ucross, and Yaddo. She is currently at work on a nonfiction book about traumatic brain injury.
Dr. Jessica Rothman is an Assistant Professor in the Department of Anthropology at Hunter College of the City University of New York, and an Honorary Lecturer at Makerere University in Uganda. In addition, she serves on the Research Advisory Committee of the Uganda Wildlife Authority. Dr. Rothman is broadly interested in primate ecology. The major focus of her research is how primates meet their nutritional needs through interactions with their environment, and she is specifically interested in how sociality, movement and disease intersect with nutritional ecology. Her field work, focused on mountain gorillas and forest monkeys, and is conducted in the forests of Uganda, where she has been working for the past 15 years. She also leads the Primate Nutritional Ecology Laboratory at Hunter College, where primate diets from around the globe are analyzed. Dr. Rothman's program is actively embedded in conservation and training through strong linkages with the Uganda Wildlife Authority and Makerere University.
Tim Requarth is an NIH National Research Service Award Fellow and doctoral candidate in neuroscience at Columbia University. His writing has appeared or is forthcoming in The New Republic, Scientific American, Science, The Millions, and Current Opinion in Neurobiology. He co-directs NeuWrite, a New York-based collaborative writing group of scientists and writers.
---