LIT Magazine & The powerHouse Arena host the Issue 18 Launch Party


LIT Magazine Summer Issue
Join LIT Magazine at The powerHouse Arena for an evening of literary refreshment, complete with a fine selection of readings from the LIT: Issue 18 contributors, and peruse the shelves of one of New York's finest art & photography publishers and retailers
Wednesday, July 28, 6:30–8:30

PM


powerHouse Arena · 37 Main Street (corner of Water & Main St.) · DUMBO, Brooklyn
For more information, please call 718.666.3049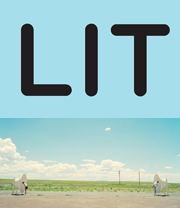 Cover art by:
Kevin Trageser
Kevin Trageser is a photographer—born in Mississippi and raised in New Jersey–who has lived in Colorado, London, and Los Angeles. His work has appeared in The New Yorker (alongside Don Delillo's short story, "Still-Life">), i-D, Dazed & Confused, Theme, Tokion, Spin, Blender, and LIT Magazine. His photos have been exhibited at Design Commission in Seattle, 255 Gallery in New York, and Colette in Paris. His collaboration on Home and Away, an art photography book recording the 2006 World Cup in Germany, has been published by powerHouse Books. He lives and works in New York City. www.kevintrageser.com
Readings by:
Eduardo Jiménez Mayo reading on behalf of Rafael Pérez Gay
Traci O'Connor
and Mike Young

Rafael Pérez Gay, born in 1957 in Mexico City, is an author, editor, publisher, critic, and journalist. His works include the novels Me perderé contigo (You'll Be the End of Me) published in 1988, Esta vez para siempre (This Time It's Forever) published in 1990, a collection of short stories Llamadas nocturnas (Late-Night Calls) published in 1993, and an anthology of selected texts by Manuel Gutiérrez Nájera, the founder of Mexican modernism, in 1996. In 1997 and 2001, respectively, selections of Rafael Pérez Gay's extensive journalistic production were presented in book form under the titles, Cargos de conciencia (A Guilty Conscience) and Diatriba de la vida cotidiana (Diatribe on Everyday Life). Paraísos duros de roer (Heaven is Hard to Swallow) appeared in 2006, along with another tome of fiction entitled, Sonido local (The Local Sound). In 2009, Planeta Publishing Corporation released his latest novel, Nos acompañan los muertos (The Dead Keep Us Company). He lives with his wife—writer Delia Juárez—in Mexico City.
Eduardo Jiménez Mayo, born in 1976 in Boston, is a translator, a professor, and a student of world literature and law. He studied Hispanic literature at Harvard University and at the Universidad San Pablo-CEU in Madrid, Spain. He has taught world literature at The University of Texas at San Antonio. In 2005, his scholarly study of the philosophical writings of the Spanish poet Antonio Machado was published in Madrid. And his translation of the award-winning fiction of Mexican author, Bruno Estañol, in Mexico: A Traveler's Literary Companion was published in 2006 by Whereabouts Press. Presently, he is pursuing a law degree at Cornell Law School.
Traci O Connor's book of fiction, Recipes for Endangered Species, was released in 2009 by Tarpaulin Sky Press. She has published in many journals, most recently Mid-American Review, Sidebrow, and Gargoyle. She lives in Greensboro, North Carolina with her spouse—the writer, Jackson Connor—their four children, one labradoodle, and a "cat."
Mike Young is the author of the poetry collection We Are All Good if They Try Hard Enough (PGP, 2010) and the story collection Look! Look! Feathers (Word Riot Press, 2010). He co-edits NOO Journal and Magic Helicopter Press. Visit him in Northampton, Massachusetts and online at mikeayoung.blogspot.com.

http://litmagazine.org
http://litmagazine.wordpress.com