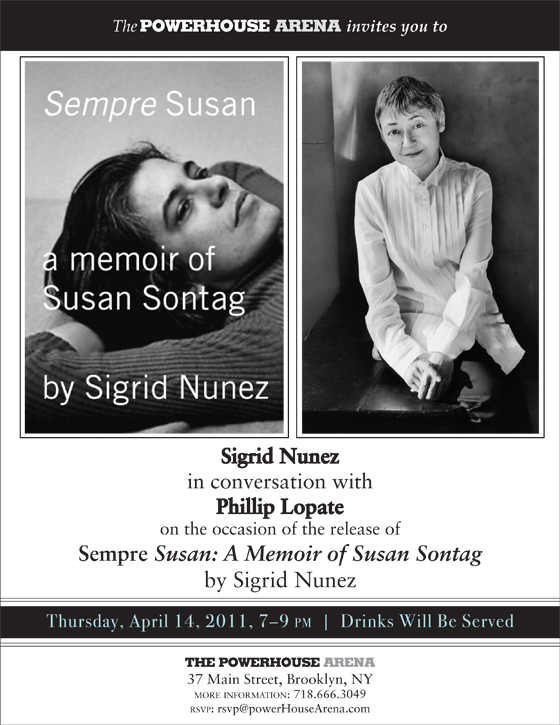 The powerHouse Arena invites you to a reading and discussion featuring:





Sigrid Nunez



in conversation with



Phillip Lopate



on the occasion of the release of
Sempre Susan: A Memoir of Susan Sontag by Sigrid Nunez

Thursday, April 14, 7–9

PM




Drinks will be served



The powerHouse Arena · 37 Main Street (corner of Water & Main St.) · DUMBO, Brooklyn
For more information, please call 718.666.3049
rsvp: rsvp@powerHouseArena.com

"This detailed, nuanced account of the more private side of a complex, contradictory public figure is told with even-handed good humor and more than a little compassion. Utterly absorbing."
— Lydia Davis, author of Varieties of Disturbance: Stories

In Sempre Susan, Sigrid Nunez describes her time at the Sontag household in this homage to one of the most fiercely admired and controversial intellectuals of our time. Phillip Lopate reads from his own Notes on Sontag (2009), and joins her for a discussion moderated by James Atlas.



About Sempre Susan:

In 1976, Susan Sontag was forty-three years old and already a major American writer and thinker. Recovering from recent cancer surgery, she hired Sigrid Nunez, who had just finished graduate school, to type her correspondence. She introduced Nunez to her son, the writer David Rieff, who was still in school at the time and living with his mother on Manhattan's Upper West Side. Nunez and Rieff began dating, and soon 340 Riverside Drive became Nunez's home as well.

Nunez describes vividly the excitement of being swept up into the world of "340," a world dominated by the magnetic and culturally voracious Sontag, famous for her desire to share her many enthusiasms. She was a passionate fan of opera, ballet, theatre, films. Her friends—Russian poet Joseph Brodsky, critic Elizabeth Hardwick, editor Robert Silvers, publisher Roger Straus—were among the most interesting people in New York. In this concise and candid memoir, Nunez reveals many aspects of the private Sontag—including the humorous side of this woman so often criticized for being humorless. Nunez also offers an unflinching exploration of the troubles that arose from trying to sustain a relationship with Rieff in the shadow of his daunting, possessive, and emotionally needy mother.

Sempre Susan is a work of profound literary acumen and psychological insight. Inescapably painful at times, it is also a deeply felt work of homage. Honest yet passionately empathic, it portrays one of America's most esteemed cultural figures during a time when her life was both at a peak of success and unusually turbulent. In this memoir, Sigrid Nunez has produced a masterly character portrait reminiscent of James Lord on Giacometti and Shirley Hazzard on Graham Greene. Sempre Susan is infectious, edgy, and fearlessly honest. No one who reads it will ever think of Susan Sontag in quite the same way again.

About the participants: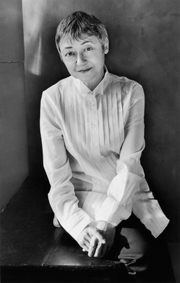 Sigrid Nunez is the author of six critically acclaimed novels, including A Feather on the Breath of God, The Last of Her Kind, and, most recently, Salvation City. Among the many journals to which she has contributed are The New York Times, Harper's, McSweeney's, The Believer, Tin House, and O: the Oprah Magazine. Her honors and awards include three Pushcart Prizes, a Whiting Writer's Award, a Berlin Prize Fellowship, and two awards from the American Academy of Arts and Letters: the Richard and Hinda Rosenthal Foundation Award and the Rome Prize in Literature. She lives in New York City. Visit her at www.sigridnunez.com.

Phillip Lopate is the author of Notes on Sontag, Against Joie de Vivre, Bachelorhood, The Rug Merchant, Being with Children, Confessions of Summer, and many other works of poetry, memoir, and fiction. A recipient of Guggenheim and National Endowment for the Arts fellowships, his works have appeared in Best American Essays, The Paris Review, Pushcart Prize annuals, and many other publications. He lives in Brooklyn, New York, and is the Adams Chair in the Humanities at Hofstra University.
---