The powerHouse Arena invites you to a special canine event:

BRING YOUR DOG TO:
inspired by:
Thursday, August 25, 7–9 PM
Pabst Blue Ribbon will be served
The powerHouse Arena · 37 Main Street (corner of Water & Main St.) · DUMBO, Brooklyn
For more information, please call 718.666.3049
rsvp@powerHouseArena.com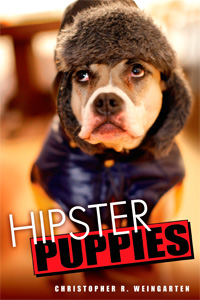 Your dog has been dragging you toward the L train on walks. Your dog has been reading your Slavoj Zizek. Your dog forced you to get the new Real Estate album on vinyl. It seems like you have a Hipster Puppy on your hands, so why not show him/her off at the Hipster Puppies Pageant, thrown in honor of Christopher R. Weingarten's tumblr-to-book sensation Hipster Puppies. There will be free PBR, a book signing, and, of course, prizes for the best-dressed pups.
About Hipster Puppies:
From the site hipsterpuppies.tumblr.com comes never-before-seen photos of these pupsters at play, as well as some of the blog's most popular shots. With their oversized egos—and sunglasses—they run the gamut from music festival fauxhemians to ironic trucker-hat-wearing vegans. And they're guaranteed to melt readers' jaded hearts.
About the Pups:
The Hipster Puppies tumblr was started as a joke on a lazy Saturday afternoon. Annoyed and confounded by the amount of hipster-related tumblrs making the internet rounds, Weingarten started "Hipster Puppies" as a self-aware parody. The use of adorable puppies, however, was no joke as Weingarten grew up in a household full of tiny dogs, his mother a devoted enthusiast of chihuahuas, poodles, and pekes. Weingarten's encyclopedic knowledge of hipster-related matters is a natural outcropping of spending the last eight years living in Brooklyn, attending parties and concerts in the Williamsburg loft scene, and drumming in the occasional noise-punk band. To write the book, he literally walked up and down famed Williamsburg hipster enclave Bedford Ave for inspiration; although he admits many of the captions are directly inspired by the things his friends say—or often things he catches himself saying.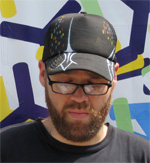 About the Author:
Christoper R. Weingarten is a professional freelance music writer living in Brooklyn, whose work can currently be seen in The Village Voice, RollingStone.com, Spin, Revolver, Nylon, and much more. His first book, a study of Public Enemy's It Takes A Nation Of Millions To Hold Us Back, is out now via Continuum. He reviewed 1000 of 2009's new records over Twitter on his account, @1000TimesYes.
---