The powerHouse Arena invites you to:
The Journals of Spalding Gray
Wednesday, October 26, 7–9

PM



The powerHouse Arena · 37 Main Street (corner of Water & Main St.) · DUMBO, Brooklyn
For more information, please call 718.666.3049
rsvp: rsvp@powerHouseArena.com

"The publication of The Journals of Spalding Gray is a significant event in American arts and letters. If Walt Whitman was our great chronicler of American life toward the end of the 19th century, Gray was his ironic, darkly funny counterpart. ... This is not only a great book, it's an important book."

—Michael Cunningham, Pulitzer Prize-winning author of The Hours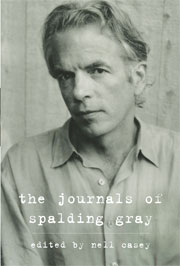 Nell Casey shares her experience editing the five thousand plus pages of journals from the late actor/writer who invented the autobiographical monologue.
About The Journals of Spalding Gray:
All told, Spalding Gray left behind more than five thousand pages of his private writing beginning when he was 25 and ending just before his death at age 62. What emerges from these pages is an incredibly intimate portrait of an evolving artist, conflicted celebrity, eloquent writer, and a man struggling for years with depression before finally succumbing to its most desperate impulse. From his reflections on his childhood; his craving for success; the downtown New York arts scene of the 1970s; his love affairs, marriages, and fatherhood; his passion for the theater, where he worked to balance his compulsion to tell all with his fears of having his deepest secrets exposed, The Journals of Spalding Gray reveals the extraordinary inner life of a creative genius who we thought had told us everything about himself—until now.
As editor Nell Casey says of first encountering the journals, "I'd thought Gray had already told the story of his life through his monologues. But as I read, it quickly became clear that the monologues offered only a hint of what was truly going on in his life. It wasn't possible for Gray to chronicle or confess all the crucial aspects of his life publicly, but privately he did so. The material—which came to include the diaries as well as audiotapes of Gray's therapy sessions, letters, drawings, photographs, and notes he'd written to himself on scraps of paper—vividly and movingly captured a life in full."
About the authors:
Spalding Gray was born and raised in Rhode Island. A cofounder of the acclaimed New York City theater company The Wooster Group, he appeared on Broadway and in numerous films, including Roland Joffé's The Killing Fields, David Byrne's True Stories, Garry Marshall's Beaches, and as the subject of the 2010 Steven Soderbergh documentary And Everything Is Going Fine. His monologues include Sex and Death to the Age 14, Swimming to Cambodia, Monster in a Box, Gray's Anatomy, and It's a Slippery Slope. He died in 2004.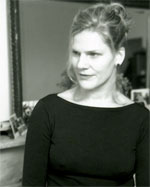 Nell Casey is the editor of the national best seller Unholy Ghost: Writers on Depression and An Uncertain Inheritance: Writers on Caring for Family, which won a Books for a Better Life Award. Her articles and essays have been published in The New York Times, The Washington Post, Slate, Elle, and Glamour, among other publications. Her fiction has been published in One Story. She is a founding member of Stories at the Moth, a nonprofit storytelling foundation. She lives in Brooklyn with her husband and two children.
---