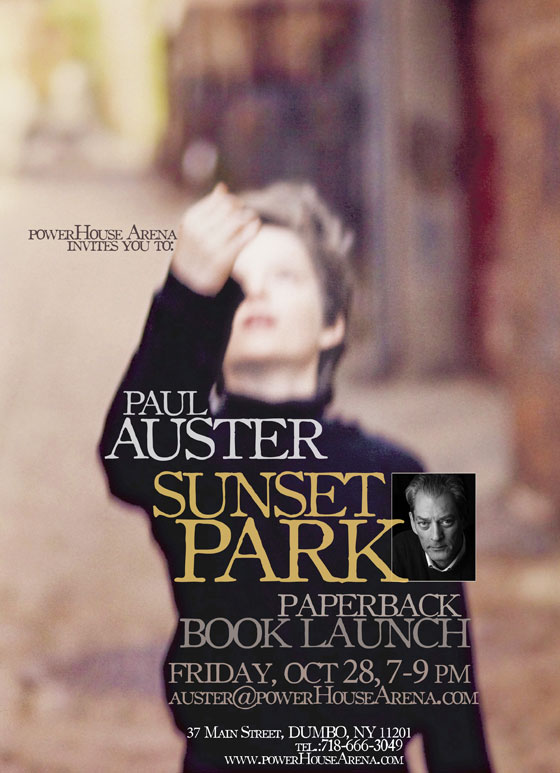 The powerHouse Arena invites you to the paperback launch party for:
Sunset Park
Friday, October 28, 7–9
PM
Drinks will be served

The powerHouse Arena · 37 Main Street (corner of Water & Main St.) · DUMBO, Brooklyn
For more information, please call 718.666.3049
rsvp: auster@powerHouseArena.com

"While we still teeter on the brink of recession in an uncertain economic recovery—with millions still out of work and losing their homes—this novel is probably one of the most important literary touchstones of our era. And it's a true pleasure to read."

—Library Journal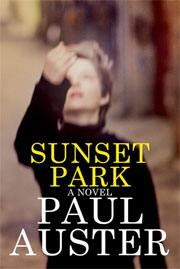 The prolific New York author returns to The powerHouse Arena for the paperback release of Sunset Park.
About Sunset Park:
Luminous, passionate, expansive, an emotional tour de force: Sunset Park follows the hopes and fears of a cast of unforgettable characters brought together by the mysterious Miles Heller during the dark months of the 2008 economic collapse.
An enigmatic young man employed as a trash-out worker in southern Florida obsessively photographing thousands of abandoned objects left behind by the evicted families
A group of young people squatting in an apartment in Sunset Park, Brooklyn
The Hospital for Broken Things, which specializes in repairing the artifacts of a vanished world
William Wyler's classic 1946 film The Best Years of Our Lives
A celebrated actress preparing to return to Broadway
An independent publisher desperately trying to save his business and his marriage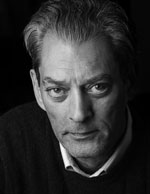 These are just some of the elements Auster magically weaves together in this immensely moving novel about contemporary America and its ghosts. Sunset Park is a surprising departure that confirms Paul Auster as one of our greatest living writers.

About the author:

Paul Auster is the bestselling, award-winning author of 16 novels, including Sunset Park, Invisible, Man in the Dark, Travels in the Scriptorium, The Brooklyn Follies, and Oracle Night. His work has been translated into more than 40 languages. He lives in Brooklyn.
---