The powerHouse Arena invites you to the book launch party for:
Marcel the Shell With Shoes On:
Things About Me
Friday, November 4, 6:30–8:30pm

The powerHouse Arena · 37 Main Street (corner of Water & Main St.) · DUMBO, Brooklyn
For more information, please call 718.666.3049
rsvp: rsvp@powerHouseArena.com

"The sky is the limit for this winning, winsome, wee mollusk."
—Kirkus Reviews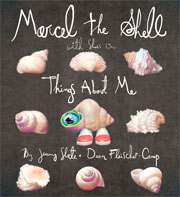 The adorable one-eyed shell responsible for stealing the hearts of over 11.5 million YouTube viewers returns in picture book form. Jenny Slate and Dean Fleischer-Camp will be reading, singing, and signing copies of the book in this exclusive New York bookstore event.
About Marcel the Shell With Shoes On: Things About Me:
Based on their award-winning 2010 short film Marcel the Shell, which became an internet sensation with over 11.5 million YouTube views, this "cleverly illustrated" (Kirkus) new adventure in Marcel's wonderfully peculiar world will transition "the winning, winsome, wee mollusk" (Kirkus) from a "ridiculously cute" (PAPER Magazine) web star to a classic picture book character.
An enhanced e-book featuring a read-aloud with Jenny Slate as Marcel the Shell will be released simultaneously alongside the first edition print run of 100,000 copies.
Marcel's simple and beautiful message for his readers will resonate with children and adults alike: we are who we are, and that is a wonderful thing. Marcel is partially a shell, but he also has shoes and a face, and lots of other great qualities as well. Marcel is proud of his odd, miniature life (he hang-glides on a Dorito and wears a lentil as a hat), and even though Marcel is a talking shell with only one eye, he reminds us to be proud of ourselves and appreciate what makes each of us unique.
About the authors:
Jenny Slate is the voice of Marcel the Shell in the popular short film directed by Dean Fleischer-Camp. A comedienne and former Saturday Night Live cast member, Slate currently co-stars on HBO's Bored to Death, and will lend her voice to the major motion picture Alvin and the Chipmunks: Shipwrecked, due out in December 2011. A writer, director, and animator, Dean Fleischer Camp is also the producer and director of the Marcel the Shell short film. His work has screened at film festivals around the world. Slate and Fleischer-Camp live in Brooklyn with their dog, Reggie, and Marcel and his dog Alan.
---