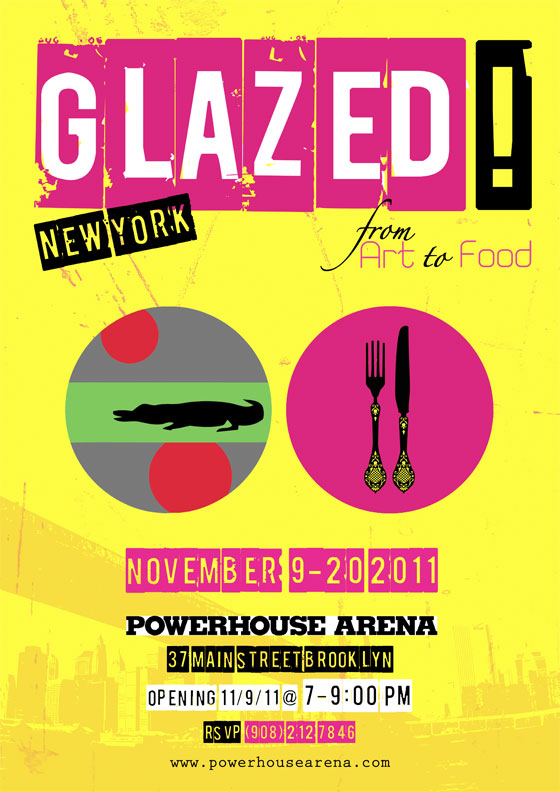 The powerHouse Arena invites you to an exhibition opening:
"GLAZED!": A... "SHINY" EXHIBITION
From Art to Food, a new approach to present the quintessence of Made in Italy
Wednesday, November 9, 7–9

PM



The powerHouse Arena · 37 Main Street (corner of Water & Main St.) · DUMBO, Brooklyn
For more information, please call 718.666.3049
rsvp: rsvp@powerHouseArena.com

An unusual exhibit of outstanding Italian artwork and culinary products is soon to arrive in New York. Glazed! is a celebration of the art of glass and the art of food, and the surprising connections between them. Produced by the Alberto Maria Gonzaga agency (Mantua, Italy), the event is free and open to the public. It will be held from November 9–20, 2011 at the powerHouse Arena.
The unique exhibit, the first of its kind, will feature glass artwork from Erica Story and Murano glass from Venice, along with gourmet delicacies from Italy.
The title, Glazed!, alludes both to glass as an art form and to the glistening surfaces of food, establishing a fascinating link between art and gastronomy—between container and content—that brings forward an explosion of emotions, light, flavors, colors, and transparencies. The exhibit is expressly designed to stimulate the sight, the intellect, and the palate, and to tell stories that create a deep connection to Italy's enchanted places and their beauty and harmony.
Experience the art of tasting food while the eye takes in evocative forms and colors: from the gleaming forms of Murano glass to the taste of glazed hazelnuts, from the exquisite and rare olive oils to the intriguing art of Erica Story, that confronts environmental risks with her plexiglass pop art.
Also participating will be master glassmakers Massimiliano Schiavon and Pino Signoretto, Donatella d'Alessandro of the Piedmontese winery Azienda Agricola, representatives of the Sigillo Informatico, and the wines of Cascina Fontanette.
For additional information, visit www.glazedproject.com.
---