The powerHouse Arena invites you to a discussion and signing:
An Evening with Mr. Fish
Friday, November 11, 6:30–8:30 pm

The powerHouse Arena · 37 Main Street (corner of Water & Main St.) · DUMBO, Brooklyn
For more information, please call 718.666.3049
rsvp: rsvp@powerHouseArena.com

Political cartoonist Mr. Fish, whose cartoons appear regularly in Harper's and Truthdig, discusses his debut volume of cartoons, Go Fish: How to Win Contempt and Influence People.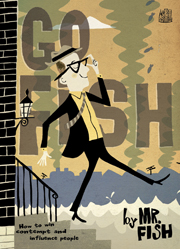 About Go Fish:
This debut volume of political cartoons from the revered Mr. Fish spans politics, popular culture, the economic crisis, the Obama presidency, and much more, where nobody—right, left, nor middle—is safe from his razor-edged satire. The volume also includes original essays from Mr. Fish.
About the author:
Mr. Fish has been a freelance writer and cartoonist for 18 years, publishing under both his real name (Dwayne Booth) and the penname of Mr. Fish with many of the nation's most reputable and prestigious magazines, journals, and newspapers. In addition to his weekly cartoon for Harper's and daily contributions to Truthdig.com, he has also contributed to the Los Angeles Times, the Village Voice, the LA Weekly, the Atlantic, Huffington Post, Vanity Fair, Mother Jones, the Advocate, Z Magazine, the Utne Reader, Slate.com, MSNBC.com, and others. He has also worked for National Public Radio. In May 2008 he was presented with a first place award by the Los Angeles Press Club for editorial cartooning. In May 2010 he was awarded the prestigious Sigma Delta Chi Award for Editorial Cartooning from the Society of Professional Journalists. He lives in Philadelphia with his wife and twin daughters.
---