The powerHouse Arena and Vol. 1 Brooklyn invite you to the book launch party for:
The Marbled Swarm
featuring the author in conversation with Brandon Stosuy
Drinks will be served
Tuesday, November 15, 7–9 pm

The powerHouse Arena · 37 Main Street (corner of Water & Main St.) · DUMBO, Brooklyn
For more information, please call 718.666.3049
rsvp: rsvp@powerHouseArena.com

We're absolutely thrilled to be joining forces with our friends at Vol. 1 Brooklyn for the launch of Dennis Cooper's The Marbled Swarm. Cooper will discuss the book with Pitchfork editor Brandon Stosuy.
About The Marbled Swarm:
A modern-day Naked Lunch-cum-"Dexter," The Marbled Swarm is Dennis Cooper's most ambitious and complex novel yet. At its heart, this is a novel about a son and a father, and a private language only the two of them know. In a French setting (the first non-U.S. setting for Cooper), various unfortunate memories are revealed as the son narrates the story of his childhood and his relationship with his late father, and begins to make his own way in the world.
But that's not even half the story. As the son writes, "everything you've read thus far was more mischievous than you imagined." The Marbled Swarm giddily relates the son's efforts to become his own man—he buys real estate, makes adult friends, navigates the world of Manga, and pushes new boundaries in the world of haute cuisine. Of course, in the world of Dennis Cooper, those seemingly innocent pursuits are anything but. As much a comment on Cooper's own button-pushing career as it is a comment on the impossible-to-shock sensibilities of modern society, this novel is a mystery involving unsolved deaths, secret passages, old money, and riddles. Gorgeous, elegiac, and strange, it's a novel only Dennis Cooper could have created.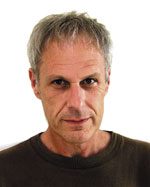 About the author:
Dennis Cooper is the author of the George Miles Cycle, an interconnected sequence of five novels: Closer, Frisk, Try, Guide, and Period. His other works include My Loose Thread; The Sluts, winner of France's Prix Sade and the Lambda Literary Award; God, Jr.; Wrong; The Dream Police; Ugly Man; and, Smothered in Hugs. His plays "Jerk" and "Them" are performed all over Europe and the United States. He divides his time between Los Angeles and Paris.
About Brandon Stosuy:
Brandon Stosuy is editor of Pitchfork, a contributing editor for The Believer and a music curator at the Museum of Modern Art. Stosuy's anthology of downtown New York literature, Up Is Up, But So Is Down, was selected by the Village Voice as one of their 25 favorite books of 2006. He collaborated with the German artist Kai Althoff on Mirror Me, an exhibition in three parts that included the work of Althoff and Stosuy along with Adam Helms, Matteah Baim, Peter Sotos, Philip Best, Scott Campbell, and the band Liturgy. (A zine documenting the exhibition was published by Primary Information in the Fall of 2010.) He recently completed a collaborative zine with artist Matthew Barney called Tubal Cain. He's currently writing a feature-length black metal road movie with Sasha Grey titled I Am The Destroyer.
---