The powerHouse Arena and BOMB Magazine invite you to :
The MONDO Memphis Book Tour
with special guest Kenneth Goldsmith
Wednesday, November 16, 6:30–8:30 pm

The powerHouse Arena · 37 Main Street (corner of Water & Main St.) · DUMBO, Brooklyn
For more information, please call 718.666.3049
rsvp: rsvp@powerHouseArena.com

"These books put the 'psycho' back in 'psychogeography,' and history seldom gets this personal."
–Luc Sante, author of Low Life (1991), Evidence (1992), and The Factory of Facts (1998)
We join forces with our friends at BOMB Magazine to present the New York stop on this nation-wide book tour. Performer Tav Falco and art/music critic Erik Morse, creators of the two-volume collaboration Mondo Memphis, talk to poet Kenneth Goldsmith on the topics of "Fantasy, Urbanity and Topography," in which they discuss "writing" the space of the city/suburb (both in its Northern and Sun Belt incarnations) as a source of imagination, sensuality, horror and architectonics. Tav Falco's Ghosts Behind the Sun will be available for purchase.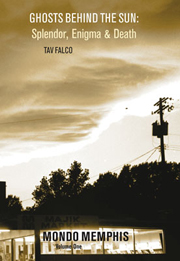 About MONDO Memphis:
MONDO Memphis is a dual, 450-page encyclopedic history and psychogeography of the city of Memphis, written by legendary performer Tav Falco and cultural critic Erik Morse. MONDO Memphis is both an original history of the gothic South, and an intertext of the urban legends, rural fables and literary clichés that have made the Bluff City simultaneously a metropolis of dreams and a necropolis of terrors. MONDO Memphis is a major work on American history and culture.

PART ONE: GHOSTS BEHIND THE SUN by TAV FALCO
Tav Falco's sprawling study of Memphis begins with the Civil War massacre at Fort Pillow, the Yellow Fever epidemic of 1878 and the grisly murders of the Harp Brothers. Falco traces these legends of Reconstruction-era Memphis to an equally brutal twentieth century underworld—Beale Street kingpin Jim Canaan, Edward Crump's political machine, the Dixie Mafia, and others. Also included are revelatory dialogues concerning the city's many music legends, from rockabilly icons Elvis Presley, Jerry Lee Lewis, and Charlie Feathers to more underground figures such as Jim Dickinson and country blues wailer Jessie Mae Hemphill. Interwoven with these accounts is an autobiographical history of Falco's own time in Memphis, including his involvement with performance art ensemble Insect Trust, working with pop/rock maverick Alex Chilton, and the formation of his seminal rock and roll band, Panther Burns. With over 80 illuminating photographs, mostly previously unseen originals by Falco, and many printed in duotone or color. 300 pages, illustrated throughout.

PART TWO: BLUFF CITY UNDERGROUND by ERIK MORSE
Erik Morse's vertiginous noir novella follows West Coast graduate student Everly Loennrot as he lands at the city's luxurious Peabody Hotel for a mysterious research assignment. Guided by the invisible hand of Dr. Red McGill, professor of Southern history, Loennrot wanders through a postmodern Memphis of plasticine landmarks and leopard-skin tourist traps. There he encounters a troop of eccentric characters—an Elvis conspiracist, a rock-musician-cum-alchemist, and a rockabilly femme fatale who might be a prostitute, hired gun, or ghost. When a midnight rendezvous at a highway motel turns deadly, Everly enters a vortex of double crosses, double meanings, and murder, all of which point to a centuries' old secret society known only as the Memphi. Struggling to decipher the rebus slowly enveloping him, Everly is faced with a terrifying question—is the Memphi a blood-thirsty criminal syndicate, or simply an elaborate hoax? 160 pages, with chapter illustrations.
Check out the MONDO Memphis book trailer at http://vimeo.com/27840324
About the authors:
Tav Falco is an American-born musician/performer, film-maker, and photographer. He has led the psychedelic rock and roll group Tav Falco's Panther Burns since 1979. Their first LP, Behind The Magnolia Curtain (1980), featuring Alex Chilton, is now regarded as a classic. Panther Burns still tour the world and release records regularly. Memphis has long been Falco's adopted hometown and spiritual sanctuary, although he now resides in Vienna.
Erik Morse is a renowned American underground author, rock writer, and journalist. He is a contributing writer for Frieze, The Believer, Bookforum, MOJO and the Boston Review, and the author of Dreamweapon—Spacemen 3 and the Birth of Spiritualized (2004). Morse has also contributed to recent works from Semiotext(e) Press, including Animal Shelter, vol. 1 (2008), Pierre Guyotat's Coma (2010) and Peter Sloterdijk's Neither Death Nor the Sun (2011). He lives between Brooklyn, the bucolic suburbs of Texas, and his dream city, Los Angeles.
About Kenneth Goldsmith:
Kenneth Goldsmith (born 1961) is an American poet. He is the founding editor of UbuWeb, teaches Poetics and Poetic Practice at the University of Pennsylvania, and is Senior Editor of PennSound. He hosted a weekly radio show at WFMU from 1995 until June 2010. He has published ten books of poetry, notably Fidget (2000), Soliloquy (2001), and Day (2003), and Goldsmith's American trilogy, The Weather (2005), Traffic, (2007) and Sports, (2008). He is the author of a book of essays, Uncreative Writing: Managing Language in a Digital Age (2011). As editor he published I'll be Your Mirror: The Selected Andy Warhol Interviews (2004), and is the co-editor of Against Expression: An Anthology of Conceptual Writing (2011). He resides in New York City with his wife, artist Cheryl Donegan, and his two sons.
---