The powerHouse Arena invites you to the book launch party for:
Love Goes to Buildings on Fire:
Five Years in New York That Changed Music Forever
featuring the author in conversation with Nitsuh Abebe
Thursday, November 17, 7–9 pm

The powerHouse Arena · 37 Main Street (corner of Water & Main St.) · DUMBO, Brooklyn
For more information, please call 718.666.3049
rsvp: rsvp@powerHouseArena.com

"Practically every paragraph about music here is also about something else just as fascinating–race, city planning, ambition, drugs, hair-dos. Braiding intricate research with his own teenage memories, Hermes has a bird's eye view of a great city, and has his ear to the ground."
–Sarah Vowell
Music critic Will Hermes delves into New York's mid-1970's music scene in this comprehensive look that spans genres and boroughs. Nitsuh Abebe of New York Magazine joins him for a discussion.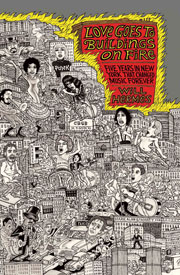 About Love Goes to Buildings on Fire:
Punk rock and hip-hop. Disco and salsa. The loft jazz scene and the downtown composers known as Minimalists. In the mid-1970s, New York City was a laboratory where all the major styles of modern music were reinvented—all at once, from one block to the next, by musicians who knew, admired, and borrowed from one another. Crime was everywhere, the government was broke, and the city's infrastructure was collapsing. But rent was cheap, and the possibilities for musical exploration were limitless.

Love Goes to Buildings on Fire is the first book to tell the full story of the era's music scenes, and the phenomenal and surprising ways they intersected. From New Year's Day 1973 to New Year's Eve 1977, the book moves panoramically from post-Dylan Greenwich Village, to the arson-scarred South Bronx barrios where salsa and hip-hop were created, to the Lower Manhattan lofts where jazz and classical music were reimagined, to ramshackle clubs like CBGBs and The Gallery, where rock and dance music were hot-wired for a new generation. As they remade the music, the musicians at the center of the book invented themselves: Willie Colòn and the Fania All-Stars renting Yankee Stadium to take salsa to the masses, New Jersey locals Bruce Springsteen and Patti Smith claiming the jungleland of Manhattan as their own, Grandmaster Flash transforming the turntable into a musical instrument, David Byrne and Talking Heads proving that rock music "ain't no foolin' around." Will Hermes was there—venturing from his native Queens to the small dark rooms where the revolution was taking place—and in Love Goes to Buildings on Fire he captures the creativity, drive, and full-out lust for life of the great New York musicians of those years, who knew that the music they were making would change the world.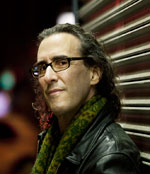 About the author:
Will Hermes is a senior critic for Rolling Stone and a longtime contributor to NPR's "All Things Considered." His work also appears in The New York Times, the Village Voice, and elsewhere. He was co-editor of SPIN: 20 Years of Alternative Music (2005).
About Nitsuh Abebe:
Nitsuh Abebe is the pop music critic at New York Magazine, and a monthly columnist at Pitchfork.
---