The powerHouse Arena, NYPress.com, halcyon, and Antenna Magazine invite you to the book launch party for:
I'll Be Dead by the Time You Read This:
The Existential Life of Animals
Music provided by halcyon
Featuring DJ Jason Zotos
Drinks will be served
Wednesday, November 30, 7–9 pm

The powerHouse Arena · 37 Main Street (corner of Water & Main St.) · DUMBO, Brooklyn
For more information, please call 718.666.3049
rsvp: rsvp@powerHouseArena.com

"Every morning, next to my bathroom mirror, Romeo's anxious goldfish reminds me of the fullness of existence; for to be afraid of dying is not to lead a fearful life, but one so precious you don't want to lose it."
–Christian Rattemeyer, Curator of Drawings, The Museum of Modern Art, New York
"I love Romeo's animals. I'm looking at one right now–a stoic little eagle saying, 'don't pity me.' Personally, I like being pitied, but I appreciate the sentiment."
–Moby
Internationally exhibited artist Romeo Alaeff will discuss and sign copies of his new book, which pairs detailed line drawing of animals with overheard snippets of angst-ridden human conversation. "We're teaming up with halcyon, NYPress.com, and Antenna Magazine to present this exclusive signing and exhibition featuring original work by the artist on display and special edition prints for sale. Wine & beer will be served, along with scotch courtesy of Glenfiddich. Music provided by halcyon featuring DJ Jason Zotos.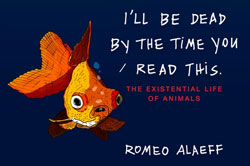 About I'll Be Dead by the Time You Read This:
Let's be honest: people have issues. You've undoubtedly realized this while eavesdropping on conversations, talking to your friends, or listening to your own thoughts. But nobody considers the possibility that animals have the same existential crises...until now! Romeo Alaeff, an internationally exhibited artist, was inspired after writing down the many seemingly irrational things he'd overheard and that he himself had felt. With a unique combination of anthropomorphism and irreverence, Alaeff shares what the range of human emotions would look like through the eyes of animals in I'll Be Dead by the Time You Read This: The Existential Life of Animals (Plume Original; December 2011). Originally part of his project "The Evolution of Despair," and featured in the book Sticker: Stuck up Piece of Crap: From Punk Rock to Contemporary Art, Alaeff's animal drawings explore the hilarious and heartbreaking neuroses that overwhelm humans. In I'll Be Dead by the Time You Read This, Alaeff compiles his gorgeously drawn animals that have thoughts and outbursts as insane as ours. With their ironic sensibilities, Alaeff's unique images truly showcase his ability to point out the idiosyncrasies of the human experience. Reminiscent of Andy Riley's darkly amusing The Bunny Suicides, Alaeff captures the sentiments that make us distinctly human and highlights their absurdity.
About the artist:
Romeo Alaeff studied biomedical engineering and mathematics at Tulane University before receiving his masters of fine arts from the Rhode Island School of Design. His artwork has exhibited internationally in major museums, galleries, and at film festivals. He lives in New York City and can be contacted through his website: illbedead.com.
---