The powerHouse Arena invites you to a holiday party & signing for:
The Food52 Cookbook:
140 Winning Recipes from Exceptional Home Cooks
Snacks will be served
Thursday, December 1, 7–9 pm

The powerHouse Arena · 37 Main Street (corner of Water & Main St.) · DUMBO, Brooklyn
For more information, please call 718.666.3049
rsvp: rsvp@powerHouseArena.com

The delicious recipes from the home cooks at Food52.com serve as a basis for this collection of tasty seasonal recipes. Join the authors and community members for a signing and snacks.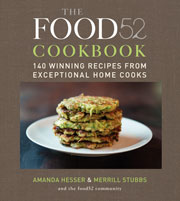 About The Food52 Cookbook:
On Food52.com (named "Best of the Web" by Saveur), bestselling author Amanda Hesser and food writer Merrill Stubbs have curated the first-ever online community cookbook, the basis for this gorgeous full-color book filled with delicious seasonal recipes from the country's most creative home cooks.

Amanda and Merrill love spending time in the kitchen, and they believe that memorable cooking doesn't have to be complicated or precious. It's about discovering that frying an egg in olive oil over high heat gives the white a great crackly texture; that slashing the legs of a chicken before roasting allows the dark and white meat to cook evenly; that maple syrup adds not only sweetness but depth to an otherwise ho-hum vinaigrette.

After years of testing recipes together, Amanda and Merrill discovered that the best meals come not from professional chefs at expensive restaurants, but from the kitchens of home cooks where practicality and inventiveness take center stage—and they realized they could use the internet to bring these cooks together to create a cookbook unlike any other. Now, with The Food52 Cookbook: 140 Winning Recipes from Exceptional Home Cooks, Amanda, Merrill, and the Food52 community fuse professional and practical, creating an elegant and accessible compilation of quality recipes.

For 52 weeks, home cooks across America competed in recipe contests at Food52.com. Each week, cooks submitted recipes within a particular category—like "Your Best Summer Fish Recipe," or "Your Best New Year's Resolution Dish." Using their expertise as food editors, Amanda and Merrill and their team tested the recipes and chose the finalists, and then the readers voted, deciding on the winner. All of the winning recipes are featured in the book, along with a selection of other community favorites.

In addition to these outstanding recipes, The Food52 Cookbook also features Amanda and Merrill's helpful comments on every recipe, as well as behind-the-scenes photos, tips and variations, reader responses, and brief features on the contributors to give readers further insight into how to efficiently and effectively execute these recipes, making it a go-to-guide for home cooks of all levels.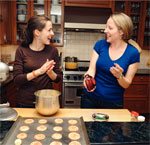 About the authors:
Amanda Hesser has been named one of the most influential women in food by Gourmet Live. A longtime food reporter and editor at The New York Times, Hesser also wrote the award-winning books Cooking for Mr. Latte and The Cook and the Gardener, and edited the essay collection Eat, Memory. Her latest book, a New York Times bestseller and the winner of a James Beard award, is The Essential New York Times Cookbook. Hesser lives in Brooklyn with her husband, Tad Friend, and their two children.
Merrill Stubbs is a graduate of Le Cordon Bleu in London and worked for a decade as a private chef, cooking instructor, and recipe developer. She was the food editor at Herb Quarterly and has written for the Times' T Living, Edible Brooklyn, Body+Soul, and Culinate.com. She lives in Brooklyn with her husband.
---