The powerHouse Arena invites you to a record-setting event:
The Recordsetter Book of World Records:
More than 300 Extraordinary Feats by Ordinary People
Friday, December 9, 6:30–8:30 pm
Drinks will be served

The powerHouse Arena · 37 Main Street (corner of Water & Main St.) · DUMBO, Brooklyn
For more information, please call 718.666.3049
rsvp: rsvp@powerHouseArena.com

Join the authors for a record-setting event! Dan and Corey will be discussing the site and their book, and we'll be attempting to break the record of The Largest Group Hug in a Bookstore. In addition to the group hug, the King Charles Unicycle Troupe will attempt to set records for Most Jump Rope Skips on a Unicycle in One Minute and Most Single Jumps on a Unicycle in One Minute While Jumping Double-Dutch Jump Rope.
About The Recordsetter Book of World Records: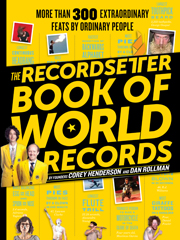 From the time he was 10 years old, Dan Rollman dreamed of being in The Guinness Book of World Records, but later he discovered that there was a lot of red tape to deal with before a record could be admitted. Disheartened, but determined, Dan and his friend Corey Henderson, two self-professed "world record junkies," saw an opportunity to create a similar, but more accepting, model for recording human achievement. The duo spent years building RecordSetter.com with money out of their own pockets, finally launching the site at the end of 2008. Within days, submissions to the video-based site began trickling in. Soon, Dan and Corey were buried under a mound of records, making regular guest appearances on Late Night with Jimmy Fallon, and selling out live world record events from coast to coast.
Today, RecordSetter.com has catalogued over 20,000 record setters from more than 50 different countries, with hundreds of new records submitted weekly. The site is used by summer camps, church groups, juggling clubs, professional skateboarders, ex-Olympians, and even the folks who run National High Five Day. Led by a team of moderators, the RecordSetter community plays an active role in approving records.
Now, at last, there is a book to chronicle some of the most extraordinary and outlandish achievements! The Recordsetter Book of World Records (Workman) expands on the content of the website, and features over 300 categorized records, with chapters including: The Creative Arts, Food and Drink, Sports and Games, Science and Technology, Money and Style, Groups, Visionaries, Earth and Environment, and The Human Body. The book also includes profiles of record setters, interviews, back stories on buzz worthy records, tips for setting records, failed attempts, and amazing tales like "The International Battle for Giraffe Tattoo Supremacy." In addition, there is an examination of RecordSetter culture with unique lists of outrageous records, in-depth stories of RecordSetter rivalries, and details on how readers can host their own record setting events! All readers are encouraged to not only break records in the book, but also to invent bold, new feats worthy of inclusion.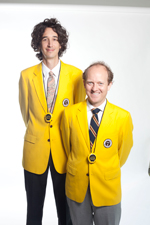 The Recordsetter Book of World Records will indulge readers of any age in the weird, wacky, and wild and perhaps inspire them to set a record of their own!
About the Authors:
Dan Rollman is the president and co-founder of RecordSetter. Dan is a lifelong world-record fanatic who tried in college, unsuccessfully, to set a Guinness World Record for ravioli eating. He has set 12 RecordSetter world records, but all but two have been beaten. An Emmy Award-winning advertising copywriter, with two Super Bowl commercials to his credit, Dan lives in Brooklyn.
Corey Henderson is the CTO and co-founder of RecordSetter. A competitive marathoner who hails from a family of entrepreneurs, he has been at the leading edge of web development since 1997. Corey is proud to hold the RecordSetter world record for Most Fiery Crashes in One Game of Pole Position, and dares anyone to try and beat it. He lives with his family in New York City.
---