The powerHouse Arena invites you to:
Reinventing the Past
Part of Festival Neue Literatur 2012
featuring
Chris Adrian, Catalin Dorian Florescu, Inka Parei, and Linda Stift in conversation with Daniel Kehlmann
Saturday, February 11, 6–8 pm

The powerHouse Arena · 37 Main Street (corner of Water & Main St.) · DUMBO, Brooklyn
For more information, please call 718.666.3049
rsvp: rsvp@powerHouseArena.com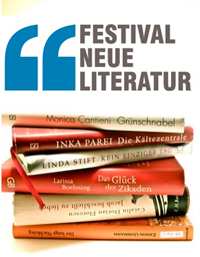 Literature is often a delving into the past, made all but involuntary because the past has returned to haunt the present. Whether the history in question is familial, political, or ancient, traces of old trauma can cast the present in a new light.
This panel explores the different ways in which the past can be put to work in the name of storytelling.
About Festival Neue Literatur:
Festival Neue Literatur brings six of the best up-and-coming German-language authors to New York, where they join well-known American writers in a series of conversations and readings. This year, two authors each from Austria, Germany, and Switzerland will join two American authors over the weekend of February 10–12. Unless otherwise indicated, all events will be in English and are free and open to the public. For more info, please visit festivalneueliteratur.org.
About the Speakers:
Chris Adrian is the author of three novels, Gob's Grief, The Children's Hospital, and The Great Night, and A Better Angel, a collection of stories. His fiction has appeared in The New Yorker, McSweeney's, Esquire, and other magazines, and he has received fellowships from the John Simon Guggenheim Memorial Foundation and the National Endowment for the Arts. He is currently the David S. Ferriero Fellow at The Cullman Center for Scholar's and Writers at The New York Public Library.
Catalin Dorian Florescu, born in 1967 in Timisoara, Romania, fled with his parents to Zurich in 1982. He studied psychology and psychopathology at the University in Zurich, later working as a psychotherapist for drug addicts. Florescu published his first book in 2001. Since 2001, Florescu has written several essays, stories, and novels and has received a number of literature prizes and scholarships, including the Adelbert von Chamisso Prize in 2002, the Anna Seghers Prize in 2003, and the 2012 Eichendorff Literary Award. His featured novel Jakob beschliesst zu lieben (Jacob decides to love) was shortlisted for the 2011 Swiss Book Prize.
Inka Parei, born in Frankfurt am Main in 1967, lives in Berlin. Her first two novels, Die Schattenboxerin and Was Dunkelheit war, have been translated into French, Spanish, Swedish, Polish, and Chinese, among other languages. In 2011, Seagull Books published Die Schattenboxerin as The Shadow-Boxing Woman, and will publish her new novel, Die Kältezentrale, as The Cold Room, with both titles translated by Katy Derbyshire. In 2000, Inka Parei was awarded the Hans Erich Nossack Prize, and in 2003 she received the Bachmann Prize.
Linda Stift, born 1969 in Austria, studied German literature at the University of Vienna. Stift currently lives and works in Vienna as a freelance writer for publications such as the Wiener Zeitung, and has published numerous works in magazines and anthologies. In 2007, she was awarded the Alfred Gesswein Literaturpreis, and in 2009 was nominated for the prestigious Ingeborg Bachmann Prize. Past works include Kingpeng, her debut novel, and Stierhunger. Her most recent work Kein einziger Tag (Not a Single Day) was published in 2011.
Daniel Kehlmann was born in Munich in 1975 and lives in Vienna and Berlin. His works have won the Candide Prize, the Literature Prize of the Konrad Adenauer Foundation, the Doderer Prize, the Kleist Prize, the WELT Literature Prize, and the Thomas Mann Prize. His previous novel, Measuring the World, was translated in more than 40 foreign languages and is one of the biggest successes in post-war German literature.
---