The powerHouse Arena invites you to a reading and signing:
Wild
and
Contents May Have Shifted
Tuesday, March 27, 7–9 pm

The powerHouse Arena · 37 Main Street (corner of Water & Main St.) · DUMBO, Brooklyn
For more information, please call 718.666.3049
rsvp: rsvp@powerHouseArena.com

Pam Houston and Cheryl Strayed come to the store to read and sign their tales of wanderlust and self-discovery.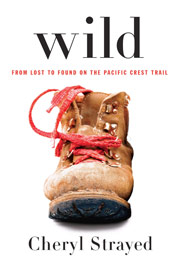 About Wild:
A powerful, blazingly honest memoir, Wild is the story of an eleven-hundred-mile solo hike that broke down a young woman reeling from catastrophe—and built her back up again.
At twenty-two, Cheryl Strayed thought she had lost everything. In the wake of her mother's death, her family dissolved and her own marriage was soon destroyed. Four years later, with nothing more to lose, she made the most impulsive decision of her life: to hike the Pacific Crest Trail from the Mojave Desert through California and Oregon to Washington State—and to do it alone. She had no experience as a long-distance hiker, and the trail was little more than "an idea, vague and outlandish and full of promise." It was a promise of piecing back together a life that had come undone.
Strayed faced down rattlesnakes and black bears, intense heat and record snowfalls, and both the beauty and loneliness of the trail. Told with great suspense and style, sparkling with warmth and humor, Wild vividly captures the terrors and pleasures of one young woman forging ahead against all odds on a journey that maddened, strengthened, and ultimately healed her.
Cheryl Strayed is the author of the critically acclaimed novel Torch. Strayed has written the "Dear Sugar" column on TheRumpus.net since March 2010. Her stories and essays have been published in The New York Times Magazine, The Washington Post Magazine, Allure, The Rumpus, The Missouri Review, The Sun, The Best American Essays, and elsewhere. She lives in Portland, Oregon. www.cherylstrayed.com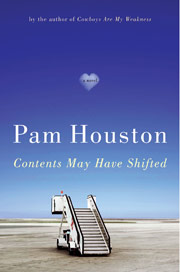 About Contents May Have Shifted:
Heart-stopping prose and crackling observations on a spiritual journey toward a life rich in love and freedom.
Stuck in a dead-end relationship, this fearless narrator leaves her metaphorical baggage behind and finds a comfort zone in the air, "feeling safest with one plane ticket in her hand and another in her underwear drawer." She flies around the world, finding reasons to love life in dozens of far-flung places from Alaska to Bhutan. Along the way, she weathers unplanned losses of altitude, air pressure, and landing gear. With the help of a squad of loyal, funny, and wise friends and massage therapists, she learns to sort truth from self-deception, and self-involvement from self-possession.
At last, having found a new partner "who loves Don DeLillo and the NHL" and a daughter "who needs you to teach her to dive and to laugh at herself"—not to mention two dogs and two horses—"staying home becomes more of an option. Maybe."
Pam Houston divides her time between her ranch in Colorado and the University of California at Davis, where she is director of the Creative Writing Program. She has been a frequent contributor to O, The Oprah Magazine, and her writing appears regularly in More and other publications. She is the author of the best-selling Cowboys Are My Weakness.
---