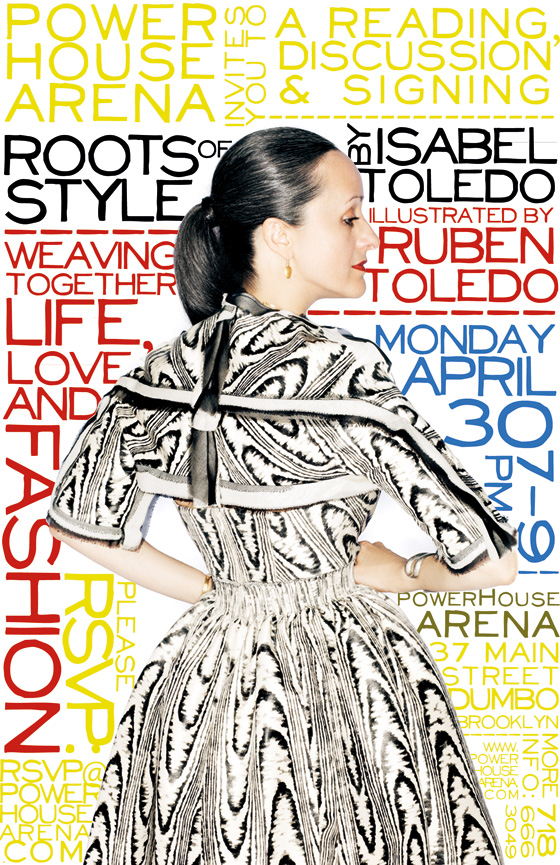 The powerHouse Arena invites you to a reading and discussion of:
Roots of Style:
Weaving Together Life, Love, and Fashion
Monday, April 30, 7–9 pm

The powerHouse Arena · 37 Main Street (corner of Water & Main St.) · DUMBO, Brooklyn
For more information, please call 718.666.3049
rsvp: rsvp@powerHouseArena.com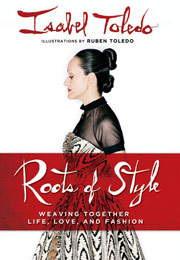 Acclaimed fashion designer Isabel Toledo is joined by her husband, artist Ruben Toledo, to discuss her autobiography Roots of Style: Weaving Together Life, Love, and Fashion.
About Roots of Style: Weaving Together Life, Love, and Fashion:
"When you're an artist, you have no map to show you the right direction or safety net to catch you when you fall. You have to find your own vision through discovery, passion, and intuition." Isabel Toledo has earned a reputation as a fiercely talented and fiercely independent fashion designer and business owner. She is known for creating garments that encourage women to explore their unique fashion styles and personalities, and is one of the most innovative designers working today. Toledo's work has made worldwide headlines, most notably when Michelle Obama wore her lemongrass dress at the presidential inauguration.
In her revealing new book, Roots of Style: Weaving Together Life, Love, and Fashion, Toledo discusses her artistic inspirations and the personal experiences that have shaped her work. She opens up for the first time about her early childhood in Cuba, growing up in West New York (where she met and fell in love with her future husband, Ruben), studying at FIT and Parsons, interning at the Costume Institute at the Metropolitan Museum of Art, living in 1970's New York with friends like nightlife fixtures Joey Arias and Klaus Nomi, showing her first collection on the most shoestring of budgets, and more. She shares her personal philosophies on design and life, and muses on the ways she's managed to successfully blend art and commerce, while sacrificing neither.
Toledo has been hailed as a "designer's designer" by setting her own rules, like choosing not to show at Fashion Week. Toledo strives to create clothing that reveals something about the woman wearing it, and her innovative technique takes into account a woman's anatomy, body language, and even her way of moving—an approach that is considered a lost art in today's fashion world.
Roots of Style includes illustrations by Isabel's husband Ruben Toledo, a famous artist in his own right whose work has appeared in The New Yorker, Vogue, and Harper's Bazaar, among others. With his whimsical and affectionate pictures, he transforms Isabel's design concepts into fleshed-out illustrations, bringing her words and artistic sensibility to life.
Isabel Toledo inspires readers to follow their instincts and their hearts, trust their individuality, and use their creativity to craft a fulfilling life full of passion and integrity.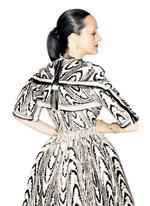 About the Authors:
Isabel Toledo was born in Cuba and came to the United States with her family as a political refugee. She received the Couture Council Artistry of Fashion Award in 2008, the third designer ever to be awarded such an accolade, and in 2005 was awarded the Smithsonian's Cooper-Hewitt National Design Award for Fashion Design.
Ruben Toledo is a painter, sculptor, illustrator, reporter, and fashion chronicler. His illustrations can be found in top journals and fashion magazines such as The New Yorker, Vogue, Harper's Bazaar, The New York Times, and more. He is also the author of Style Dictionary.
---