powerHouse Arena invites you to
a book launch party
The McSweeney's Book of Politics & Musicals
featuring performances by contributors
Henry Alford
Ben Greenman
Mike Lacher
Christopher Monks
Pete Reynolds
Sarah Rosenshine
Alina Simone
&
Teddy Wayne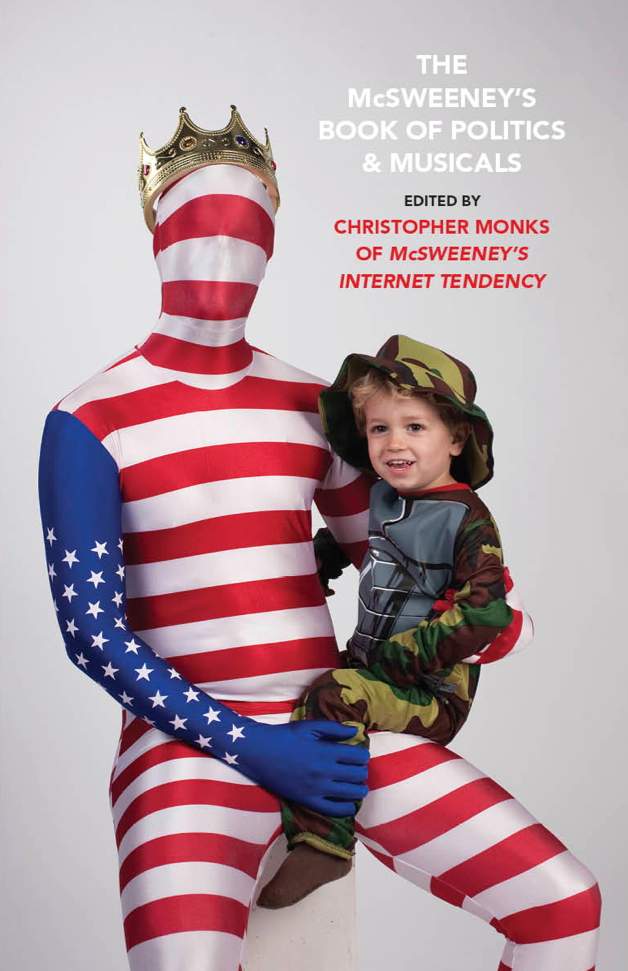 Thursday, June 28, 7–9

PM


Drinks will be served

The powerHouse Arena · 37 Main Street (corner of Water & Main St.) · DUMBO, Brooklyn
For more information, please call 718.666.3049
rsvp: rsvp@powerHouseArena.com

Nothing like a little song and dance routine to make boring old politics fun again. Come revel in McSweeney's Internet Tendency's musical tributes to our great nation's government at the book launch for The McSweeney's Book of Politics & Musicals.
About The McSweeney's Book of Politics & Musicals:
In honor of the 2012 election season, the patriots at McSweeney's Internet Tendency ("The Iowa Caucus of humor websites") offer a riotous collection (peacefully assembled!) of pitch-perfect tributes that unite two of America's most beloved crossroads: Pennsylvania Avenue and Broadway, appropriately titled The McSweeney's Book of Politics & Musicals, edited by Chris Monks, to be published by Vintage Books as A Trade Paperback Original on June 26, 2012.
Ever since John Hancock broke into song after signing the Declaration of Independence, American politics and musicals have been inextricably linked. From Alexander Hamilton's jazz hands, to Chester A. Arthur's oboe operas, to Newt Gingrich's off-Broadway sexscapade, You, Me, and My Moon Colony Mistress Makes Three, government and musical theater have joined forces to document our nation's long history of freedom, partisanship, and dancers on roller skates pretending to be choo choo trains. The McSweeney's Book of Politics & Musicals follows in this lead with over 100 monologues, charts, scripts, lists, diatribes, and musicals written by the noted fake-musical lyricist, and New Yorker writer Ben Greenman, skewering everything from senator apology speeches (the apology for the apology) to the real threats against heterosexual marriage (beer and video games).
About the contributors:
Henry Alford writes for Vanity Fair and The New York Times. His most recent book about manners is called Would It Kill You to Stop Doing That? His book about his failed acting career, Big Kiss, won the Thurber Prize.
Ben Greenman is an editor at The New Yorker and the author of several acclaimed books of fiction, including Superbad, Please Step Back, A Circle is a Balloon and a Compass Both, and Celebrity Chekhov. He lives in Brooklyn.
Mike Lacher writes and builds funny things on the Internet at mikelacher.com. His work has been featured in McSweeney's, The New York Times Magazine, wired.com, The Huffington Post, and The Toronto Sun. He is the author of the book On the Bro'd, all of Kerouac's On The Road translated into bro-speak.
Christopher Monks has been the managing editor of McSweeney's Internet Tendency since 2007, and is the author of the comic novel The Ultimate Game Guide to Your Life. He lives in Arlington, Massachusetts, with his wife and sons.
Pete Reynolds grew up in the Soybean Capital of the World, a fact which most people find incredibly interesting. He lives near Washington, D.C., with his wife and two daughters. His writing tends to collect at petereynolds.tumblr.com.
Sarah Rosenshine lives and writes in New York City. She is a University of Chicago graduate who has contributed to The Onion, Vice, and other publications.
Alina Simone is a singer and writer based in Brooklyn. Her album, Everyone Is Crying Out To Me Beware, which covers the music of Soviet punk-poet Yanka Dyagileva, was described as either "haunting" or "haunted" by more than a dozen publications, including The New Yorker, Spin, NPR, and Pitchfork. Her original full-length album, Make Your Own Danger, and her first book of autobiographical essays, You Must Go and Win (Faber and Faber), were both released in June 2011.
Teddy Wayne is the author of the novel Kapitoil. The recipient of a 2011 Whiting Writers' Award and an NEA Fellowship, he was also the PEN/Robert W/ Bingham Prize runner-up, and a finalist for the Young Lions Fiction Award and the Dayton Literary Peace Prize. His writing appears in The New Yorker, The New York Times, and in his McSweeney's column, "Teddy Wayne's Unpopular Proverbs."
McSweeney's is a publishing company based in San Francisco. As well as running the daily humor website McSweeney's Internet Tendency, McSweeney's publishes McSweeney's Quarterly Concern, the Believer, Lucky Peach, Wholphin, Grantland Quarterly, and an ever-growing selection of books under various imprints.
---