The powerHouse Arena invites you to
a culinary celebration
Julia at 100:
A Celebration of Julia Child's 100th Birthday
with
Tamar Adler
An Everlasting Meal

Dave Crofton
One Girl Cookies

Matt Lewis
Baked

Deb Perelman
SmittenKitchen.com

and

Alyssa Shelasky
Apron Anxiety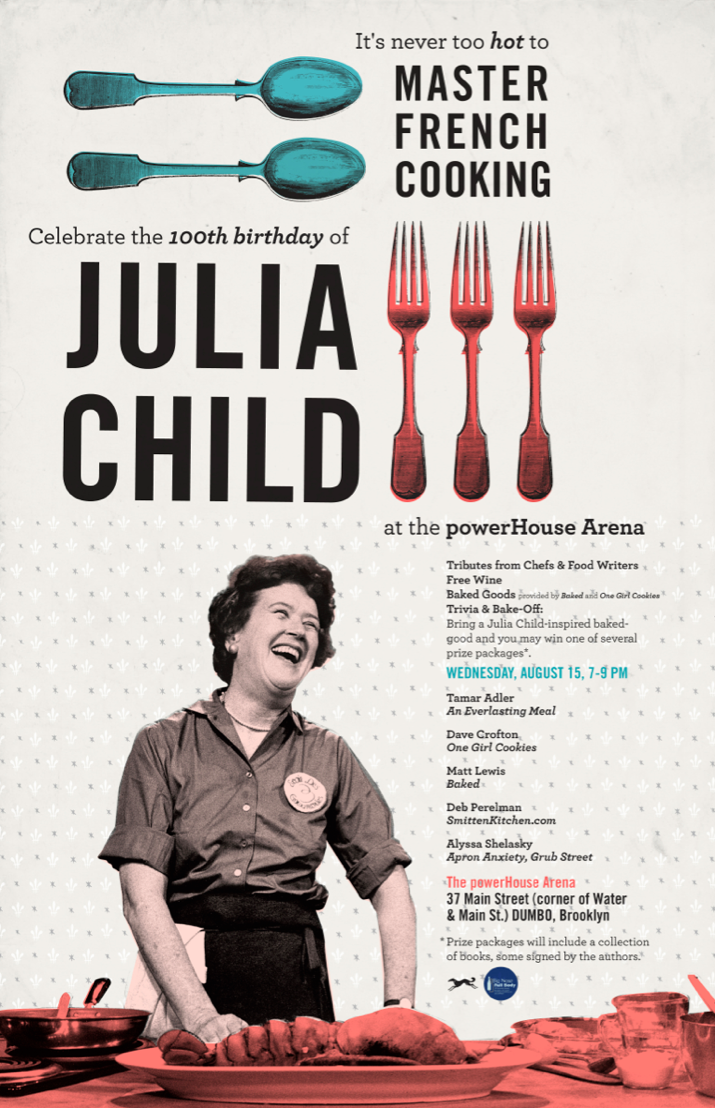 Wednesday, August 15, 7–9

PM




Baked goods and French wine will be served



The powerHouse Arena · 37 Main Street (corner of Water & Main St.) · DUMBO, Brooklyn
For more information, please call 718.666.3049
RSVP appreciated: rsvp@powerHouseArena.com

Join chefs and food writers as they share five-minute tales commemorating Julia Child on her 100th birthday. Featuring trivia, a bake-off, prizes, drinks, and, of course, plenty of baked treats.
About the speakers:
Tamar Adler is the author of An Everlasting Meal: Cooking with Economy and Grace. A former editor at Harper's Magazine, Tamar has cooked at Prune and Chez Panisse, and was the founding head chef of Farm 255. Tamar has worked as an agricultural policy researcher for Dan Barber of Blue Hill and Blue Hill at Stone Barns, directed a meat CSA, and taught writing at Smith College. Tamar's writing has appeared in Harper's Magazine, The New York Times, Mother Jones, Orion, Atlantic.com, Salon.com, Gilt Taste, and Fine Cooking, among other publications.
Dave Crofton, co-owner of One Girl Cookies, began his culinary career baking artisanal bread in Richmond, Virginia. He moved to New York City to attend the Institute of Culinary Education, and graduated with a degree in Baking and Pastry Arts. While in school, he took a part time job with One Girl Cookies to help develop and expand their line of handmade tea cookies. Upon graduation, he became a partner with Dawn Casale, the founder of One Girl Cookies. Two years later, Dawn and Dave opened their bakery and cafe in Cobble Hill, Brooklyn in 2005. Since opening day—and continuing into their new cafe in Dumbo—Dawn and Dave believe in using the finest ingredients available, and baking everything from scratch. Dave and Dawn, and One Girl Cookies, have been featured in Fine Cooking, Gourmet, Food and Wine, The New York Times, Time Out New York, Bon Appetit, New York magazine, and Martha Stewart Weddings, as well as many other national publications. Their cookbook, One Girl Cookies: Recipes for Cakes, Cupcakes, Whoopie Pies, and Cookies from Brooklyn's Beloved Bakery was released in January 2012.
Matt Lewis and Renato Poliafito left their day jobs in advertising to open their bakery, Baked, in Brooklyn, to immediate praise from fans across the country. They have been featured on Oprah, the TODAY show, the Food Network, and the Martha Stewart Show. Their books include Baked, Baked Explorations, and the forthcoming Baked Elements. Lewis and Poliafito live in New York City.
Deb Perelman is a self-taught home cook and photographer, and the creator of SmittenKitchen.com, an award-winning blog with a focus on stepped-up home cooking through unfussy ingredients. In previous iterations of her so-called career, she's been a record store shift supervisor, a scrawler of "happy birthday" on bakery cakes, an art therapist, and a technology reporter. She likes her current gig—the one where she wakes up and cooks whatever she feels like that day—the best. The Smitten Kitchen Cookbook, her first book, is out this October. Deb lives in New York City with her husband and delicious baby son.
Alyssa Shelasky, author of Apron Anxiety: My Messy Affairs In and Out of the Kitchen, is the New York editor of Grub Street at New York magazine, as well as the creator of the blog Apron Anxiety (ApronAnxiety.com). She has written for numerous publications including People, Us Weekly, Hamptons Style, Gotham, Self, Blackbook, TV Guide, The New York Post, New York magazine, CBS's Watch magazine, and Glamour magazine.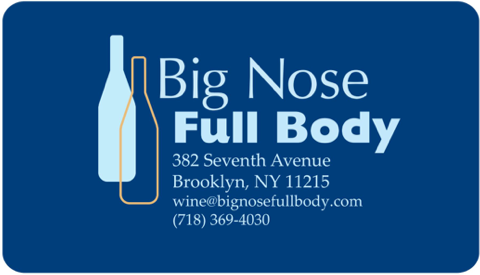 ---