The powerHouse Arena invites you to
a book launch and exhibition

My Ideal Bookshelf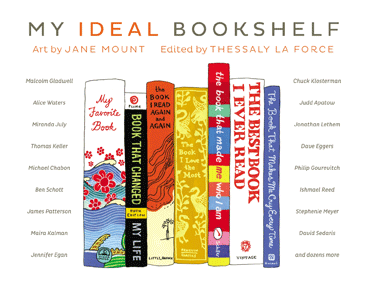 Launch: Friday, November 16, 6–8

PM


Drinks will be served
Exhibition runs November 12 – December 7
The powerHouse Arena · 37 Main Street (corner of Water & Main St.) · DUMBO, Brooklyn
For more information, please call 718.666.3049
RSVP appreciated: rsvp@powerHouseArena.com


PRINTS WILL BE AVAILABLE FOR PURCHASE
powerHouse Arena celebrates the launch of My Ideal Bookshelf and presents an exhibition of prints from the book, which will be displayed on the Arena walls. Writer Thessaly La Force interviewed dozens of prominent artists, writers, chefs, and thinkers, to create this loving homage to book collecting illustrated by artist Jane Mount.
About My Ideal Bookshelf:
The assignment was simple. Select a small sample of the books that made you who you are, your favorite favorites. In MY IDEAL BOOKSHELF one hundred leading cultural figures took up the challenge, with beautiful and thought-provoking results.
From popular writers (Chuck Klosterman, Mary Karr, Junot Diaz, Jennifer Egan, Michael Chabon, and Jonathan Lethem) to musicians (Patti Smith, Thurston Moore, and Rosanne Cash), and from chefs and food writers (Alice Waters, David Chang, Mark Bittman, and Thomas Keller) to Hollywood personalities (Judd Apatow, James Franco, and Miranda July), the contributors to MY IDEAL BOOKSHELF share the books that matter to them most–books that define their dreams and ambitions and in many cases helped them find their way in the world.
An irresistible love letter to books and a beautiful object to read, display, and share, MY IDEAL BOOKSHELF is a perfect gift for avid readers, writers, artists, and all who have known the influence of a great book–or who enjoy taking a peek at others' bookshelves. Organized alphabetically by contributor, the book is arranged to promote ease of serendipitous browsing and to highlight connections among disparate figures. Each spread features a short first-person essay drawn from interviews with Thessaly La Force that touch on everything from the choice of books to becoming a writer to surprising sources of inspiration. The essays are accompanied by images, lovingly painted by the artist Jane Mount, whose charming and highly detailed depictions of the books' spines and occasional objets d'art from the contributors' personal bookshelves showcase the selections.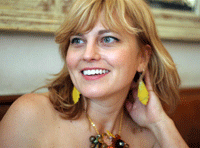 About the Creators:
Jane Mount is an artist and illustrator, born in Atlanta and formed in Manhattan. In past incarnations she has studied anthropology, cofounded three companies, and won awards for her graphic and interior design skills. Her paintings of bookshelves have caught the eye of media outlets including The New Yorker, the Paris Review, Daily Candy, and InStyle. She lives in Northern California with her husband and two cats.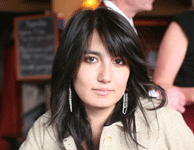 Thessaly La Force is a writer and editor who has worked at the Paris Review, The New Yorker, and the New York Public Library. She is currently attending the Iowa Writers' Workshop. Thessaly divides her time between Iowa City and New York City.
---