The powerHouse Arena invites you to
a fundraiser
Sandy Hates Books Hurricane Relief Fundraiser
readings and performances by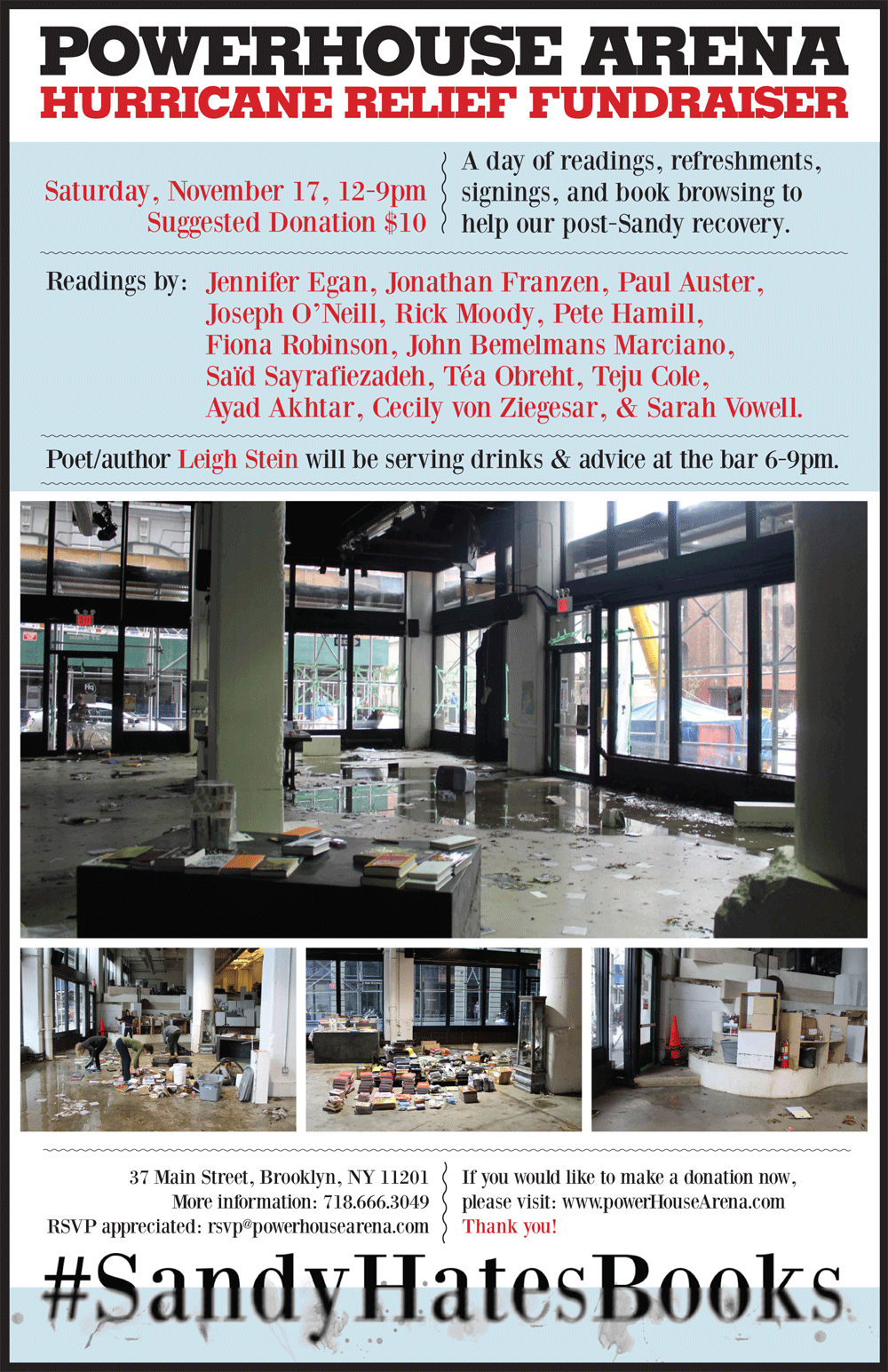 Saturday, November 17, 12–9

PM



SUGGESTED DONATION: $10


The powerHouse Arena · 37 Main Street (corner of Water & Main St.) · DUMBO, Brooklyn
For more information, please call 718.666.3049
RSVP appreciated: RSVP@powerHouseArena.com
powerHouse Arena sustained major damages during Hurricane Sandy. Support our recovery at this day of readings, refreshments, signings, and book browsing. The suggested $10 donation comes with a raffle ticket and a chance to win artwork from some of your favorite artists and illustrators. Readings and conversations by Jennifer Egan, Jonathan Franzen, Paul Auster, Joseph O'Neill, Rick Moody, Pete Hamill, Fiona Robinson, John Bemelmans Marciano, Saïd Sayrafiezadeh, Téa Obreht, Teju Cole, Ayad Akhtar, Cecily von Ziegesar, and Sarah Vowell
Poet/author Leigh Stein will be serving up drinks and advice at the bar from 6-9pm.
12:00pm: Kids Reading: Fiona Robinson & John Bemelmans Marciano
Artists Adrian Tomine & Leanne Shapton at the signing table.
12:30pm: Live Music: Rick Moody
1:00pm: Reading: Pete Hamill
2:00pm: Reading: Paul Auster
3:00pm: Reading: Cecily von Ziegesar
3:30pm: Reading: Saïd Sayrafiezadeh
4:00pm: Disaster Stories: Ayad Akhtar, Teju Cole, Téa Obreht
5:00pm: Kids Signing: Sophie Blackall, Peter Brown, Brett Helquist, & Brian Floca
5:10pm: Reading: Sarah Vowell
6:00pm: Reading: Jonathan Franzen
Poet/author Leigh Stein starts serving up drinks and advice at the bar!
7:00pm: Reading & Conversation: Jennifer Egan & Joseph O'Neill
Local authors, artists, editors, and publications also in attendance: Adrian Tomine, Leanne Shapton, Rob Spillman, Benjamin Samuel, Ben Wallace, Megan Abbot, Peter Brown, Jane Mendelsohn, Lucinda Rosenfeld, Stephen O'Connor, Paul Morris, Brett Helquist, Brian Floca, Sophie Blackall, The Village Voice, Armchair/Shotgun, Electric Literature,The Coffin Factory, and Tin House.
Thank you to all the authors and publishers whose donations made this fundraiser possible.
---