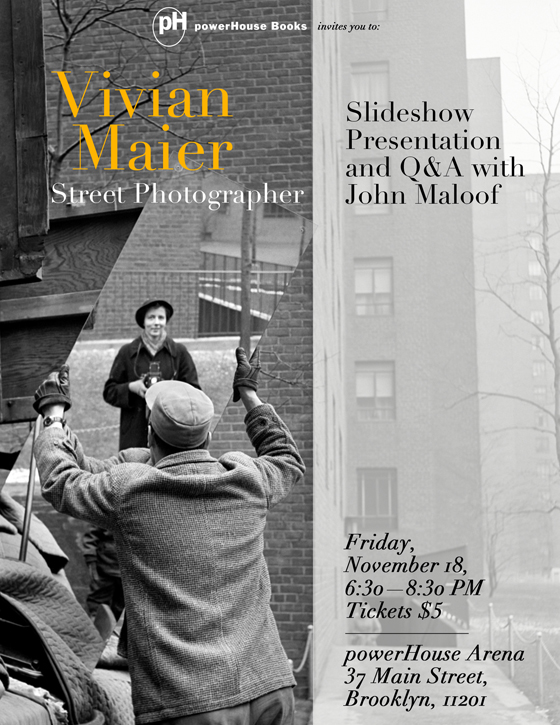 powerHouse Books and the powerHouse Arena invite you to:
Vivian Maier
Street Photographer
Slideshow Presentation
and Q&A with John Maloof
Friday, November 18, 6:30–8:30 p.m.
Tickets $5

The powerHouse Arena · 37 Main Street (corner of Water & Main St.) · DUMBO, Brooklyn
For more information, please call 718.666.3049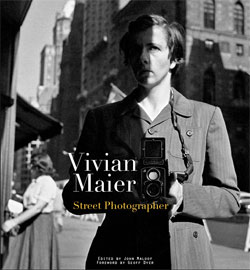 In honor of the November release of Vivian Maier: Street Photographer, powerHouse Books invites you to hear John Maloof speak about his extraordinary discovery of Vivian Maier's photography. Along with a Q&A and slideshow presentation, Maloof will detail his experience uncovering Vivian Maier's extensive body of work and share his insight regarding the curious Chicago nanny turned posthumous street photographer phenomenon.
Vivian Maier's photographs from the book and from the Maloof Collection will be on display at the Howard Greenberg Gallery from December 15 until January 28.
Vivian Maier
Street Photographer
Photographs by Vivian Maier
Edited by John Maloof
With Foreword by Geoff Dyer
ISBN: 978-1-57686-577-3
$39.95 / $46.00 Can.
* * * * *
"John Maloof had stumbled upon an undiscovered artist whose photography is now being compared to the giants, a reclusive woman who, in death, is attracting the kind of attention and acclaim she would have shunned in life."
—Huffington Post
"Maier's work and her biography are starkly moving reminders of how powerfully we all experience our lives, largely in isolation."
—Vanity Fair
"She is now considered to be a lost master of the form, the Windy City's own Helen Levitt."
—The New York Times Style Magazine
* * * * *

ORDER NOW! There are only a very limited number of tickets and books available.
---
Are you with the media? Contact us ASAP to register.