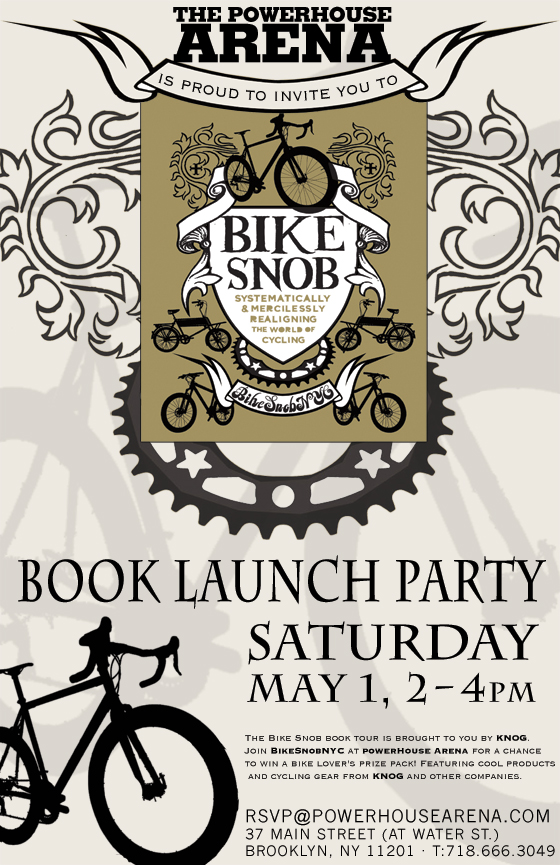 The powerHouse Arena is pleased to invite you to
the NYC book launch party for:
Bike Snob: Systematically & Mercilessly Realigning the World of Cycling
by BikeSnobNYC (a.k.a Eben Weiss)
Slideshow, Discussion & Signing

Saturday, May 1, 2–4

PM


powerHouse Arena · 37 Main Street (corner of Water & Main St.) · DUMBO, Brooklyn
For more information, please call 718.666.3049
RSVP: rsvp@powerHouseArena.com

Cycling, the biggest thing to hit personal transportation since the horse, is redefining the way urbanites everywhere commute, shop, exercise, accessorize, and recreate. In this wickedly funny rant and rave, blogger and cyclist BikeSnobNYC offers a unique look at the ins and outs of cycling, from its history and hallmarks to its wide range of unique practitioners. He spares no one, not even himself, as he lampoons the missteps, pretensions, and absurdities of "bike culture," all the while maintaining a contagious enthusiasm for cycling itself. The Bike Snob book tour is brought to you by KNOG. Join BikeSnobNYC at The powerHouse Arena for a chance to win a bike lover's prize pack! Featuring cool products and cycling gear from KNOG and other companies.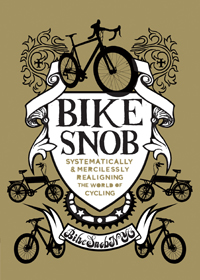 About the book
In this journey through the world of modern cycling, readers will explore:

The history of the bicycle: "Everything about riding a bicycle compels you towards beauty."
What is a cyclist, and why would anyone want to be one?
Various subsets of cyclists from the Roadie, the Cyclocrosser, and Urban Cyclist to the Lone Wolf, Contraption Captain, and Beautiful Godzilla.
The myth of "Bike Culture."
Why triathletes are the "turduckens" of cycling.
The answer to the question, "Why is everybody trying to kill me?!"
Whether you are a budding biker or a seasoned cyclist, Bike Snob will help you see more humor, value, and relevance in each trip.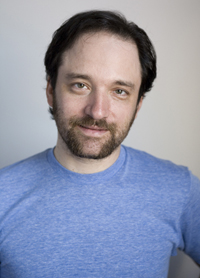 About the author
BikeSnobNYC is the blogger behind bikesnobnyc.blogspot.com, cycling's biggest blog sensation. A frequent racer, daily commuter, and former bike messenger himself, he writes daily for his blog and has been published and profiled in numerous publications including The New York Times, Outside, and Bicycling Magazine.