"Fair Food not only chronicles the challenges our food system faces and the achievements already made but also illuminates a clear path toward a more sustainable, fair, and delicious future."
–Alice Waters, Chef, Restaurateur
Oran Hesterman brings his locavore manifesto to powerHouse Arena. Join him for drinks and some locally sourced snacks from BK Farmyards, Sixpoint Craft Ales, The Natural Wine Company, and Chef Michel Nischan, Founder and President of Wholesome Wave.
About Fair Food:


A host of books and films in recent years have documented in great detail the dangers of our current food system, but advice on what to do about it largely begins and ends with the admonition to "eat local" or "eat organic." This advice is not helpful if, as Chicago Congressman Bobby Rush once pointed out, you can buy ketchup where you live, but no fresh tomatoes. Just as you can't impact the course of climate change by simply switching to CFL bulbs, you can't fix the broken food system by simply growing a backyard garden—it requires redesigning our food system.
Enter Fair Food, an enlightening and inspiring guide to changing not only what we eat, but how our food is grown, packaged, delivered, marketed, and sold.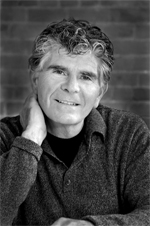 The time for systemic, practical, and widespread action is at hand, and Fair Food is the ideal resource and guide for readers who want to be a part of the fair food revolution.
About the Author:

Dr. Oran B. Hesterman is the president and CEO of Fair Food Network. For fifteen years, he co-led the Integrated Farming Systems and Food and Society Programs for the W.K. Kellogg Foundation, during which time the Foundation seeded the local food systems movement with over $200 million. A native of Berkeley, California, and a former professor of agronomy at Michigan State University in East Lansing, Hesterman currently lives in Ann Arbor, Michigan.
---