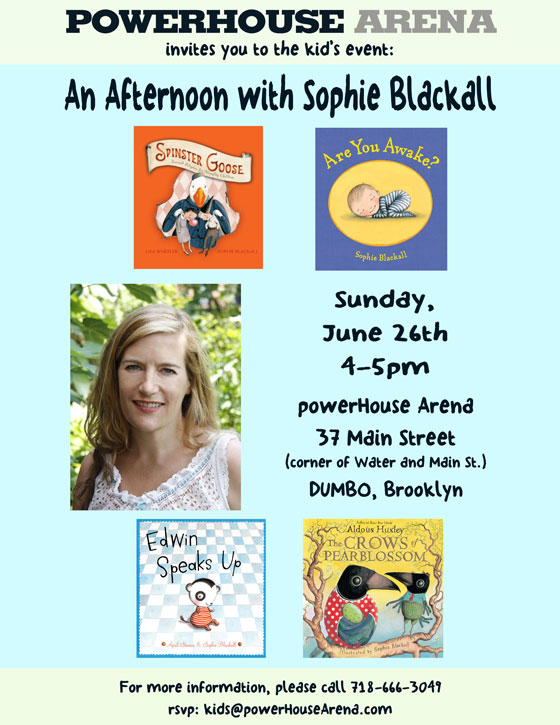 The powerHouse Arena is pleased to invite you to a kids' reading:
An Afternoon with Sophie Blackall
featuring readings of:
Are You Awake?
The Crows of Pearblossom
Spinster Goose
and
Edwin Speaks Up
Ages 3–8

Sunday, June 26, 4–5

PM



The powerHouse Arena · 37 Main Street (corner of Water & Main St.) · DUMBO, Brooklyn
For more information, please call 718.666.3049
RSVP: kids@powerHouseArena.com

The prolific Sophie Blackall has been keeping busy, as usual. She comes to powerHouse to read from four of her most recent picture books. Ages 3-8.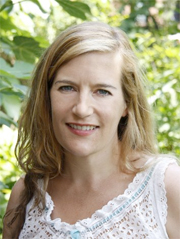 About Sophie Blackall:
Sophie Blackall is a Brooklyn-based Australian artist. She has illustrated over twenty books for children, including: Ruby's Wish (Chronicle Books, 2003), which won the Ezra Jack Keats Award; Meet Wild Boars (Henry Holt, 2005), which won a BCCB Blue Ribbon Picture Book Award and the Founder's Award from the Society of Illustrators; Big Red Lollipop (Viking, 2010), which was a New York Times Top Ten Picture Book for 2010; and, the ongoing Ivy and Bean series (Chronicle Books), which has over one million copies in print.

Blackall has collaborated with many notable authors, including Aldous Huxley, Judith Viorst, Jane Yolen, and Meg Rosoff.

Her editorial illustrations have appeared in The New York Times, The Wall Street Journal, The Washington Post, Time, Gourmet, Food & Wine, Town & Country, and many others.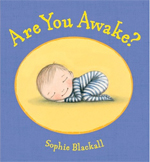 About Are You Awake?:
Edward can't fall asleep, and like most children, he has a million questions burning to be answered even though it's way past his bedtime.
In this funny picture book about the all-familiar bedtime negotiations between child and parent, Edward and his mother talk about everything from yellow dogs to corn on the cob. Most children (and parents) will recognize themselves in this gentle ode to bedtime.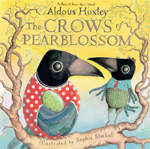 About The Crows of Pearblossom by Aldous Huxley:
Written in 1944 by Aldous Huxley as a Christmas gift for his niece, The Crows of Pearblossom tells the story of Mr. and Mrs. Crow, who live in a cottonwood tree. The hungry Rattlesnake that lives at the bottom of the tree has a nasty habit of stealing Mrs. Crow's eggs before they can hatch, so Mr. Crow and his wise friend, Old Man Owl, devise a sneaky plan to trick him.
This funny story of cleverness triumphing over greed, similar in tone and wit to the work of A. A. Milne, shows a new side of a great writer. Paired with stunning illustrations by Sophie Blackall, this timeless tale is sure to grab the attention of many readers—adults and children alike.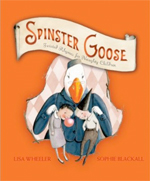 About Spinster Goose: Twisted Rhymes for Naughty Children by Lisa Wheeler:
Some children are simply too naughty for Mother Goose to handle. Luckily, her sister Spinster Goose knows just how to deal with these uncouth urchins. Her school is home to some world-class troublemakers: they bite and pinch, they talk back and fight, they even eat chalk! But brats beware—this isn't just any school, and Spinster isn't your average goose. Her curious methods will rid these students of their horrendous behaviors—right?
Fans of Mother Goose will delight in these devilishly twisted alternatives to classic rhymes.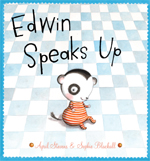 About Edwin Speaks Up by April Stevens:
Here's a book that will get the whole family laughing. When a large family of ferrets and their precocious baby take a chaotic trip to the supermarket, mom can't keep track of the groceries, the shopping cart . . . or even the kids! Baby Edwin tries to help, but everyone thinks he's just babbling. Little do they know that he really has all the answers.
Full of fun-to-say nonsense words, this is a perfect storytime book and a great read-aloud. April Stevens, author of Waking Up Wendell, is accompanied by Ezra Jack Keats Award winner Sophie Blackall for a match up that is sure to delight.