The powerHouse Arena invites you to a signing and reading for:
Super Sad True Love Story
Tuesday, June 28, 7–9 PM
Drinks will be served
The powerHouse Arena · 37 Main Street (corner of Water & Main St.) · DUMBO, Brooklyn
For more information, please call 718.666.3049
rsvp: rsvp@powerHouseArena.com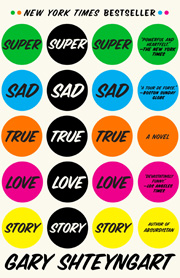 "[A] smart send-up of our info-overload age... Love Story is funny, on-target, and ultimately sad as it captures the absurdity and anxiety of navigating an increasingly out-of-control world."
—Entertainment Weekly
Literary superstar Gary Shteyngart reads from and signs his hilarious dystopian romance Super Sad True Love Story, just out in paperback.
About Super Sad True Love Story:
When Gary Shteyngart began his new novel a few years ago, he wanted to write about a dystopic America — a fictional future world in which the global economy collapsed, credit melted down, and the U.S. government bailed out banks and the auto industry. Unable to write fiction fast enough to keep up with real–life events, Gary had to make his futuristic world bleaker and bleaker. Now, it's set in a completely bankrupt, illiterate America where books are "smelly and annoying" and no one reads them—as Gary says, "in other words, next Tuesday."
Now in paperback, the instant New York Times bestseller Super Sad True Love Story is the 1984 of our current generation—a searing political satire, with a brilliantly-realized vision of a dismal near-future, where people stream their lives instead of living them, bank at AlliedWasteCVSCitigroupCredit, attend college at Tingshua-Columbia, and communicate in Images instead of words, which are so awfully hard to spell. But because this is Gary Shteyngart, life in dystopic America is also rollickingly funny, complete with our hero on a list of "101 People We Need to Feel Sorry For," immigrant parents in their underwear on Long Island, and polyester shirts catching fire.
Wildly funny, rich, and humane, Super Sad True Love Story is a knockout novel by a young master; a book in which falling in love may just redeem a planet falling apart.
About Gary Shteyngart:

Gary Shteyngart was born in Leningrad in 1972 and came to the United States seven years later. His most recent novel Super Sad True Love Story, was an instant New York Times Bestseller and was named to over 40 "Best Books of the Year" lists including NPR's Fresh Air, The New York Times, The Washington Post, and O Magazine. His first novel, The Russian Debutante's Handbook, won the Stephen Crane Award for First Fiction and the National Jewish Book Award for Fiction. It was also named a New York Times Notable Book, and a best book of the year by The Washington Post and Entertainment Weekly. His second novel, Absurdistan, was a national bestseller, was named one of the 10 Best Books of the Year by The New York Times Book Review and Time magazine, and was named a best book of the year by The Washington Post, San Francisco Chronicle, Chicago Tribune, and Seattle Times. His novels have been translated into over 24 languages, and his fiction and essays have appeared in The New Yorker, Granta, GQ, Travel & Leisure, The New York Times Magazine, Esquire, and many other publications. He lives in New York City and was named a Granta Best Young American Novelists and a New Yorker "Best Writer Under 40."
---