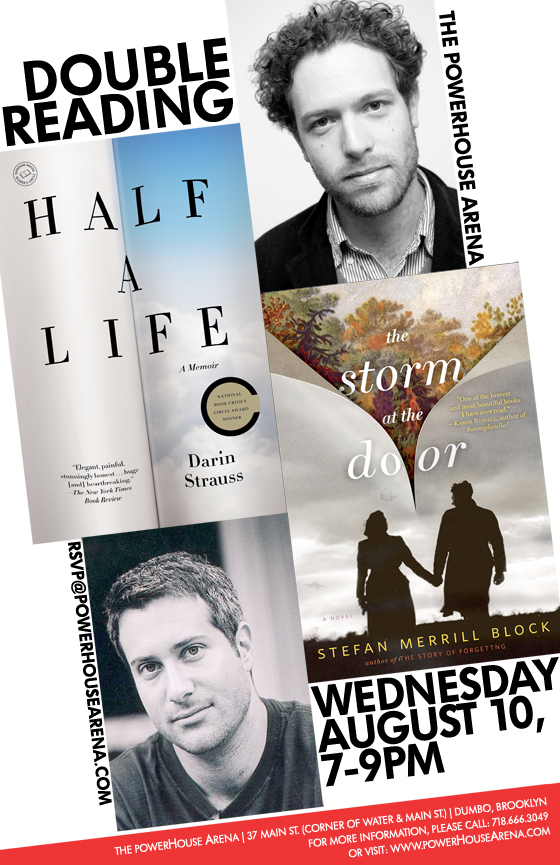 The powerHouse Arena invites you to a double reading:



The Storm at the Door



by Stefan Merrill Block



Half a Life



by Darin Strauss





2010 NBCC AWARD WINNER FOR AUTOBIOGRAPHY



Wednesday, August 10, 7–9

PM



The powerHouse Arena · 37 Main Street (corner of Water & Main St.) · DUMBO, Brooklyn
For more information, please call 718.666.3049
rsvp: rsvp@powerHouseArena.com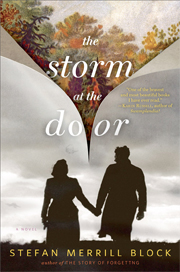 The Storm at the Door is inspired by the lives of Stefan's grandparents, particularly during the dark, almost forgotten period in their marriage when his grandmother committed her husband to McLean Psychiatric Hospital. His grandfather's mysterious and early death in the late 1960s left many questions unanswered. Stefan's grandmother was a loving but deeply secretive woman who burned most of her husband's papers in the last years of her life. The mystery and the burden of these losses, which still persist, power Stefan's enthralling new book. Shifting through time and across generations, Stefan illuminates an age-old truth: even if one's daily life appears ordinary, one can still wage a silent, secret, extraordinary war.
A wartime romance, a tale of one man's confinement in the nation's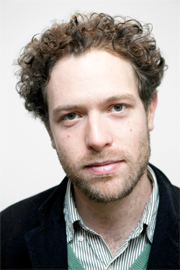 most remarkable mental hospital, a parable about the oppressive expectations and faltering optimism of America in the 1960s, and a unique window into the complex relationship between madness and genius, The Storm at the Door is a novel that explores our most profound questions on love, truth, and loss, the fictions we invent to make the truth bearable, and the ways that our histories become our destinies.
Born in 1982, Stefan Merill Block grew up in Texas. His first novel, The Story of Forgetting, won Best First Fiction at The Rome International Festival of Literature, the 2008 Merck Serono Literature Prize and the 2009 Fiction Award from The Writers' League of Texas. The Story of Forgetting was also a finalist for the debut fiction awards from IndieBound, Salon du Livre, and The Center for Fiction. He lives in Brooklyn. Learn more at www.stefanmerrillblock.com
* * *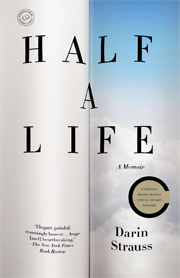 An incredibly powerful and haunting memoir of loss and guilt, maturity and accountability, hope and acceptance, Darin Strauss's Half a Life examines the far-reaching consequences of the tragic moment that has shadowed his whole life. In his last month of high school, he was behind the wheel of his dad's Oldsmobile, driving with friends, heading off to play mini-golf. Then, a classmate swerved in front of his car and the collision resulted in her death.
With piercing insight and stark prose, Strauss leads us on a deeply personal, immediate, and emotional journey—graduating
high school, going away to college, starting his writing career, falling in love with his future wife, and becoming a father. The result is a staggering, uplifting tour de force.
Darin Strauss is the international bestselling author of The New York Times Notable books Chang and Eng and The Real McCoy, and the national bestseller More Than It Hurts You. Awarded a 2006 Guggenheim Fellowship in fiction writing, Strauss is currently a Clinical Associate Professor of Writing at New York University and he lives with his wife and children in Brooklyn.
---