The powerHouse Arena is pleased to invite you to the book release party for:
The Funny Man
Monday, September 26, 7–9

PM




Drinks Will be Served



The powerHouse Arena · 37 Main Street (corner of Water & Main St.) · DUMBO, Brooklyn
For more information, please call 718.666.3049
rsvp: rsvp@powerHouseArena.com

John Warner of McSweeney's Internet Tendency reads from his new novel The Funny Man, and discusses humor in literature with writer and Twitter personality Julieanne Smolinski (AKA Boobs Radley).
About The Funny Man: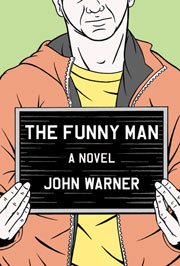 The debut novel from the brilliant and funny mind of John Warner chronicles the life and times of a middling standup comedian who finds and tragically loses stardom with a single gimmick. What's the gimmick, you ask? Well, he performs jokes, impressions, and commercials with his fist in his mouth to the wrist.

But while this gimmick launches the comic into an A-List lifestyle, filled with blockbuster movie roles and sold-out arenas, he quickly tires of the John Wayne ("Whalks whake wah gok inunh gruble") and Richard Nixon ("Foy hant tont uh crulkh") routines that his audiences clamor to see. When he finds himself on trial for shooting an unarmed man six times, abandoned by his family, and with a career in tatters, the comic seeks hope in the love of another maligned celebrity. Warner has written a coruscating satire of our celebrity culture with the delicate grace notes of someone's roman á clef.
About John Warner:

John Warner is the managing editor of McSweeney's Internet Tendency, a co-color commentator for The Morning News' annual "Tournament of Books," and a former contributor to the legendary cult website Modern Humorist. His book, My First Presidentiary: A Scrapbook of George W. Bush (with Kevin Guilfoile) was a Washington Post #1 bestseller. He has also edited three volumes of material culled from the Internet Tendency: Created in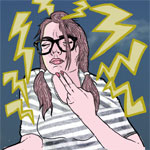 Darkness by Troubled Americans; Mountain Man Dance Moves: The McSweeney's Book of Lists; and, The McSweeney's Joke Book of Book Jokes. Warner teaches at Clemson University and is a consulting editor to The South Carolina Review. The Funny Man is his first novel.
About Julieanne Smolinski:

Julieanne Smolinski is an itinerant Internet writer who often works under the name Boobs Radley. She is GQ's sex columnist, XOjane.com's entertainment editor, and regularly contributes to the Hairpin, MTV, National Lampoon, and others.
---