The powerHouse Arena &

invite you to the book launch party for:
Stencil 201
Drinks will be served
Try your hand at stenciling at our DIY table using Stencil1 stencils and STAINED by Sharpie Fabric Markers! Feel free to bring a t-shirt or other fabric item to stencil!
Monday, November 28, 7–9 pm

The powerHouse Arena · 37 Main Street (corner of Water & Main St.) · DUMBO, Brooklyn
For more information, please call 718.666.3049
rsvp: rsvp@powerHouseArena.com

Ed Roth returns to The Arena for an ETSY CRAFT NIGHT to celebrate the launch of his new book, Stencil 201. Our friends and neighbors at Etsy join him for a night of drinks, DIY stenciling, and stenciled cookies provided by Chris Sumner of Sumner and Company. Bring a t-shirt or canvas tote to stencil! Canvas pieces and totes will be available for purchase at the event as well.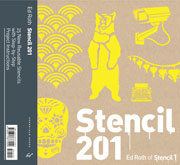 About Stencil 201:
In this entirely original collection, stencil maverick Ed Roth presents 25 brand-new stencil designs—from retro-cool typewriters, microphones, and roller skates to elegant leaves, birds, and abstract shapes. Ed also offers step-by-step directions for more than 20 wildly creative projects that take stenciling to a whole new level. With the help of creative friends such as Erica Domesek of P.S. - I Made This and embroidery queen Jenny Hart, Ed shows how to stencil on just about anything—T-shirts, leather, mirrors, food, and even hair—using a variety of techniques like stitching, etching, and more. Best of all, the stencils can be used again and again: just clean, dry, and store in the handy reclosable pocket at back!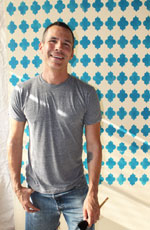 About the author:
Ed Roth is a graphic designer and owner of Stencil1, based in Brooklyn, New York. His reusable stencils have been praised by Martha Stewart, ReadyMade, and The New York Times. He is the author of Stencil 101 and Stencil 101 Décor.
---