powerHouse Arena invites you to
a panel discussion
A Night With Brooklyn Indie Lit Mags
with
JD Scott, Moonshot
Brigid Hughes, A Public Space
Halimah Marcus, Recommended Reading
David James Miller, SET
Celia Johnson, Slice
Emma Komlos-Hrobsky, Tin House

moderated by
Jamie Schwartz of CLMP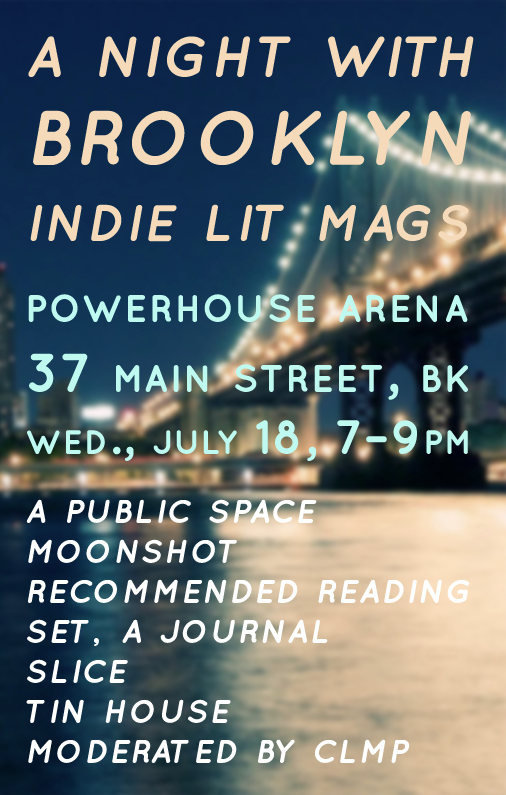 Wednesday, July 18, 7–9

PM




Drinks will be served



The powerHouse Arena · 37 Main Street (corner of Water & Main St.) · DUMBO, Brooklyn
For more information, please call 718.666.3049
RSVP appreciated: rsvp@powerHouseArena.com





Brooklyn's finest independent magazines come together to talk shop on their journey from fledgling journals to successful publications. Join A Public Space, Moonshot, Recommended Reading (Electric Literature), SET, Slice, and Tin House for a panel on indie lit mags, moderated by CLMP.

About the participants:

Tin House is a quarterly literary magazine featuring the best writers of our time alongside a new generation of talent who are poised to become the most important voices of the future. Since our founding in 1999, we've aimed to be both smart and accessible, to have curb appeal and highest-quality content, to deliver writing that will make you miss your subway stop or stay up late to read one piece more. Content includes short stories, author interviews, poetry, essays, and unique departments such as "Lost & Found," in which writers review overlooked or underrated books, and "Blithe Spirits" and "Readable Feast," which present tales and recipes for drinks and food in a literary way.

Emma Komlos-Hrobsky is an editorial assistant at Tin House. She holds an MFA from The New School and was a finalist for the Glimmer Train Short Story Award for New Writers. Her writing has appeared in The Splinter Generation, Verbal Pyrotechnics, Hot Metal Bridge, and The Tip. Her only known natural enemy is the velociraptor.

--

Slice, a Brooklyn-based nonprofit print magazine, was launched in 2007 by book editors Maria Gagliano and Celia Johnson, and has since garnered rave reviews from some of today's leading authors, editors, and agents. Pulitzer prize-winning author Junot Diaz praises, "Beautiful, compelling, irresistible: Slice will knock you right out. In the best way possible." At the core, Slice aims to bridge the gap between emerging and established authors by offering a space where both are published side-by-side. In each issue, a specific cultural theme becomes the catalyst for articles and interviews from renowned writers and lesser known voices alike. Along with these pieces, we publish fiction and poetry that isn't bound by the theme—we simply look for works by writers who promise to become tomorrow's literary legends.

Celia Johnson is co-founder and co-publisher of Slice. Her latest book is Dancing with Mrs. Dalloway: Stories of the Inspiration Behind Great Works of Literature. She is currently at work on a new title for Perigee/Penguin about famous authors' quirky habits. Find out more at www.awordaboutwriting.com

--

Halimah Marcus is the co-editor of Electric Literature's Recommended Reading, a weekly fiction magazine available for free online and through Kindle subscriptions. Electric Literature was the recipient of the National Book Foundation's 2011 Innovations in Reading Prize and was featured as a "Literary Heir" by New York Times' T Magazine. She received her MFA in fiction from Brooklyn College, and her work has appeared in Philadelphia Noir, The Fiddleback, The Fiction Desk, and The Seattle Times.

In May 2012, Electric Literature launched Recommended Reading, a new kind of fiction magazine that's part salon, part digest, and part journal. In a culture of online shopping and instant queues, people are increasingly reliant on technology to direct them to the content they're supposedly looking for, but these suggestions are based on algorithms designed to drive sales—there's no passion behind them. Recommended Reading makes the digital personal. Every issue is curated by a top editor or writer, featuring one piece of fiction per week along with an editor's note revealing the significance of the work.

--

Moonshot publishes diverse, powerful voices across traditional and digital platforms. As an independent magazine with no allegiance to any single aesthetic, we celebrate all forms of storytelling from both emerging and established talent. Moonshot encourages narratives from the experimental to the traditional. We create an equal opportunity space by championing our bold writers and adventurous readers. We want work that astounds. We want work that levitates. We want luminaries brighter than the moon.

JD Scott is a Brooklyn-based writer and designer. He is currently working on a book of poetry based on the proto-psychology theory of the Four Temperaments. He is the Editor-in-Chief of Moonshot. --

David James Miller is the author of the chapbooks As Sequence and Facts & Other Objects, and his work can be found in or is forthcoming from The Cultural Society, LVNG, Otoliths, Moria, elimae, Diagram, and elsewhere. He writes from New York City where he publishes These Signals Press, edits SET, an annual journal of experimental poetry, and lives with his wife and son.

These Signals Press is a New York City-based micro-press publishing the work of otherwise unknown writers in chapbook and micro-chapbook form. These Signals also publishes an annual PDF journal of poetry in the experimental tradition called SET.

--

The Council of Literary Magazines and Presses (CLMP), a non-profit organization founded in 1967, provides technical assistance to the community of independent literary publishers and advocates on their behalf, helping them through the business of publishing and raising the profile of the field through a variety of public programs. Learn more at www.clmp.org

Jamie Schwartz is the Managing Director of The Council of Literary Magazines and Presses. Jamie holds an MFA from Bard College's Milton Avery Graduate School of the Arts and currently serves on the Boards of Fence/Fence Books and Ep;phany Magazine. From 2004 until 2011, Jamie was also an Associate Fiction Editor at Fence Magazine. Her short fiction has appeared in The Literary Review and elsewhere.

--

A Public Space was founded in 2006 in Brooklyn, NY. APS publishes fiction, essays, poetry, and art, and seeks to generate conversations and exchanges between writers, artists, and thinkers across time and place. In 2012, A Public Space announced a collaboration with Graywolf Press to publish two books annually that develop from pieces in the magazine.

Brigid Hughes is the founding editor of A Public Space. Brigid is also a contributing editor at Graywolf Press.
---