The powerHouse Arena invites you to
a live podcast recording of
NEW DATE: Monday, December, 3
Evening Dilemma
hosted by
Tom Blunt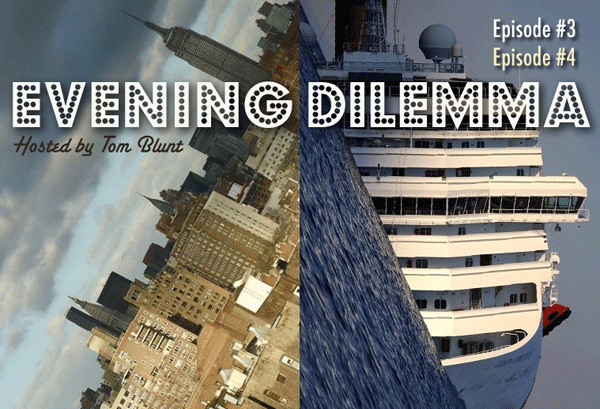 NEW DATE: Monday, December, 3


Wednesday, November 7, 7–9

PM




The powerHouse Arena · 37 Main Street (corner of Water & Main St.) · DUMBO, Brooklyn
For more information, please call 718.666.3049
TICKETS $5
Recorded in front of a live audience and hosted by indie variety-show producer Tom Blunt (92YTribeca's "Meet the Lady"), Evening Dilemma is a new podcast which aspires to comedy, insight, and interviews with some of NYC's most scintillating personalities. The event consists of two episodes taped back-to-back, with a short intermission in between. Tickets are $5, and get audience members $5 off the evening's featured titles.
About Evening Dilemma:
Episode 3
Film actress Cassandra Freeman will discuss and read portions of Nina Simone's notorious memoir, I Put a Spell On You. We'll also share a pre-recorded interview with singer/songwriter Janis Ian about her memories of Simone, recollected in her own autobiography, Society's Child.
Episode 4
Host Tom Blunt will present a cache of found photographs containing a rare glimpse of Harlem designer/artist Raven Chanticleer (1928—2002). Comedian Eliot Glazer (creator of the "It Gets Better-ish" web series) will join in to discuss the evolution of his book of vintage photos, My Parents Were Awesome.
About the Host:
Tom Blunt is the producer and host of "Meet The Lady," 92YTribeca's long-running variety show which welcomes film actresses to screen and discuss their work in person. He is also a producer of the comedy/cabaret show "Never Sleep Alone," which has enjoyed a weekly run at Joe's Pub since early 2012. Blunt contributes film/lit interviews to The Awl, xoJane, and other websites.
About the Contributors:
Eliot Glazer is the co-creator and star of the comedic gay web series, "It Gets Better-ish." His "My Parents Were Awesome" blog project was published by Villard in 2011.
Cassandra Freeman is a film actress whose credits include "Kenyarwanda," Spike Lee's "Inside Man" and Chris Rock's "I Think I Love My Wife." She recently joined the cast of the VH1 television series "Single Ladies."
---