The powerHouse Arena invites you to
a book launch
Antifragile: Things That Gain From Disorder
featuring the author in conversation with
Russ Roberts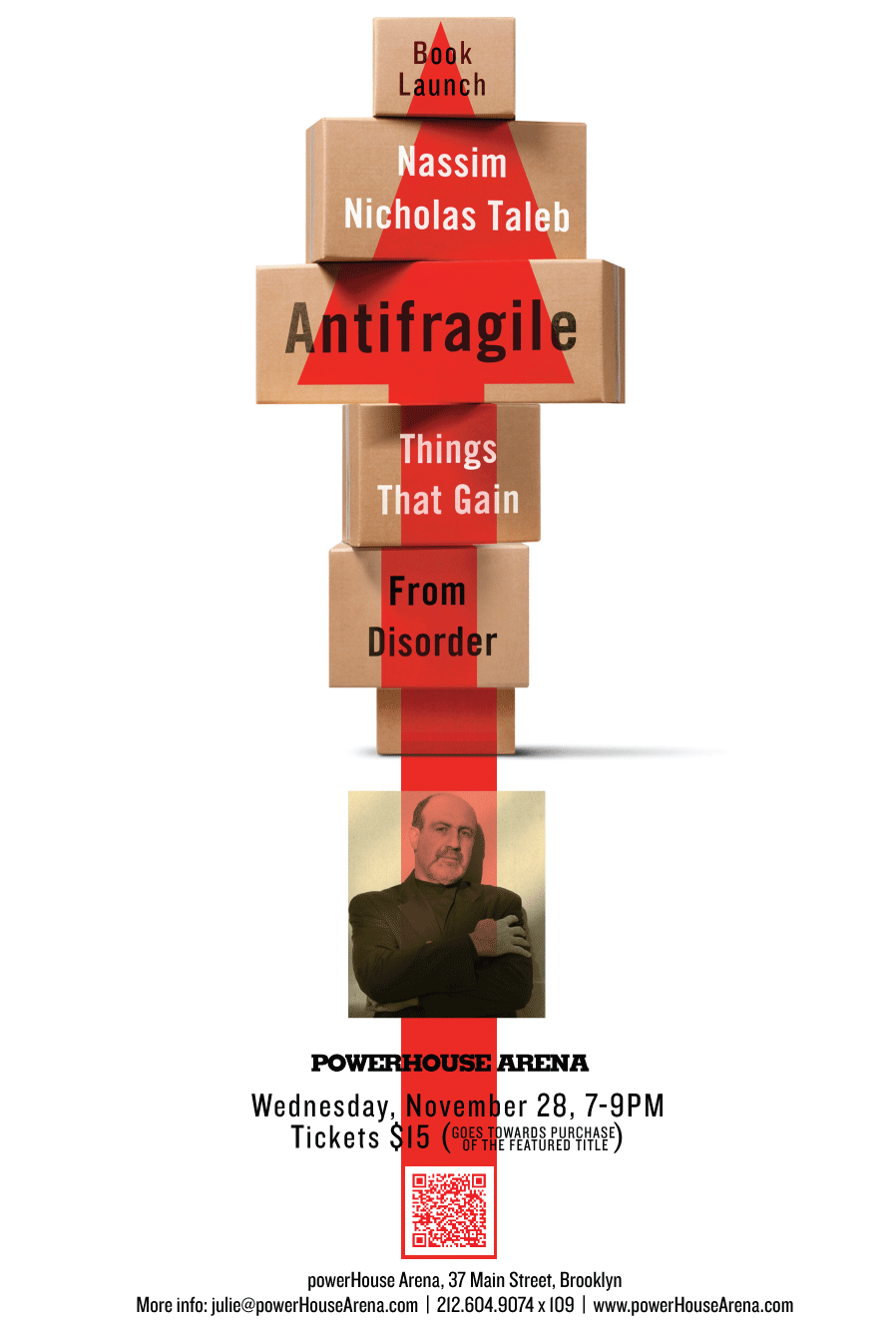 Wednesday, November 28, 7–9

PM



The powerHouse Arena · 37 Main Street (corner of Water & Main St.) · DUMBO, Brooklyn
For more information, please call 718.666.3049
TICKETS $15
Online ticket sales for the event are now closed.
A limited number of tickets will be available at the door. Doors open at 5:30pm.
Reminder: seating is on a first-come, first-served basis.
International bestseller Nassim Taleb (The Black Swan) drops by powerHouse Arena to celebrate the launch of Antifragile: Things That Gain From Disorder: a look at how stress and tension lead to healthy societies. Russ Roberts will join the author in conversation. The $15 ticket price can be applied towards purchase of the featured title.
About Antifragile:
Why is Calculus 103 easier than Calculus 101? Why is email a constant low-grade stress on our lives? Why do more pedestrians die in cross walks than in other parts of the street? Why is being a cab driver a more reliable job than being a banker? Why is it better to have a hobby than to be a professional scholar? Why is the city-state better than the nation-state? Exactly why is debt bad for you? Why do stabilization policies end up destabilizing? Why do bailouts hurt the weak and help the strong? Why does a ten year economic prediction contain more errors than a one year prediction? Why is everything that is both modern and complicated bound to fail?
Always provocative, fiercely intelligent, and often hilarious, Taleb takes on all of the above questions in his new book, outlining the fragile world we live in and how we can become more antifragile. Taleb argues that our hate for randomness drives us to espouse hidden risks, those of explosions and meltdowns, instead of accepting the variability of things: "Some people have fallen for the naive belief that the world is getting to be safer and safer. It is exactly like saying that nuclear bombs are safer because they explode less often. When we look at risks in Extremistan, we don't look at evidence (evidence comes too late), we look at potential damage: never has the world been more prone to more damage; never. It is hard to explain to naive data-driven people that risk is in the future not in the past."
In The Black Swan, Taleb outlined a problem, and in ANTIFRAGILE, he offers a definitive solution: how to gain from disorder and chaos while being protected from fragilities and adverse events. For what Taleb calls the "antifragile" is actually beyond the robust, because it benefits from shocks, uncertainty, and stressors, just as human bones get stronger when subjected to stress and tension. The antifragile needs disorder in order to survive and flourish. There are a very small number of people who understand this, says Taleb. They are "risk takers crazy enough to have ideas of their own, endowed with that very rare ability called imagination, that rarer quality called courage, and they make things happen."
About the Author:
Nassim Nicholas Taleb has devoted his life to problems of uncertainty, probability, and knowledge. He spent two decades as a mathematical trader (focusing on complex financial derivatives) before becoming a full-time philosophical essayist and academic researcher in 2006. He is currently Distinguished Professor of Risk Engineering at New York University's Polytechnic Institute.
His works are grouped under the general title Incerto (Latin for uncertainty), composed of a trilogy of essays accessible in any order (Antifragile, The Black Swan, and Fooled by Randomness), containing scientific, philosophical and historical discourses mixed with parables, plus two addenda: a book of aphorisms (The Bed of Procrustes) and The Incerto's Technical Companion freely available on Taleb web site. Without falling for the "professionalization" of scholarship, Taleb has been publishing the footnotes and back-up arguments of his essays (and only those) in a broad spectrum of academic journals, including statistical physics, quantitative finance, political science, decision science, applied mathematics, behavioral science, and philosophy.
Taleb's books have been published in thirty-three languages. Antifragile is the fruit of 1151 days spent in total, unadulterated seclusion!
About the Contributor:
Russ Roberts' rap videos on the ideas of Keynes and Hayek, "Fear the Boom and Bust" and "The Fight of the Century," have been viewed over 5.9 million times on YouTube and subtitled in eleven languages. He is the host of EconTalk, a weekly hour-long award-winning podcast he started in 2006. Over 325 episodes are archived on the web. Guests have included Milton Friedman, Christopher Hitchens, Freeman Dyson, Michael Lewis, Nassim Taleb, and the sales manager of the Honda dealer who sold Roberts his car. Roberts is the author of three works of fiction that teach economic lessons and principles. His latest book is The Price of Everything: A Parable of Possibility and Prosperity (Princeton University Press, 2008). Based on the idea of emergent order, it's the story of how prosperity is created and sustained, and the unseen order and harmony that shape our daily lives. His second book was The Invisible Heart: An Economic Romance (MIT Press, 2001) which discusses an array of public policy issues including corporate responsibility, consumer safety, and welfare. His first book, The Choice: A Fable of Free Trade and Protectionism (Prentice Hall, 3rd ed., 2006) was named one of the top ten books of the year by Business Week and one of the best books of the year by the Financial Times when it was first published in 1994.
---