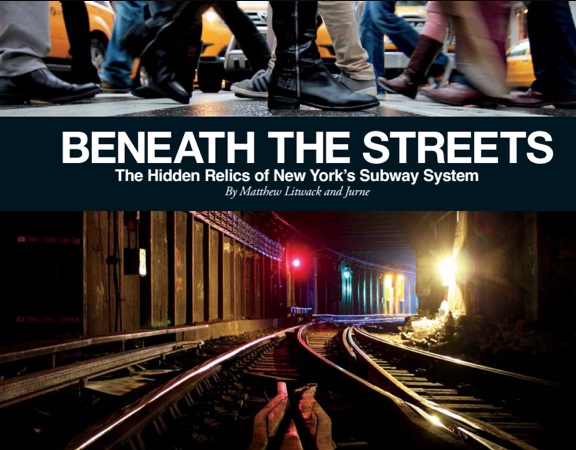 Thursday Jul 10, 2014
7:00 pm - 9:00 pm
THE POWERHOUSE ARENA [Dumbo]
37 Main Street
Brooklyn, NY 11201
For more information, please call 718.666.3049
RSVP appreciated: RSVP@powerHouseArena.com
-or-
Please fill out the "Bookings" form at the bottom of this page.
---
A native New Yorker explores his city's subway system, a dazzling subterranean maze that includes 600 miles of active tracks, abandoned sections, and disused stations.
About Beneath the Streets:
Only a handful of transit workers, daring explorers, and graffiti writers have experienced the full scope of the New York subway system. Beneath The Streets reveals this world for the first time with fantastic photographs captured from throughout the tunnels and byways of the sub- way. Although it provides service to over 5 million riders every day, the subway is for most a sealed system. Very few of its patrons are aware of the extent of this vast underground infrastructure. The authors of this important historical work first discovered this underground world in the process of photographing graffiti. Their riveting work brings to light a subterranean maze that includes 600 miles of active tracks as well as abandoned sections and disused stations.
About the Author:
Matthew Litwack is a native New Yorker who took an interest in the rich histories of the subway and the city. A graduate of Purchase College with a concentration in anthropology, he currently runs intelligentgraffiti.com, a mural painting business in New York City.
Jurne is an internationally acclaimed artist who has been writing graffiti for over 15 years. His photography captures the strange and beautiful environments that graffiti artists inhabit. Jurne's work has been exhibited in both North American and European fine art galleries. Jurne codirects a design firm based in San Francisco, California.
---
For more information, please contact
Hal Hlavinka
email: hal@powerhousearena.com
powerHouse Arena, 37 Main Street, Brooklyn, NY 11201
tel: 212-604-9074 x109
RSVP
Bookings are closed for this event.