Home
Welcome to POWERHOUSE ARENA, the premier location of the three indie POWERHOUSE Bookstores, located in Dumbo. With locations now in Dumbo, Park Slope, and Industry City, our helpful staff is ready to help you find your next favorite book at any of our Brooklyn-based bookstores!
Dumbo
28 Adams St.
Brooklyn, NY
11201
Mon – Sun: 10:00am – 7:00pm

Email chris@powerhousearena.com for recommendations and special orders
Industry City (new location)
220 36th St. Building #2
Brooklyn, NY
11232
Mon – Sun: 10:00am – 6:00pm

Email megan@powerhousearena.com for recommendations and special orders
Celebrate NATIONAL POETRY MONTH at POWERHOUSE!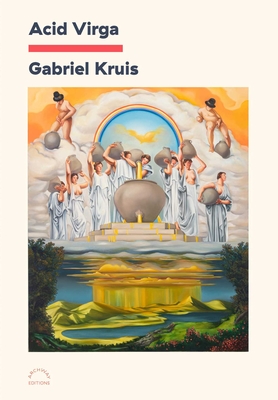 April begins this week, making it high time to read some POETRY!  Of course, the one you've got to read is ACID VIRGA by Gabriel Kruis, recently released from powerHouse's very own ARCHWAY EDITIONS!
Looking for some bargain books? Come on over to POWERHOUSE @ IC where there's a Spring Book Sale! We've set up a curated selection of sale books just outside our store for everyone to explore. The tables will feature unbeatable deals on fiction, nonfiction, cookbooks, kid's books, even some photo and art books!
Here's the top poetry picks from our three stores, including the inaugural poem from Amanda Gorman, the wildly successful Wild Peach from s*an d. henry-smith,the indominitable Mark Leidner, an anthology of radical trans poetics from Andrea Abi-Karam & Kay Gabriel, the legendary Mei-Mei Berssenbrugge, the ever-popular Feed from Tommy Pico, and new poems from Hoa Nguyen, Erin Belieu, Astro-Poet Alex Dimitrov, and  Jameson Fitzpatrick!
Don't forget that any upcoming book bought from our webstore with a "Pre-Order Now" button can be bought and we'll have it ready for you as soon as it comes out!
Shop these titles and more here!
Upcoming Events!

Virtual Book Launch: Ivy and Bean Get to Work with Annie Barrows and Sophie Blackall
Wednesday, April 7, 4-5:30PM
It's Career Day at Emerson Elementary School, and all the students have to choose what they want to be when they grow up. No problem. Ivy and Bean already have that all figured out. At least, they thought so, until they met Herman the Treasure Hunter. Now everyone in the second grade is looking for treasure—and finding it. Everyone except Ivy and Bean, that is. They need to get out their shovels and turn up some treasure on the double!
Virtual Book Launch: The Golden Age of the American Essay by Phillip Lopate
Wednesday, April 7, 7-8PM
The explosion of journals and magazines, the rise of public intellectuals, and breakthroughs in the arts inspired a flowering of literary culture. At the same time, the many problems that confronted mid-century America–racism, sexism, nuclear threat, war, poverty, and environmental degradation among them–proved fruitful topics for America's best minds. In The Golden Age of the American Essay, Phillip Lopate assembles a dazzling array of famous writers, critics, sociologists, theologians, historians, activists, theorists, humorists, poets, and novelists. 
Virtual Book Launch: The Night Always Comes by Willy Vlautin in conversation with Franz Nicolay
Thursday, April 8, 7-8PM
Set over two days and two nights, THE NIGHT ALWAYS COMES follows Lynette's frantic search across the city, encountering pervasive greed, money old and new, those who are benefiting and those left behind by a city in boom. Desperate for help that doesn't come, she makes a dangerous choice that sets her on a precarious, frenzied spiral.
Dubbed by Publishers Weekly as "stunning" and "heartbreaking," the novel asks: What is the price of gentrification, and how far are we prepared to go for the American dream?
Virtual Book Launch: Cheese, Wine, and Bread by Katie Quinn
Tuesday, April 27, 6-7PM
Join Katie Quinn in-conversation with food YouTuber and podcaster Jen Phanomrat to celebrate the publication of Katie's new book, CHEESE, WINE, AND BREAD: Discovering the Magic in Fermentation in England, Italy, and France! Plus, Katie will demo her Cheddar Brownies recipe from the book during the event.
Featured Picks From Our Staff!

Satantango
by Laszlo Krasznahorkai
In rainy, late Communist Hungary, rural villagers scheme, fight, fool each other, are fooled, and are deeply, relatably human. It feels both mythical and post-apocalyptic, written in a jaw-dropping style, with bravura, multi-page sentences. Humor, philosophy, and astute emotional observations are built into every passage.
In The Dream House
by Carmen Maria Machado
When Carmen Maria Machado was in grad school, she was in a same-sex abusive relationship that left her struggling to regain her sense of safety and herself. After years of searching for the words to tell the story, Machado has bravely written a powerful and inventive memoir that explores her experience through narrative themes including horror tropes, "choose your own adventure" style page skipping, and fantasy elements. Infused with research on what it means to be a queer abuse survivor, Machado's memoir is a must-read.
How to Blow Up a Pipeline
by Andreas Malm
From the author of the seminal work Fossil Capital, this book is a break from any other book on climate change today. Instead of missives on government intervention and legislation or calls for personal responsibility in the forms of recycling or veganism, Malm calls for direct intervention to the system polluting the planet: property destruction as a form of political speech. He draws from personal experiences, the organizing and direct action of Nelson Mandela and ANC, and climate activists of the 70s, 80s and 90s to form his inspiration polemic. He cuts through the pessimism and fatalism that defines so much thought on climate change today. Most simply, he asks, what is more radical: doing nothing or doing something and what is worth saving: the earth or private property?
We're proud to be a #WomanOwnedBusiness
Staff Recommendations

Gift Certificates
Upcoming Events
Past Events