Home
Welcome to POWERHOUSE ARENA, the premier location of the three indie POWERHOUSE Bookstores, located in Dumbo. With locations now in Dumbo, Park Slope, and Industry City, our helpful staff is ready to help you find your next favorite book at any of our Brooklyn-based bookstores!
Park Slope
1111 8th Av.
Brooklyn, NY
11215
Mon-Thurs: 11:00am-6:00pm, Friday: 11:00am – 7:00pm, Saturday: 10:00am -7:00pm, Sunday: 10:00am – 6:00pm

Email brittany@powerhousearena.com for recommendations and special orders
Dumbo
28 Adams St.
Brooklyn, NY
11201
Mon – Sun: 10:00am – 7:00pm

Email chris@powerhousearena.com for recommendations and special orders
Industry City (new location)
220 36th St. Building #2
Brooklyn, NY
11232
Sun – Fri: 10:00am – 6:00pm, Sat: 10:00am – 7:00pm

Email megan@powerhousearena.com for recommendations and special orders
IN PERSON and VIRTUAL EVENTS at POWERHOUSE!
We've put together an exceptional lineup of Winter events – check out the upcoming ones below, or visit our events page for more!
Awesome gift recs from POWERHOUSE &
fab upcoming readings & signings!
The holidays are nigh, and new books are a PERFECT holiday gift. Visit our three locations around Brooklyn to browse holiday gift books—from the beautiful collab between Barack Obama and Bruce Springsteen's Renegades to the just-released opus Spike, a visual history of Spike Lee's film career—or visit our online bookstore to order other titles such as the long-awaited tome from Annie Leibovitz and insightful memoirs from Will Smith and Dave Grohl! But ACT FAST—to ensure that every book arrives on time, please place your holiday orders BY DECEMBER 1st!
Thank you all for your continued support! We love you and you matter.
New Releases!
Check out the new releases our staff has highlighted this week!
Click your pick to order a copy on our website today!
Shop these titles and more here!
Upcoming Events!

Book Launch: I'm Not Hungry But I Could Eat by Christopher Gonzalez in conversation with Jean Kyoung Frazier
POWERHOUSE @ the Archway
Wednesday Dec 01, 2021 7:00 pm – 9:00 pm
Long nights, empty stomachs, and impulsive cravings haunt the stories of I'm Not Hungry But I Could Eat. A college grad reunites with a high school crush when invited to his bachelor party, a lonely cat-sitter wreaks havoc on his friends' apartment, happy hour french fries leave more than grease on lips and fingers, and, squeezed into a diner booth, one man eats past his limit for the sake of friendship. Exploring the lives of bisexual and gay Puerto Rican men, these fifteen stories show a vulnerable, intimate world of yearning and desire.
POWERHOUSE @ IC
A comprehensive guide to vibrant Middle Eastern ingredients, with more than 120 recipes that let them shine, from James Beard award winning Sahadi's market in Brooklyn, New York.
Sumac. Urfa pepper. Halvah. Pomegranate molasses. Preserved lemons. The seasonings, staples, and spice blends used throughout the Middle East offer deliciously simple ways to transform food—once you know how to use them. In FLAVORS OF THE SUN, the people behind the iconic Brooklyn market Sahadi's showcase the versatility of these ingredients in over 120 everyday dishes, including starters, salads, soups, family-friendly meals, and desserts. With sections devoted to recipes boasting Bright, Savory, Spiced, Nutty, and Sweet accents, it offers inspiration, techniques, and intensely flavorful ways to use everything from Aleppo pepper to za'atar with confidence. Throughout, "no-recipe recipes" help build up your flavor intuition so you can effortlessly incorporate any of the featured spices, condiments, and preserves into your daily repertoire.
IC Storytime & Book Launch: The Biggest Little Boy
Sunday Dec 05, 2021 12:00 pm – 1:30 pm
POWERHOUSE @ IC
CNN news anchor Poppy Harlow has crafted a Christmas classic with lots of heart!
Luca loves BIG things. BIG trucks. BIG buildings. BIG bowls of pasta. But what he wants most is the biggest Christmas tree of all. With Christmas approaching, Luca goes in search of a special tree. But he soon finds out that what matters most is having a BIG heart. CNN news anchor Poppy Harlow has crafted a timeless Christmas story brimming with good cheer and Ramona Kaulitzki brings the festive holiday season to life. The Biggest Little Boy reassures all young readers that they are special, just the way they are.
Featured Picks From Our Staff!

The House In The Cerulean Sea
by TJ Klune
The cover quote on this novel describes it as "being wrapped up in a big gay blanket," and that pretty much sums it up. When Linus Baker, a caseworker at the Department in Charge of Magical Youth, is unexpectedly sent on a classified assignment to supervise six dangerous magical children at a remote orphanage, Linus finds his quiet, solitary life forever changed. If you want to experience the adult version of how Harry Potter made you feel when you were ten, this is the book for you. It's a magical story of romance, mystery, and finding family in the most unexpected places. Don't miss it!
Black Case Vol. I&II: Return From Exile by Joseph Jarman
First published by the Art Ensemble of Chicago Publishing Co. in 1977, Joseph Jarman's Black Case is a collection of fiery, revolutionary verse and sprawling jazz compositions written between 1960 and 1975 aimed to relinquish the ego, to form a new consciousness through communication and music, and the freedom of all through the "cosmic breath."
Illuminating the urban alienation of modern society, the police brutality of Chicago's South Side, and our collective liberation of these qualms through the healing force of music; Jarman's compelling collection is a pivotal work of the Black Arts Movement and a must-have!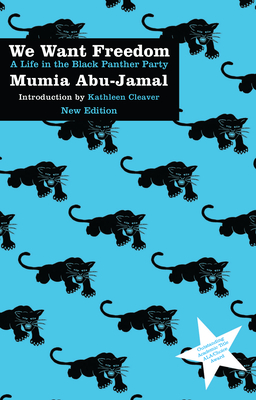 We Want Freedom
by Mumia Abu-Jamal
Philadelphia Black Panther Party founder, writer, radio host, and revolutionary, Mumia's contribution to both radical politics and front-line reporting are critical in understanding the landscape which gave rise to the Black Panthers. More than a history of the Party, this book is a history of struggle from slave rebellions to '60s  and beyond, and is one of a few truly indispensable books in American political culture. The writing is convivial and electric, and his perspective is crucial and enlightening. This book should be where anyone starts when they want to understand the historical, ideological and material currents that created the Black Panther Party and their revolutionary politics.
We're proud to be a #WomanOwnedBusiness
Staff Recommendations

Gift Certificates
Upcoming Events
Past Events