Home
Welcome to POWERHOUSE ARENA, the premier location of the three indie POWERHOUSE Bookstores, located in Dumbo. With locations now in Dumbo, Park Slope, and Industry City, our helpful staff is ready to help you find your next favorite book at any of our Brooklyn-based bookstores!
Park Slope
1111 8th Av.
Brooklyn, NY
11215
Mon-Thurs: 11:00am-6:00pm, Friday: 11:00am – 7:00pm, Saturday: 10:00am -7:00pm, Sunday: 10:00am – 6:00pm

Email brittany@powerhousearena.com for recommendations and special orders
Dumbo
28 Adams St.
Brooklyn, NY
11201
Mon – Sun: 10:00am – 7:00pm

Email chris@powerhousearena.com for recommendations and special orders
Industry City (new location)
220 36th St. Building #2
Brooklyn, NY
11232
Sun – Fri: 10:00am – 6:00pm, Sat: 10:00am – 7:00pm

Email megan@powerhousearena.com for recommendations and special orders
IN PERSON and VIRTUAL EVENTS at POWERHOUSE!
We've put together an exceptional lineup of Winter events – check out the upcoming ones below, or visit our events page for more!
Awesome gift recs from POWERHOUSE &
fab upcoming readings & signings!
The holidays are nigh, and new books are a PERFECT holiday gift. Visit our three locations around Brooklyn to browse holiday gift books—from the beautiful collab between Barack Obama and Bruce Springsteen's Renegades to the just-released opus Spike, a visual history of Spike Lee's film career—or visit our online bookstore to order other titles such as the long-awaited tome from Annie Leibovitz and insightful memoirs from Will Smith and Dave Grohl! But ACT FAST—to ensure that every book arrives on time, please place your holiday orders BY DECEMBER 1st!
Thank you all for your continued support! We love you and you matter.
New Releases!
Check out the new releases our staff has highlighted this week!
Click your pick to order a copy on our website today!
Shop these titles and more here!
Upcoming Events!

*IN PERSON* Book Launch: SWEAT: A History of Exercise by Bill Hayes

POWERHOUSE @ the Archway
Tuesday, December 7, 7-9 PM
Telling the story of this modern obsession along with its ancient origins, SWEAT draws on Hayes's personal experience—running, swimming, spinning, walking, biking, boxing, lifting, wrestling (as Plato did), sweating, and downward-dogging his way through the origins of different forms of exercise to explore the cultural and scientific history of why and how we exercise, and indeed how the human body works.
*IN PERSON* Book Launch: Brown Girls by Daphne Palasi Andreades
POWERHOUSE @ The Archway
 A blazingly original debut novel about a group of friends and their immigrant families from Queens, New York—a tenderly observed, fiercely poetic love letter to a modern generation of brown girls.
*IN PERSON* Book Launch: Hades, Argentina by Daniel Loedel
Tuesday, January 11, 7-9 PM
POWERHOUSE @ The Archway
In Hades, Argentina, Daniel Loedel masterfully captures the intricacies of how political violence, betrayal, and devotion can shape both an individual and a country.
Featured Picks From Our Staff!

The House In The Cerulean Sea
by TJ Klune
The cover quote on this novel describes it as "being wrapped up in a big gay blanket," and that pretty much sums it up. When Linus Baker, a caseworker at the Department in Charge of Magical Youth, is unexpectedly sent on a classified assignment to supervise six dangerous magical children at a remote orphanage, Linus finds his quiet, solitary life forever changed. If you want to experience the adult version of how Harry Potter made you feel when you were ten, this is the book for you. It's a magical story of romance, mystery, and finding family in the most unexpected places. Don't miss it!
Black Case Vol. I&II: Return From Exile by Joseph Jarman
First published by the Art Ensemble of Chicago Publishing Co. in 1977, Joseph Jarman's Black Case is a collection of fiery, revolutionary verse and sprawling jazz compositions written between 1960 and 1975 aimed to relinquish the ego, to form a new consciousness through communication and music, and the freedom of all through the "cosmic breath."
Illuminating the urban alienation of modern society, the police brutality of Chicago's South Side, and our collective liberation of these qualms through the healing force of music; Jarman's compelling collection is a pivotal work of the Black Arts Movement and a must-have!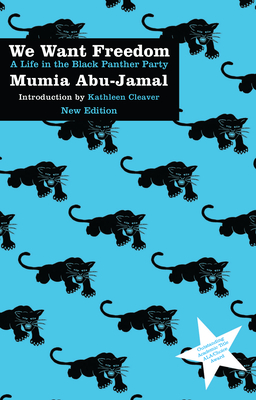 We Want Freedom
by Mumia Abu-Jamal
Philadelphia Black Panther Party founder, writer, radio host, and revolutionary, Mumia's contribution to both radical politics and front-line reporting are critical in understanding the landscape which gave rise to the Black Panthers. More than a history of the Party, this book is a history of struggle from slave rebellions to '60s and beyond, and is one of a few truly indispensable books in American political culture. The writing is convivial and electric, and his perspective is crucial and enlightening. This book should be where anyone starts when they want to understand the historical, ideological and material currents that created the Black Panther Party and their revolutionary politics.
We're proud to be a #WomanOwnedBusiness
Staff Recommendations

Gift Certificates
Upcoming Events
Past Events