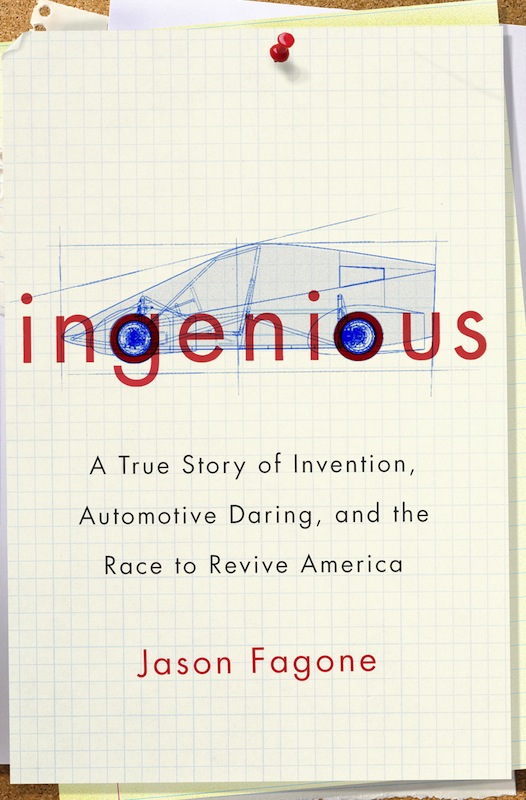 Thursday Dec 12, 2013
7:00 pm - 9:00 pm
THE POWERHOUSE ARENA [Dumbo]
37 Main Street
Brooklyn, NY 11201
For more information, please call 718.666.3049
RSVP appreciated: RSVP@powerHouseArena.com
-or-
Please fill out the "Bookings" form at the bottom of this page.
---
About INGENIOUS:
America is a nation of inventors—or so said Mark Twain. But these days it seems American innovation is in the hands of engineers in Silicon Valley, Detroit manufacturers, or Houston rocket scientists. So when journalist Jason Fagone heard about a contest offering $10 million to anyone who could build a safe, energy-efficient car of the future, he knew he was in for the ride of his life. INGENIOUS: A True Story of Invention, Automotive Daring, and the Race to Revive America is the story of four teams vying for that prize, and their fervor reminds us we are still living in Twain's America, a place where ingenuity springs from the most unexpected places.
The Automotive X Prize was announced in 2007 by American entrepreneur Peter Diamandis. The contest attracted interest from more than three hundred teams around the world, including dozens of amateur inventors. Many of them threw out the rulebook on how a car should look, feel, and drive, choosing instead to start from scratch. The finished product needed to be safe, mass- producible, and able to travel 100 miles on the energy equivalent of one gallon of gas—the inventors could take it from there.
The first team Fagone heard about was a group of local Philadelphia high-schoolers who had beaten out a team from MIT in a previous competition. When he went to the school to investigate, he was amazed: This was 2010, and the country was in a recession. General Motors had gone bankrupt. America, everyone kept saying, didn't make things anymore. Yet here, Fagone found a hive of energy, ingenuity, and hope. He was hooked.
As more than a hundred teams battled it out for the Automotive X Prize, Fagone spent the next several years focused on four teams in particular, getting to know the inventors—many of them amateurs—who were investing their sweat, tears, time, and money in America's energy future. In INGENIOUS we meet:
Kevin and Jen, high school sweethearts and garage tinkerers. They're sinking their life savings into cobbling together a battery-powered dream machine in an Illinois barn.
Oliver Kuttner, German immigrant, realestate developer, and big-idea man whose Virginia team is building what they call the Very Light Car. Forget reinventing the wheel —Oliver reinvents the lug nut, recalibrating every part of the machine to make it featherweight, a car so light you could push it across the floor with your thumb.
California start-up Aptera Motors, working on a pod-shaped, aerodynamic vehicle resembling the wingless bird the company is named for. They're the early favorite, but false starts and management restructuring have left the company's future hinging on Diamandis's prize.
The West Philly school kids, who are building two hybrid cars: one that looks sexier than the Prius, another meant to be within the budget of families in their lower-income neighborhood.
INGENIOUS is the story of ordinary people striving for the extraordinary. It offers a fascinating window into the creative process, and it celebrates the return of an older, more democratic notion of invention, one not reserved for huge corporations with deep pockets and hundreds of engineers. These four teams risk failure, ridicule, and financial ruin in a pursuit of a dream bigger than themselves. As the Illinois team writes in chalk on their barn wall: SOMEBODY HAS TO DO SOMETHING. THAT SOMEBODY IS US!
About the Author:
JASON FAGONE has written about science, sports, and culture for Wired, GQ, Esquire, The New York Times Magazine, The Atlantic, Slate, Philadelphia, and the 2011 edition of The Best American Sports Writing. He lives outside of Philadelphia with his wife and daughter. This is his second book; his first book, Horsemen of the Esophagus, was published by Crown in 2006.
---
For more information, please contact
Justin Levine
email: justin@powerhousearena.com
powerHouse Arena, 37 Main Street, Brooklyn, NY 11201
tel: 212-604-9074 x109
RSVP
Bookings are closed for this event.