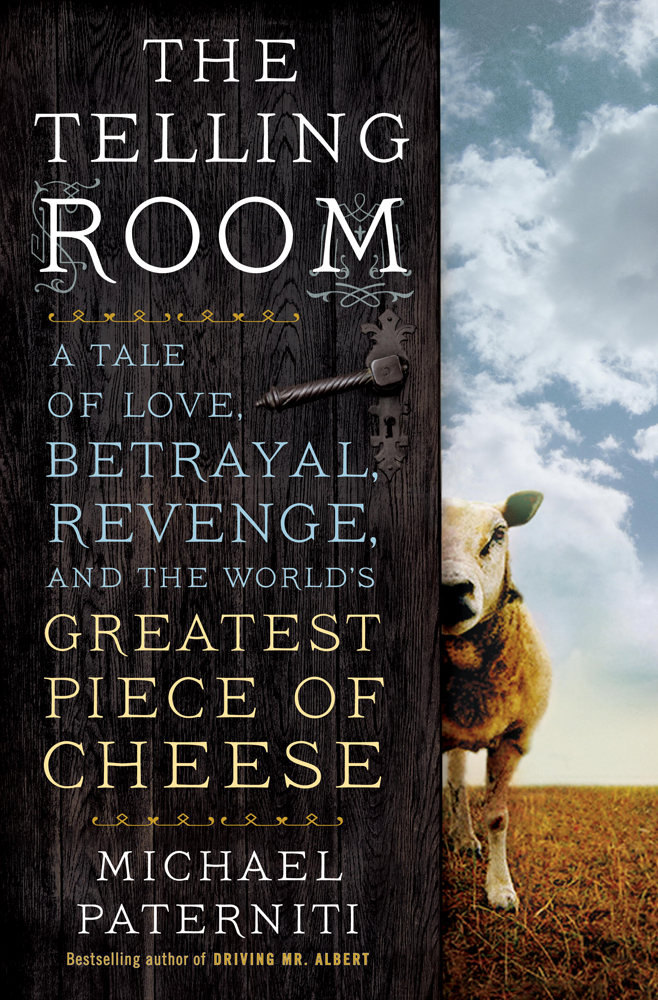 Wednesday Jul 31, 2013
7:00 pm - 9:00 pm
THE POWERHOUSE ARENA [Dumbo]
37 Main Street
Brooklyn, NY 11201
For more information, please call 718.666.3049
RSVP appreciated: RSVP@powerHouseArena.com
-or-
Please fill out the "Bookings" form at the bottom of this page.
Drinks will be served.

---
A cheesemaker's tale of a magical piece of cheese sends journalist Michael Paterniti on a journey through the Spanish countryside to discover the truth behind the myth. His editor Andy Ward joins him in conversation.
About THE TELLING ROOM:
In the fall of 1991, at Zingerman's deli in Ann Arbor, Michigan, Michael Paterniti encountered a piece of cheese. Not just any cheese. This was Paramo de Guzmán, a rare Spanish queso, which – according to the deli's newsletter – was one of the most sought-after delicacies on earth. Prized by presidents and kings, heralded for its rustic beauty and made from the milk of churra sheep, the cheese was submerged in olive oil and aged for a year in a cave, known as "a telling room," where it gained magical qualities–if you ate it, some said, you might recover long-lost memories.
It is in this picturesque Castilian village of Guzmán, in the summer of 2000, that Paterniti found himself in a telling room belonging to a hulking, heartbroken Spanish cheesemaker named Ambrosio Molinos de las Heras, listening as he spun an odd and compelling tale about this fantastical piece of cheese, a tale that, as it unfolded, revealed something real and surprising about the best and worst of human nature. By the time the two men exited the telling room eight hours later, Paterniti was hooked. Soon, he was fully embroiled in village life, relocating his young family to Guzmán in order to chase the truth about this cheese and to explore the fairy tale–like place where the villagers conversed with farm animals and lived by an ancient Castilian code of honor, where they made their wine and food by hand, from the grapes growing on a nearby hill and the flocks of sheep floating over the Meseta.
In the course of writing THE TELLING ROOM: A Tale of Love, Betrayal, Revenge, and the World's Greatest Piece of Cheese, Paterniti discovers that the story of this cheese is nothing like the idyllic slow-food fable he first imagined. Instead, he's sucked into the heart of an unfolding mystery, a blood feud that includes accusations of betrayal and theft, death threats, and a murder plot. As the village begins to spill its long-held secrets, Paterniti finds himself implicated in the very story he is writing.
About the Author:
Michael Paterniti's writing has appeared in publications including The New York Times Magazine, National Geographic, Harper's, Outside, Esquire, and GQ, where he works as a correspondent. He is the recipient of an NEA grant and two MacDowell Fellowships. His first book, Driving Mr. Albert, was a New York Times "Notable Book of the Year." He lives in Portland, Maine, with his wife, Sara Corbett, and their three children.
---
For more information, please contact
Justin Levine
email: justin@powerhousearena.com
powerHouse Arena, 37 Main Street, Brooklyn, NY 11201
tel: 212-604-9074 x109
RSVP
Bookings are closed for this event.