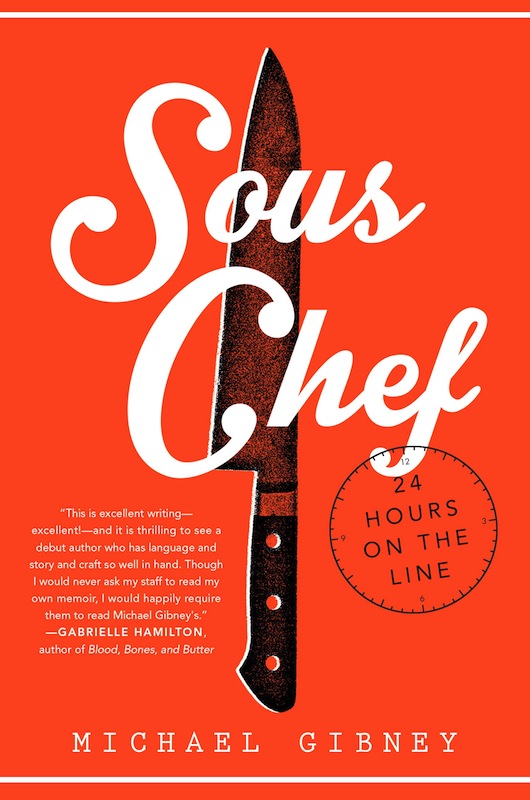 Tuesday Apr 01, 2014
7:00 pm - 9:00 pm
THE POWERHOUSE ARENA [Dumbo]
37 Main Street
Brooklyn, NY 11201
For more information, please call 718.666.3049
RSVP appreciated: RSVP@powerHouseArena.com
-or-
Please fill out the "Bookings" form at the bottom of this page.
---
The Brooklyn-based kitchen vet – who's worked at Tavern on the Green, Governor in DUMBO, and more – offers an unflinching look at the life of a cook. Journalist Charles Shafaieh joins Gibney in conversation.
About Sous Chef:
Sous chef Michael Gibney's kitchen runs with Swiss clocklike precision —from the almost meditative morning preparations to the moment the fat sizzles in the pan when the first ticket is fired. He worked in some of Manhattan's most prestigious establishments as the second in command to Master Chefs for nearly 10 years, when he traded his knives for a pen to get his MFA in Creative Writing from Columbia University. The result is his debut work, SOUS CHEF: 24 Hours on the Line, an immediate immersion and totally unvarnished glimpse into the world of the people who run the line: people who through both a labor of love and financial necessity prepare the food we eat. Told with honesty and grit, and evocative prose that brings the kitchen and its inhabitants to life, SOUS CHEF will provoke you to re-consider how we approach our meals and the people who have put them in front of us.
SOUS CHEF is an unflinching look at twenty-four hours in the lives of people who have committed themselves to feeding others with never seeing the end result—that moment when the food is actually consumed. Both a love letter to the artistry—the soigné—of food and a cautionary tale of the demanding and unglamorous grind that it is, Gibney sheds light in equal measure on the allures and adversities intrinsic to this exhaustive and exhilarating job. He describes how every member on the line, from the Chef to the dishwasher, needs to be battle-ready when they head into service and what happens when they aren't—from key ingredients not arriving in the morning deliveries or when lapses in concentration bring burned hands and cut fingers. SOUS CHEF is also about what it means to dwell in that limbo between line cook and Chef where the taste of power is tempered by the compliance to another person and their career, and how one straddles and thrives on that thin line.
About the Author and Moderator:
Michael Gibney began working in restaurants at the age of sixteen and assumed his first sous chef position at twenty-two. He ascended to executive sous chef at Tavern on the Green, where he managed an eighty-person staff. He's worked in the kitchens of Morgans Hotel Group, 10 Downing in Manhattan, and Governor in Brooklyn's DUMBO, among many others. Over the course of his career, he has had the opportunity to work alongside cooks and chefs from many of the nation's best restaurants, including Alinea, Per Se, Eleven Madison Park, Daniel, Jean Georges, Le Bernardin, Bouley, Ducasse, Corton, wd~50, and Momofuku. In addition to his experience in the food service industry, Gibney also holds a BFA in painting from Pratt Institute and an MFA in nonfiction writing from Columbia University. He lives in Brooklyn.
Charles Shafaieh is a freelance journalist specializing in cultural criticism. His work has appeared in Slate and The Daily Beast. A recent graduate of Columbia University, he lives in New York City.
---
For more information, please contact
Justin Levine
email: justin@powerhousearena.com
powerHouse Arena, 37 Main Street, Brooklyn, NY 11201
tel: 212-604-9074 x109
RSVP
Bookings are closed for this event.