All kids events and Story Time events take place at our sister location, POWERHOUSE on 8th.
(1111 8th Ave [bet. 11th & 12th st.], South Slope, Brooklyn, NY 11215, TEL: 718-666-3049 x102)
---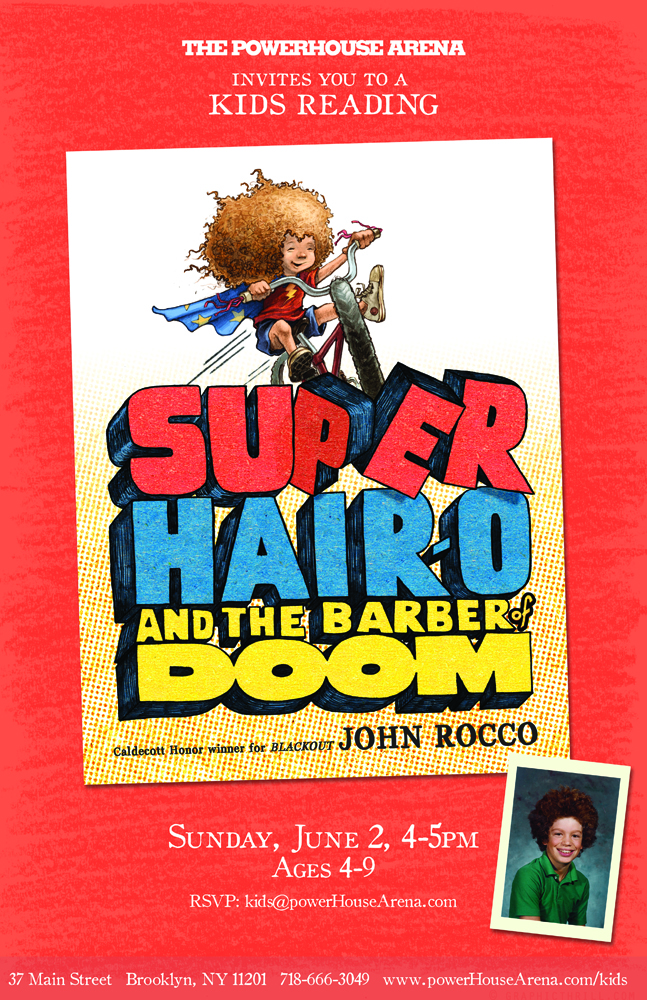 The powerHouse Arena is known worldwide for having one of the best curated children's book sections in the United States. Many of our customers have told us that you can come to the powerHouse Arena blindfolded and any book you pick up will be wonderful. Not only have we pre-selected the best current children's books out of the enormous amount published every year, but we have also hunted down hard-to-find classics. Now, for the first time ever, get access to the same curated kids' section offered in our Brooklyn bookstore from the comfort of home. Stop browsing endlessly through unorganized, mass-market books on B&N and Amazon—we have done the work for you and selected only the very best books and gifts for you, your kids, and best friends.
"If you are looking for great kids' books, powerHouse Arena has done all of the work for you. They have assembled such a fun collection of books that you can not go wrong. Beautiful classics, new discoveries, unexpected treasures. Go there now."
—Jon Scieszka
Author of The Stinky Cheese Man


Join our powerHouse kids mailing list and get advance notices of exclusive kids' events and special sales!



---


Recommended by Louis, 10 years old, Park Slope

Malcolm At Midnight by W.H. Beck and Brian Lies

"The book is a big adventure of a society of pet animals that takes place in a school building. The whole story has something to do with what happened a long time ago, and I tell you one thing there are weird howling sounds on the upper floors that you have to find out about by reading the book for yourself. Oh and I really liked how the author thinks how the animals act in real life if they could talk."

……………………………………………………………………………………..

Rocket Writes a Story by Tad Hills

In the newest installment of the New York Times Bestselling Rocket series, Rocket learns lots of new words and figures out how to turn them into a story. Finding inspiration is tough, but when Rocket meets a shy owl way up in a tree top he gets an idea. A great little story of an unlikely friendship and how creativity brings people (or dogs and owls) together.

……………………………………………………………………………………..

Cat Tale by Michael Hall

A clever book of homonyms, 'Cat Tale' tails three felines through several nutty escapades. Helping kids learn the difference between "to plane a board" and "to board a train" each page is presents a playful riff on word-play with bright, endearing illustrations.

……………………………………………………………………………………..

I Want My Hat Back by Jon Klassen

"Never, NEVER steal a hat from a bear. This book explains why, and will have adults and kids giggling long after story time is over.

……………………………………………………………………………………..

Richard Scarry's Best Storybook Ever by Richard Scarry

"This has been a favorite in our family for many, many years. Kids between 2 and 7 years will want to read it again and again. There are so many different things to see and learn. A staple in every kid's library."

……………………………………………………………………………………..

In the Night Kitchen by Maurice Sendak

"From the acclaimed author and illustrator of 'Where the Wild Things Are' comes this magical tale of a boy that gets baked in a cake. Perfect for the aspiring foodie child.

……………………………………………………………………………………..

My Father's Dragon by Ruth Stiles Gannett

"Timeless and entertaining! Three stories in one book with beautiful illustrations and an amazing map. It's a perfect bedtimes story book or great on a weekend afternoon."

……………………………………………………………………………………..

I'd Really Like to Eat a Child by Sylviane Donnio

"A petulant young croc with an outsized appetite, and his (thankfully) very patient parents. Lessons learned on The Nile. From the french original, 'Je Mangerais Bien Un Enfant'
"

……………………………………………………………………………………..