Search Results for jamel shabazz

Welcome to POWERHOUSE Arena, the premier location of the three indie POWERHOUSE Bookstores, located in Dumbo.
With locations now in Dumbo, Park Slope, and Industry City, our helpful staff is ready to help you find your next favorite book at any of our Brooklyn-based bookstores!
---
We are OPEN seven days a week in our THREE stores!
Dumbo
28 Adams St.
Brooklyn, NY
11207

Mon – Sun: 10:00am – 7:00pm
Park Slope
1111 8th Av.
Brooklyn, NY
11215

Monday-Friday: 12:00pm-6:00pm, Saturday-Sunday: 10:00am – 6:00pm


Industry City
220 36th St. Building #2
Brooklyn, NY
11232
Sun – Thurs: 10:00am – 6:00pm, Fri-Sat: 10:00am – 7:00pm
Parking validation with purchase
Get personalized recommendations and special orders from these expert staffers:
Brittany (Dumbo), Hannah (Park Slope), or Susanne (Industry City).
Thank you for continuing to support your local indie bookstore!
---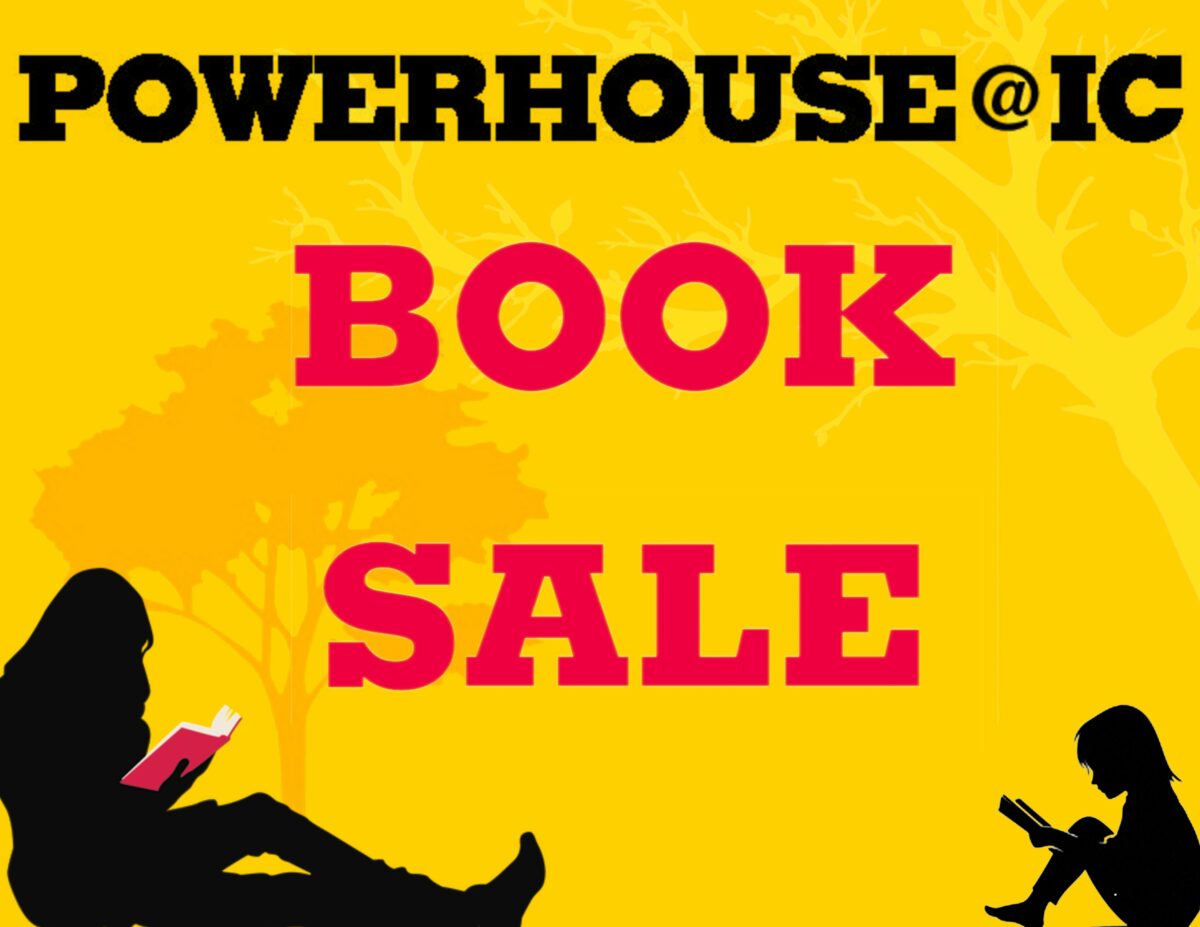 ---
 Archways 9 featuring Tivali Thomas, Liza St. James, Danilo Machado, Zoey Greenwald, Lillian Paige Walton and Leah Sophia Dworkin
Join us on December 2nd at 7PM to welcome ARCHWAY EDITIONS, the imprint of our very own powerHouse Books as they launch Archways 9! 
Archway Editions is the literary imprint of powerHouse Books, the artbook publisher distributed by Simon & Schuster.
Archway's mission statement is "to publish the finest authors, at all stages of their careers, who write material which is at odds with the prevailing status quo, both legendary and emerging. This series is designed to be a literary compliment to the trailblazing artbooks of powerHouse Books proper, pocket-sized texts that are guaranteed to alter the way you see the world."
Published or forthcoming titles include Ishmael Reed's The Haunting of Lin-Manuel Miranda, Paul Schrader's First Reformed and Alice Notley's Runes & Chords. The imprint is genre-blind with a goal to publish unconventional books for the widest possible audience.
Archways is the accompanying reading series, which aims to bring that into practice. Works from each event are compiled into anthologies of the same name. This is the ninth iteration – advance copies of the first anthology will be available for purchase!!
---
POWERHOUSE is hiring!
We are looking for an events coordinator and experienced booksellers. Find more details here!
---
Great

New Releases!
Hot new books available from POWERHOUSE Bookstores today.
Click your pick to order a copy on our website today!
For more info call 718-666-3049 or email brittany@POWERHOUSEBookstores.com!
Shop these titles and more here!
---
Upcoming Book Launches!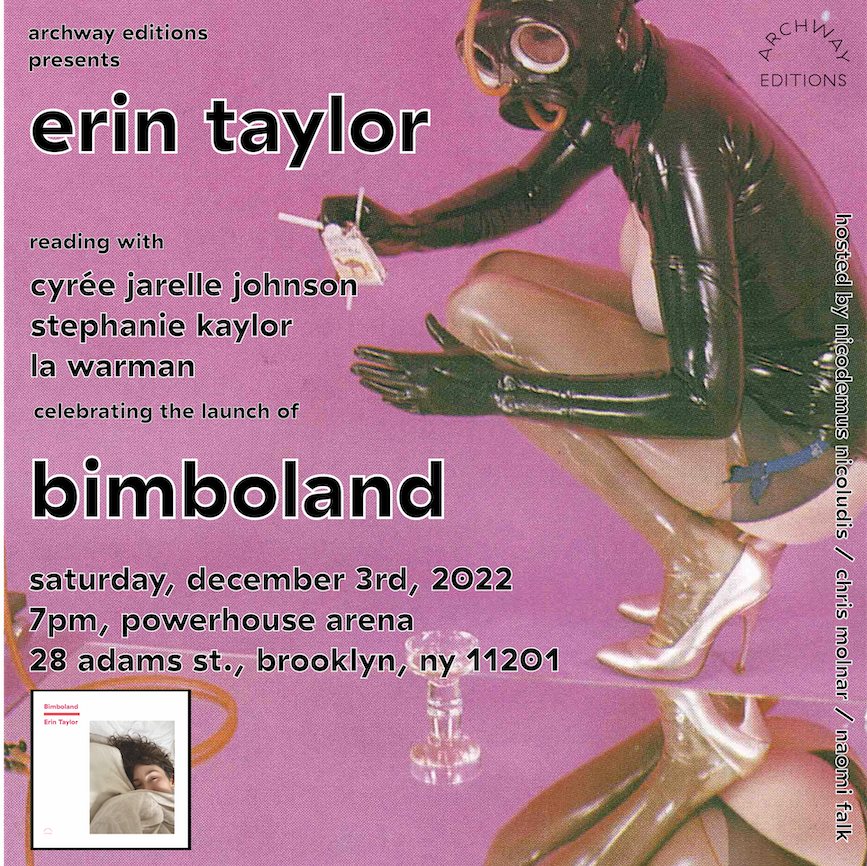 *DUMBO* Archway Editions presents the LAUNCH of
BIMBOLAND by Erin Taylor
Saturday Dec 03, 7-9 PM
Bimboland is an astonishing debut poetry collection wrestling with desire, vulnerability, sex work and money from writer and poet Erin Taylor.
Bimboland is an astute and confident debut, balancing, in their blistering and tender style, their life as a sex worker and socialist politics. The poems are full of desire and vulnerability, insight and calls to action, both personal and societal. You can get lost in the insatiable pace of their words and the way in which you feel, as they feel, "powerful yet somehow / nothing."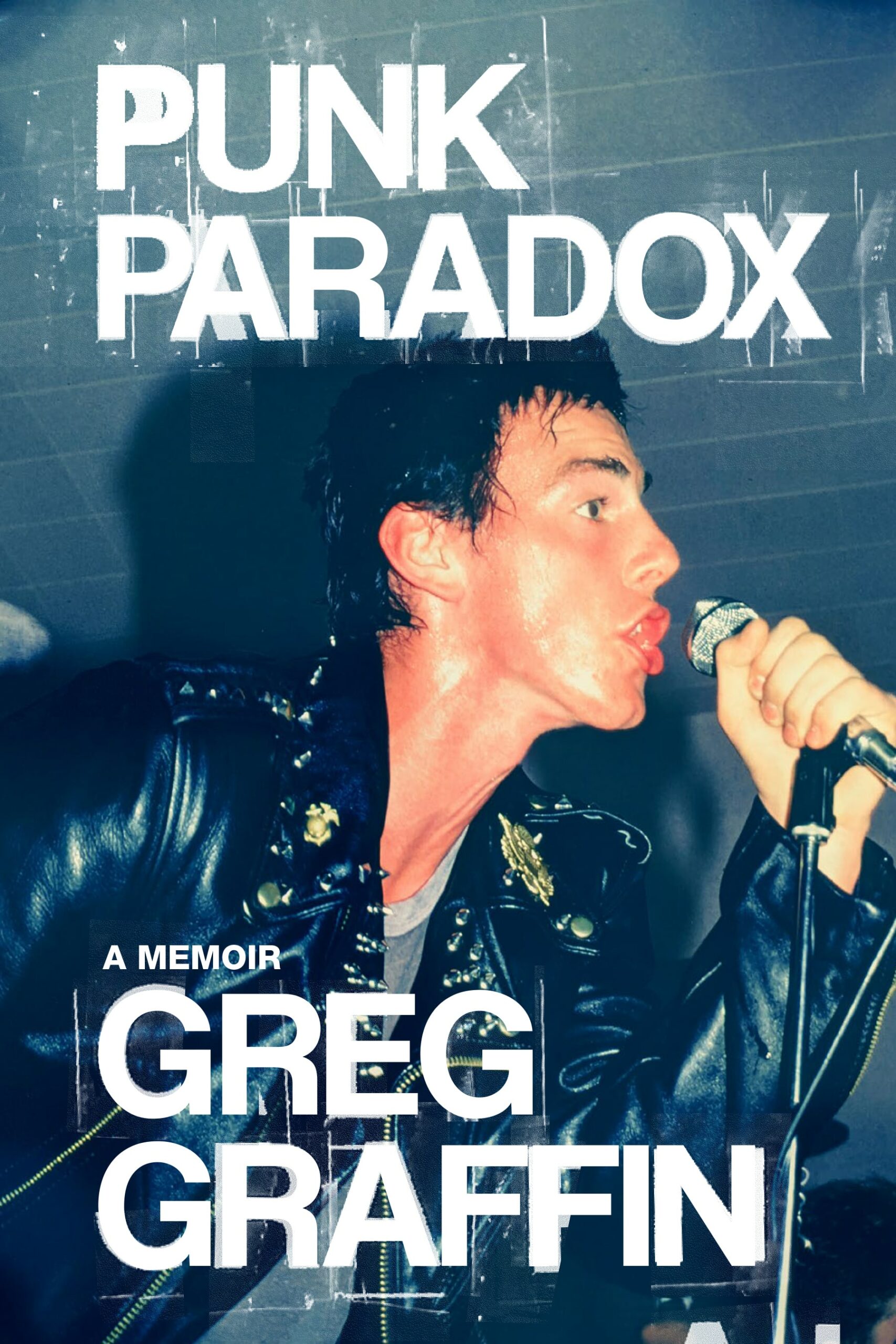 *DUMBO* Book Signing:
PUNK PARADOX by Greg Graffin
Tuesday Dec 13, 7-9 PM
Punk Paradox is Graffin's life narrative before and during L.A. punk's early years, detailing his observations on the genre's explosive growth and his band's steady rise in importance. The book begins by exploring Graffin's Midwestern roots and his life-changing move to Southern California in the mid-'70s. Swept up into the burgeoning punk scene in the exhilarating and often-violent streets of Los Angeles, Graffin and his friends formed Bad Religion, built a fanbase, and became a touring institution. All these activities took place in parallel with Graffin's never ceasing quest for intellectual enlightenment. Despite the demands of global tours, recording sessions, and dedication to songwriting, the author also balanced a budding academic career. In so doing, he managed to reconcile an improbable double-life as an iconic punk rock front man and University Lecturer in evolution.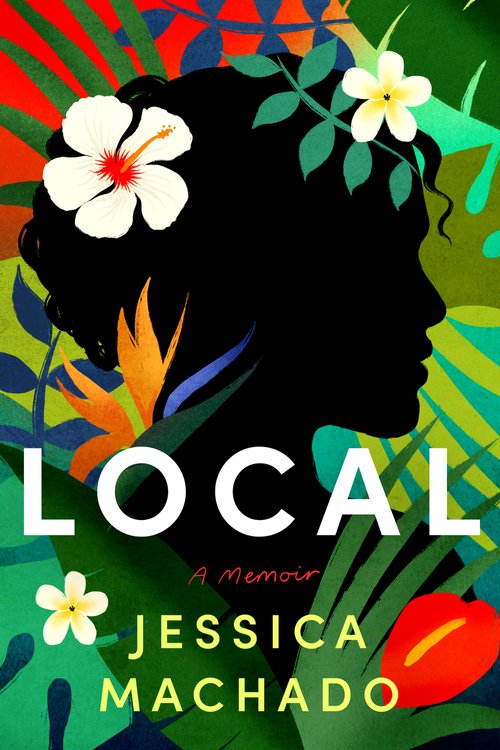 *DUMBO* Book Launch:
Local by Jessica Machado
Thursday Jan 12, 7-9 PM
A powerful, lush memoir about a Hawaiian woman who ran away from paradise to discover who she is and where she belongs.
Born and raised in Hawai'i by a father whose ancestors are indigenous to the land and a mother from the American South, Jessica Machado wrestles with what it means to be "local." Feeling separate from the history and tenets of Hawaiian culture that have been buried under the continental imports of malls and MTV, Jessica often sees her homeland reflected back to her from the tourist perspective―as an uncomplicated paradise. Her existence, however, feels far from that ideal. Balancing her parents' divorce, an ailing mother, and growing anxiety, Jessica rebels. She moves to Los Angeles, convinced she'll leave her complicated family behind and define herself. Instead, her isolation only becomes more severe, and her dying mother follows her to California. For Jessica, the only way to escape is a reckless downward spiral.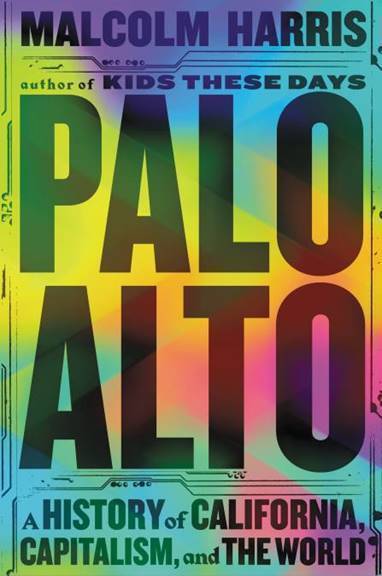 *DUMBO* Book Launch:
Palo Alto A History of California, Capitalism, and the World by Malcolm Harris
Wednesday Mar 01, 7-9 PM
In PALO ALTO, the first comprehensive, global history of Silicon Valley, Malcolm Harris examines how and why Northern California evolved in the particular, consequential way it did, tracing the ideologies, technologies, and policies that have been engineered there over the course of 150 years of Anglo settler colonialism, from IQ tests to the "tragedy of the commons," racial genetics, and "broken windows" theory. The Internet and computers, too. It's a story about how a small American suburb became a powerful engine for economic growth and war, and how it came to lead the world into a surprisingly disastrous 21st century. PALO ALTO is an urgent and visionary history of the way we live now, one that ends with a clear-eyed, radical proposition for how we might begin to change course.
Can't make an event but want a signed copy? We got you!
Just email brittany@POWERHOUSEBookstores.com
or leave a message at 718-666-3049 x100 to pre-order.
---
---
powerHouse Books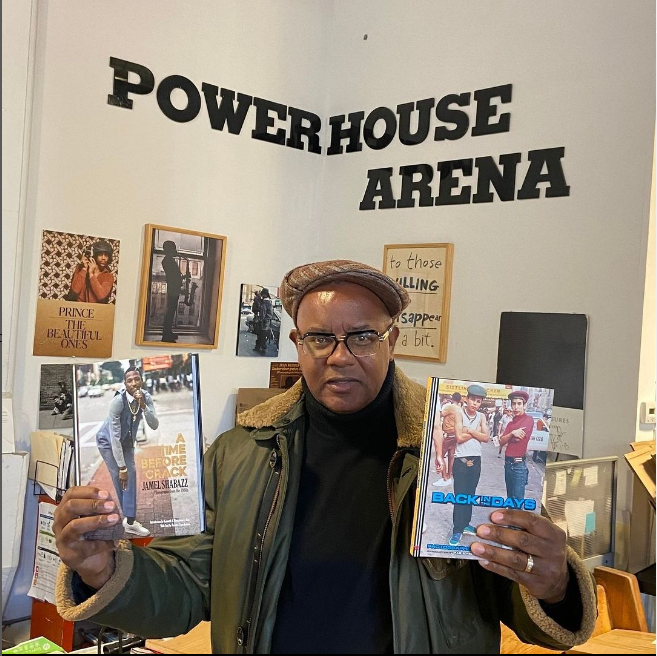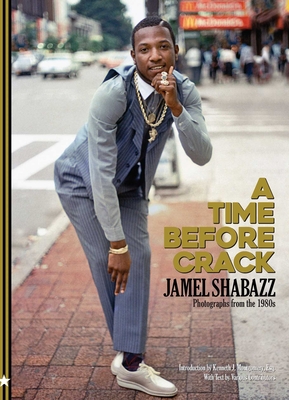 A Time Before Crack and Back in the Days: Signed copies now in stores!
"Deeply unpretentious and undistracted by the trendy new aesthetics or technologies, Mr. Shabazz is the best kind of photojournalist: one driven simply by curiosity about other human beings."
—Ken Johnson, The New York Times
Once upon a time before crack, inner city communities were blighted by poverty and unemployment—but not by the drug wars that tore families apart, destroying lives with needless violence and mindless addiction. Once upon a time before crack, pride and style were as inseparable as a beatbox and mixtape, or as a pair of shoes and matching purse. Once upon a time before crack, Jamel Shabazz was on the scene, working the streets of New York City, capturing the faces and places of an era that have long since disappeared.
Best known as Hip Hop's finest fashion photographer for his blockbuster best-selling monograph, Back in the Days (powerHouse Books, 2001), Shabazz revisited his archive and unearthed an extraordinary collection of never-before-published documentary photographs collected for his third powerHouse Books release, A Time Before Crack, a visual diary of the streets of New York City from the mid-seventies to the mid-eighties, Shabazz's distinctive photographs reveal the families, the poses, and the players who made this age extraordinary.
---
We're proud to be a #WomanOwnedBusiness
---
Staff Recommendations

---
Gift Certificates
Upcoming Events
Past Events
---
POWERHOUSE is voted one of the 10 best things to do in Dumbo, Brooklyn by Conde Nast Traveler.
Travel + Leisure selects POWERHOUSE as one of the World's Coolest Bookstores.
POWERHOUSE on 8th in Park Slope joins neighborhood solar panel community.
---
---
Nonchaloir
by Paul P.
Artists Edition
Each book in the edition of five with three AP's is bound in black cloth with a deluxe silver foil stamp and enclosed in a slipcase. Each edition comes with a unique, six by eight-inch watercolor exclusive to Nonchaloir, each signed and number on the version.
ISBN 978-1-57687-387-8
Editions begin at $3,500

It's All Good
by Boogie
Edition of One Hundred
Includes a slipcased copy of the book and a seven by ten-inch silver-gelatin print, signed and numbered by the artist.
ISBN 978-1-57687-344-1
$300

Disco Years
by Ron Galella
Ten Editions of Ten
Includes a slipcased copy of the book and an eleven by fourteen-inch silver-gelatin print, signed and numbered by the artist.
ISBN 978-1-57687-343-4
$400

WARHOL | MAKOS IN CONTEXT
by Christopher Makos
Edition of Five
Includes a copy of the book enclosed in a Lucite box, with a unique, vintage, signed eight by ten-inch contact sheet with the collection of the artist.
ISBN 978-157687-350-2
Please contact us for the price, selection, and availability.
Ten Editions of Twenty
Includes a slipcased copy of the book and an eight by ten-inch archival inkjet print, signed and numbered by the artist.
ISBN 978-1-57687-349-6
Editions begin at $200

Grim Street
by Mark Cohen
Edition of One-Hundred
Includes a clothbound slipcased copy of the book and an eight by ten-inch silver- gelatin print, signed and numbered by the artist.
ISBN 1-57687-254-8
$295

Autograf
by Peter Sutherland
Edition of Eighty-Five
Includes a copy of the book in a clothbound foil-stamped slipcase, a color print of an outtake photograph tagged by the pictured writers, and a digital c-print by MINT and SERF of 1134nyc exclusively produced for this edition.
ISBN 1-576870277-0
$150

The Face of Forgiveness
by Steven Katzman
Edition of One-Hundred
Includes a leather-bound copy of the book in a tip-on, gilded edges, a ribbon placeholder, and a silver gelatin print, signed and numbered by the artist.
ISBN 1-57687-297-1
$200

A Time Before Crack
by Jamel Shabazz
Edition of One-Hundred-Fifty
Includes a slipcased copy of the book and a color print, signed and numbered by the artist.
ISBN 1-57687-300-5
$175

The LeRoy Neiman Sketchbook: 1964 Liston Vs. Clay, 1965 Ali Vs. Liston
by LeRoy Neiman
Edition of Five-Hundred
Includes a slipcased, foil-stamped copy of the book and a signed and numbered color print. Sales to benefit CancerCare Assist.
ISBN 1-57687-236-X
$3,750

X-Ray

by François Nars
Edition of Five Hundred
Sold out in its regular clothbound edition, the limited edition of X-Ray contains a book signed by the artist and housed in a very special slipcased designed just for the edition by Sam Shahid and François Nars. Only a few remain.
ISBN 157687-036-7
$215

Social Graces
by Larry Fink
Two Editions of Twenty-Five
A rare updated edition of this classic artist's monograph: a signed and numbered slipcased clothbound book accompanies your choice of one of two ten-and-one-quarter by ten-and-one-quarter inch silver-gelatin photographs signed and numbered b the famed artist.
ISBN 1-57687-145-2
$450

PEARL
by Vincent Katz, Tabboo!
Edition of Fifteen
Collaborative unique artworks by Katz and Tabboo! in an edition inspired by the book; each piece measures twenty-two by thirty inches.
ISBN 1-57687-017-0
$750

Boulevard Transportation
by Rudy Burckhardt
Edition of Twenty-Six
Sold Out

All of a Sudden
by Jack Pierson
Edition of Twenty
The deluxe edition of this out-of-print hardcover classic includes three sixteen by twenty-inch color photographs signed and numbered by the artist; slipcased book signed as well. Few left.
$3,000

Grapevine
by Susan Lipper
Two Edition of Thirty-Five
Lipper's highly sought-after and out-of-print Grapevine is available now as a slipcased limited edition with a signed and numbered silver-gelatin photograph measuring eleven by eleven inches; only a few of either image remains.
ISBN 1-57687-023-5
$650

Ex Libris
by Ralph Gibson
Edition of One-Hundred
An artist-printed signed and numbered silver-gelatin photographic print, eight by ten inches, inside a specially produced clothbound slipcase with a book signed and numbered by the artist.
ISBN 1-57687-114-2
$375

Pictures of Paintings
by Richard Misrach
Edition of One-Hundred
Includes a slipcased edition of the book and a signed and numbered twenty-two by fifty-inch color triptych, a rare presentation by the artist.
ISBN 1-57687-162-2
$950

Pictures
by Jeff Bridges
Two Editions of One-Hundred-Fifty
Includes a copy of the book and one eight by ten-inch silver-gelatin print, signed and numbered by the artist, in a cloth clamshell box.
ISBN 1-57687-178-9
$500

Made in the UK
by Janette Beckman
Ten Editions of Twenty
Includes a slipcased copy of the book and an eight by ten-inch archival inkjet print signed and numbered by the artist.
ISBN 1-57687-298-X
$150
PLEASE NOTE: prices vary with availability

Monster
by Charlie White
Edition of Fifty
Included a slipcased copy of the book and an eight by ten-inch c-print, signed and numbered by
the artist.
ISBN 978-1-57687-421-9
$300

(b)

Lost Boys
by Slava Mogutin
Two Editions of Fifty
Includes a slipcased copy of the book and an eight by ten-inch c-print, signed and numbered by the artist.
ISBN 978-1-57687-345-8
$300 (a)
$400 (b)

Slide Show
by Helen Levitt
Edition of Fifty
Includes a clothbound slipcased copy of the book and an eight by nine-and-one-quarter-inch color print, signed and numbered by the artist.
ISBN 1-57687-305-6
$2,000

Public Access
by Ricky Powell
Edition of Eighty-Five
Includes a clothbound slipcased copy of the book and a digital c-print of an original collaboration between Ricky Powell and Dalek.
ISBN 1-57687-297-1
$150

The Destruction Of Lower Manhattan
by Danny Lyon
Edition of Fifty
Includes a clothbound slipcased copy of the book and an eight by ten-inch silver-gelatin print, signed and numbered by the artist.
ISBN 1-57687-255-6
$850

Touch Me I'm Sick
by Steven Katzman
Edition of One-Hundred
Includes a leather-bound copy of the book in a tip-on, gilded edges, a ribbon placeholder, and a silver gelatin print, signed and numbered by the artist.
ISBN 1-57687-297-1
$200

Disfarmer: The Vintage Prints
by Mike Disfarmer
Three Edition of Thirty-Five
Includes a clothbound slipcased copy of the book and a five-and-a-half by eight-and-three-quarter inch giclée print.
ISBN 1-57687-306-4
$350

Life is Paradise: The Portraits of Francesco Clemente
by Francesco Clemente, Vincent Katz
Edition of Four-Hundred
An original Clemente aquatint etching, printed in Rome, signed and numbered, measuring by fourteen-and-a-half inches, made especially for this Life is Paradise; the trade edition of which is completely sold-out. Includes a specially printed slipcase.
ISBN 1-57687-054-5
$650

Runway
by Larry Fink
Two Editions of Forty
An elegant gold-debossed slipcase contains a clothbound book with a signed and numbered ten-and-one-quarter by ten-and-one-quarter inch silver-gelatin photograph by the artist.
ISBN 1-57687-028-6
$450

Boxing
by Larry Fink
Edition of One-Hundred
The best-selling Larry Fink limited edition of one hundred slipcased clothbound books includes a signed and numbered print.
ISBN 1-57687-009-X
$1,500

As I See It
by Greg Gorman
Edition of Eighty
Artist-made deluxe slipcase containing a book, specially bound with padded leather with a tipped-on photograph of artist's choosing, and a seven-and-a-half inch silver-gelatin signed and numbered print.
ISBN 1-57687-087-1
$1,200

States
by Christopher Griffith
Edition of Eighty
The sumptuous slipcased clothbound book accompanied by an eleven by eleven-inch silver-gelatin photograph signed and numbered by the artist.
ISBN 1-57687-058-8
$450

Situations
by Sam Samore
Edition of Fifty
Rare out-of-print book with signed and numbered silver-gelatin photograph by the artist measuring four-and-a-half by seven-and-a-half inches.
ISBN 1-57687-024-3
$225

ENDURING JUSTICE
by Thomas Roma
Edition of Eighty
Artist-produced signed and numbered silver gelatin print measuring non-and-a-half by eight-and-a-half inches in a special clothbound slipcase.
ISBN 1-57687-121-6
$225

Red Light
by Sylvia Plachy
Edition of Three-Hundred
Signed and numbered slipcased books (by both the artist and collaborator Hanes Ridgeway) with a seven by nine-inch silver-gelatin photograph, signed and number by the artist.
ISBN 1-57687-001-4
$225

Prince Eagle
by Elizabeth Peyton
Edition of Thirty
A rare multiple organized by Thea Westreich; a signed and numbered gold-leaf silkscreen, just over seven by nine inches, by the artist nestled inside a specially handcrafted, embossed clamshell box wrapped with silk; includes a signed and numbered copy of the book.
ISBN 1-57687-123-1
$3,000

SO80S
by Patrick McMullan
Edition of Two-Hundred
Included a clothbound slipcased edition of the book and a seven by nine-inch silver gelatin print, signed and numbered by the artist.
ISBN 1-57687-202-5
$250
For More Information, please contact Craig Mathis | craig@powerHouseArena.com | 212.604.9074 ext. 123



Artist: Eric Jordan
Title: 3 Stacks
Medium: Mixed Media on Paper
Price: $120


Artist: DestroyRebuild (Collaboration with Klash)
Title: 3 Stripes
Medium: Acrylic, Enamel and Oxidation on Artificial Bricks
Price: SOLD


Artist: DURO
Title: 6 Trains (Transit Original Printers)
Medium: Acrylic & Paint Marker on Plastic Trains
Price: $SOLD


. . . . . . . . . . . . . . . . . . . . . . . . . . . . . . . . . . . . . . . . . . . . . . . . . . . . . . . . . . . .


Artist: 907
Title: 907 Was an Inside Job
Price: Please contact the Arena


Artist: 907
Title: 907 Was an Inside Job
Price: Please contact the Arena

Artist: 907
Title: 907 Was an Inside Job
Price: Please contact the Arena


. . . . . . . . . . . . . . . . . . . . . . . . . . . . . . . . . . . . . . . . . . . . . . . . . . . . . . . . . . . .

Artist: 907
Title: 907 Was an Inside Job
Price: Please contact the Arena


Artist: Celso
Title: Amores Torros
Medium: Collage on Wood
Price: $600



Artist: infinity
Title: An Aspirational Geography
Medium: Spray Paint, Oil Sticks and Paint Markers on Paper
Price: $800


. . . . . . . . . . . . . . . . . . . . . . . . . . . . . . . . . . . . . . . . . . . . . . . . . . . . . . . . . . . .


Artist: Sofia Maldonado
Title: Bombing Lullaby
Medium: Acrylic, Gold Dust, Paper & Ink on Wood
Price: $1,000



Artist: Brian Life
Title: Untitled
Medium: Airbrush on Canvas
Price: $800


Artist: ADER
Title: Brooklyn Life
Medium: Silkscreen Print, Edition: 1/5
Price: $225

. . . . . . . . . . . . . . . . . . . . . . . . . . . . . . . . . . . . . . . . . . . . . . . . . . . . . . . . . . . .


Artist: James TOP
Title: Brooklyn MC's
Medium: Mixed Media on Canvas
Price: $2,000


Artist: One9
Title: Burn Series #4
Medium: Mixed Media on Clay and Wood
Price: $1,250



Artist: UFO
Title: After Hours Crew #6
Medium: Ink on Paper in Steel Welded Frame
Price: $1,250


. . . . . . . . . . . . . . . . . . . . . . . . . . . . . . . . . . . . . . . . . . . . . . . . . . . . . . . . . . . .


Artist: Vanessa Chew
Title: Graffiti Writing Shelf
Medium: Mixed Media
Price: NFS



Artist: Vanessa Chew
Title: DJ Dinner Plate
Medium: Ceramic on Laser Cut Wood
Price: NFS

Artist: Vanessa Chew
Title: MC Cup
Medium: Ceramic on Laser Cut Wood
Price: NFS

. . . . . . . . . . . . . . . . . . . . . . . . . . . . . . . . . . . . . . . . . . . . . . . . . . . . . . . . . . . .


Vanessa Chew



Artist: Chris RWK
Title: From the not so slums of Shaolin
Medium: Mixed Media on Canvas
Price: SOLD



Artist: John Breiner
Title: G-Dini
Medium: Acrylic on Book Cover
Price: $750


. . . . . . . . . . . . . . . . . . . . . . . . . . . . . . . . . . . . . . . . . . . . . . . . . . . . . . . . . . . .


Artist: GEN II
Title: Untitled
Medium: Mixed Media Sculpture
Price: $1,000


GEN II Untitled
(Detail)



Artist: Darkclouds
Title: Giles
Medium: Mixed Media on Wood
Price: $800


. . . . . . . . . . . . . . . . . . . . . . . . . . . . . . . . . . . . . . . . . . . . . . . . . . . . . . . . . . . .


Artist: Joe Conzo
Title: Cold Crush Brothers "Punk Rock Rap" circa 1983
Medium: Digital Print from Slide
Price: $750



Artist: KOSBE
Title: Hip Hop
Medium: Mixed Media on Paper
Price: $300



Artist: Don Morris
Title: Holy Mountain: Beanie Sigel
Medium: Archival Inkjet print, Hahnemühle paper
Price: $2,500


. . . . . . . . . . . . . . . . . . . . . . . . . . . . . . . . . . . . . . . . . . . . . . . . . . . . . . . . . . . .


Artist: Miguel Ovalle
Inscribed Kitana Swords
Price: $1,000 each

Artist: Miguel Ovalle


Artist: Miguel Ovalle
Inscribed Kitana Swords
Price: $1,000 each


. . . . . . . . . . . . . . . . . . . . . . . . . . . . . . . . . . . . . . . . . . . . . . . . . . . . . . . . . . . .


Back in the Days Remix



Artist: Jamel Shabazz
Images from Back in the Days Remix
Price: NFS

Artist: Jamel Shabazz
Images from Back in the Days Remix
Price: NFS


. . . . . . . . . . . . . . . . . . . . . . . . . . . . . . . . . . . . . . . . . . . . . . . . . . . . . . . . . . . .

Artist: Jesus Saves
Title: Untitled
Medium: Acrylic on Wood
Price: $500


Artist: CAM
Title: Lord G
Medium: Digital Print
Price: $250


Artist: FARO
Title: Magic Scarab Called Quest
Medium: Mixed Media on Wood
Price: $1,000



. . . . . . . . . . . . . . . . . . . . . . . . . . . . . . . . . . . . . . . . . . . . . . . . . . . . . . . . . . . .


Artist: Martha Cooper
Title: Untitled (DONDI's Bedroom)
Medium: Photo Print
Price: NFS


Artist: Ellis G
Title: Milk Crate
Medium: Chalk Shadow Outline on Tar Paper
Price: $500


Artist: Moody
Title: Moody Bluez
Medium: Laser Print on Canvas, Edition: 1/4
Price: $400



. . . . . . . . . . . . . . . . . . . . . . . . . . . . . . . . . . . . . . . . . . . . . . . . . . . . . . . . . . . .

Artist: Mike Schreiber
Title: Mos Def

Medium: Silver Gelatin Print, Edition: 1/44
Price: $675


Artist: Matt Siren
Title: Mrs. Skankor
Medium: Acrylic and Silkscreen on Wood
Price: $2,000

Artist: Abe Lincoln Jr.
Title: Never Be Whack
Medium: Watercolor and Cel Vinyl on Watercolor Paper
Price: $200




. . . . . . . . . . . . . . . . . . . . . . . . . . . . . . . . . . . . . . . . . . . . . . . . . . . . . . . . . . . .

Artist: DROID
Title: Off The Wall
Medium: Stolen Wall with Graffiti from Red Hook
Price: NFS


Artist: Overunder
Title: Untitled
Medium: Gouache on Found Wood
Price: $300


Artist: RAID
Title: Pace OPS
Medium: Aerosol on Canvas
Price: $600



. . . . . . . . . . . . . . . . . . . . . . . . . . . . . . . . . . . . . . . . . . . . . . . . . . . . . . . . . . . .

Artist: OZE 108
Title: Rawthentic Manimal Menergy
Medium: Ink and Spray Paint on Paper
Price: $250


Artist: Royce Bannon
Title: Read Between The Lines
Medium: Acrylic and Markers on Wood
Price: $800


Artist: Tony Bones
Title: Schnetzel
Medium: Acrylic on Canvas
Price: $200



. . . . . . . . . . . . . . . . . . . . . . . . . . . . . . . . . . . . . . . . . . . . . . . . . . . . . . . . . . . .

Artist: SKI of URnewyork
Title: SKI
Medium: Mixed Media on Wood
Price: $777


Artist: Hellbent
Title: Skull & Jawbone
Medium: Carving and Acrylic on Wood
Price: SOLD


Artist: AK5
Title: Slow Suicide on Them City Sidewalks
Medium: Enamel and Collage on Paper
Price: $500



. . . . . . . . . . . . . . . . . . . . . . . . . . . . . . . . . . . . . . . . . . . . . . . . . . . . . . . . . . . .

Artist: The Me Nobody Knows
Title: Soup & Crackers
Medium: Acrylic, Enamel, Spray Paint on Canvas
Price: $4,000


Artist: Adam Void
Title: The Bicentennial Kid
Medium: Embroidery on Vintage Cloth
Price: SOLD


Artist: Alice Mizrachi
Title: The Dream
Medium: Ink on Leather
Price: $1,200



. . . . . . . . . . . . . . . . . . . . . . . . . . . . . . . . . . . . . . . . . . . . . . . . . . . . . . . . . . . .

Artist: King BEE
Title: The Royal KingBee
Medium: Spray Paint on Canvas
Price: $1,600


Artist: PESU
Title: Under The Influence

Medium: Acrylic and Marker on Canvas
Price: $1,200



Artist: Keely
Title: Dracula Fish

Medium: Screen Print, Acrylic, Spray Paint and Enamel on Wood
Price: $600 (For the diptych)

. . . . . . . . . . . . . . . . . . . . . . . . . . . . . . . . . . . . . . . . . . . . . . . . . . . . . . . . . . . .

Artist: Veng RWK
Title: Veng
Medium: Watercolor on Paper
Price: NFS


Artist: ViK
Title: Untitled
Medium: Mixed Media on Skateboard
Price: $500


Artist: SADUE
Title: Wanted For Rap
Medium: Oil, Epoxy and Acrylic Collage on Wood
Price: $150



. . . . . . . . . . . . . . . . . . . . . . . . . . . . . . . . . . . . . . . . . . . . . . . . . . . . . . . . . . . .

Artist: Cash4
Title: We All Miss The Nineties
Medium: Acrylic on Canvas
Price: $450

Artist: ViK
Title: Untitled
Medium: Mixed Media on Skateboard
Price: $500


Artist: Toofly
Title: What We Love…
Medium: Acrylic on Cardboard
Price: $800



. . . . . . . . . . . . . . . . . . . . . . . . . . . . . . . . . . . . . . . . . . . . . . . . . . . . . . . . . . . .

Artist: Tetsuya Shimoyama
Title: 212
Price: NFS

Artist: Tetsuya Shimoyama
Title: 212
Price: NFS


212 Magazine
On sale now
Price: $10/each



. . . . . . . . . . . . . . . . . . . . . . . . . . . . . . . . . . . . . . . . . . . . . . . . . . . . . . . . . . . .

Prices do not include NY sales tax or applicable shipping fees.
For More Information, please contact Craig Mathis | craig@powerHouseArena.com | 212.604.9074 ext. 123