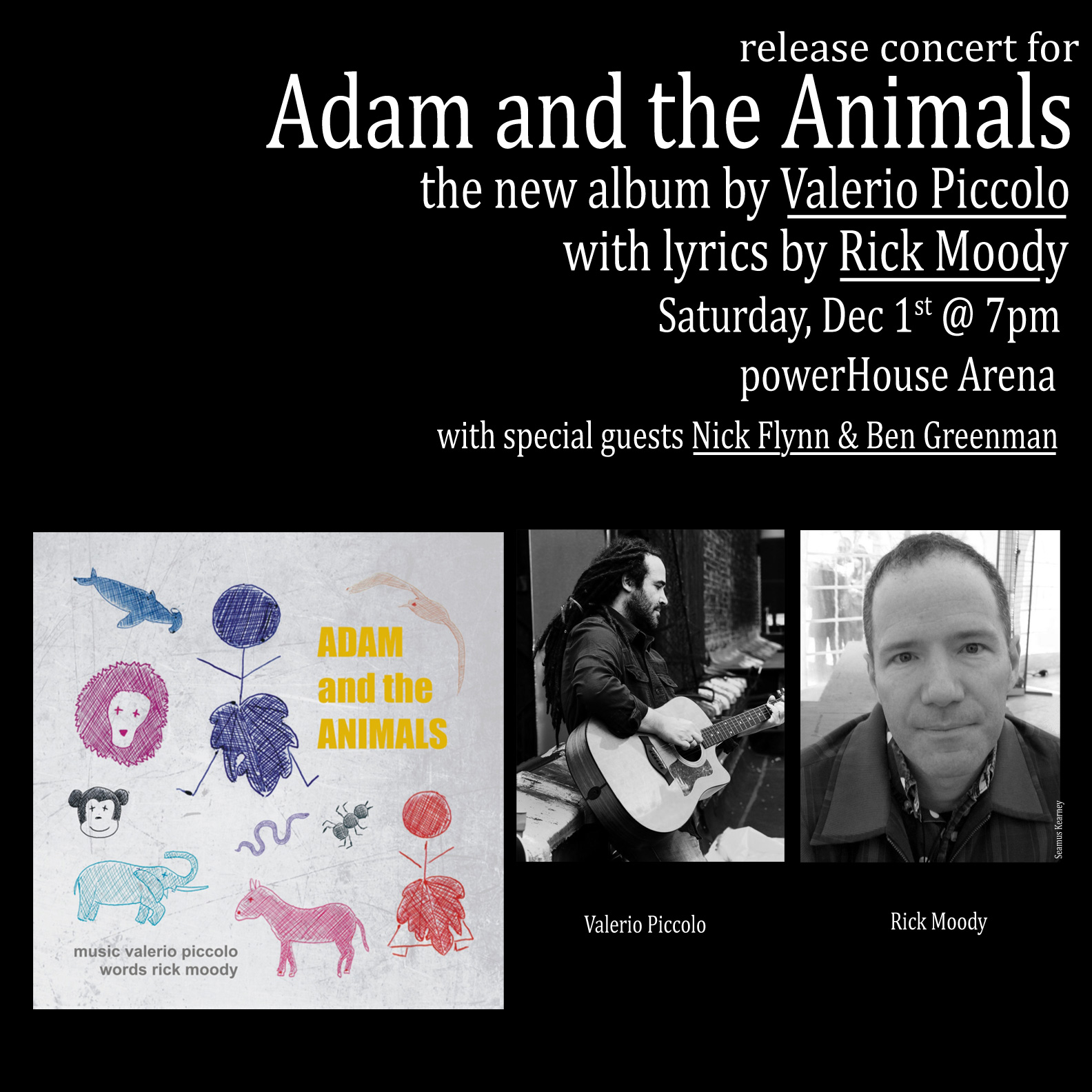 Saturday Dec 01, 2018
7:00 pm - 9:00 pm
POWERHOUSE @ the Archway
28 Adams Street (Corner of Adams & Water Street @ the Archway)
Brooklyn , NY 11201
RSVP encouraged & appreciated.
Please fill out the form at the bottom of this page if you plan on attending. Facebook event found here.
PLEASE NOTE: Submitting an RSVP for this event DOES NOT guarantee entrance. This is a free-access event — entrance will be on a first-come, first-served basis.
---
About the Album.
In the new album Adam and the Animals, the Italian singer-songwriter Valerio Piccolo teams up with the American novelist and short-story writer Rick Moody to deliver ten songs that bridge the pleasures of literary fiction and indie music.
 "Think of them as microfictions with melodies," says Piccolo.
Adam and the Animals  is not the first time these two artists have worked together. Piccolo's previous album, Poetry Notes (2016), features a song with lyrics written by Moody, "The Shooting Stars," amidst other tracks with lyrics written by Kevin Young, Jonathan Lethem, Ben Greenman, Nick Flynn, Meghan O'Rourke, Sarah Manguso, Dean Young,and Suzanne Vega.
But the new album is all Moody and Piccolo, and—as the name suggests—uses the biblical creation story as a jumping off point to explore language and communication. But while Adam and Eve and the Snake all make appearances, so do songs like "Monkey," about a man on a bender that takes him across Europe, and "Albatross," about a doomed ocean voyage.
Listeners will pick up on literary allusions throughout the album, from Shakespeare to Cervantes to Umberto Eco and Arthur C. Clarke.
"Rick's a terrifically skilled songwriter," Piccolo says, "with a great sense of narration and rhythm. Maybe it's connected with his short story writing: he can take you far away from yourself in just a few lines, and then all of a sudden it comes back around and he's brought you back to yourself. It's great to be a way to help those words find listeners."
At this album release party, Piccolo will play selections from Adam and the Animals and Poetry Notes, and he and Moody will discuss what it was like working together on the new album.
Nick Flynn (author of Another Bullshit Night in Suck City  and many other memoirs and poetry collections) and Ben Greenman (author of Emotional Rescue: Essays on Love, Loss, and Life—With a Soundtrack, and many other books) will also be on hand to discuss their collaborations with Valerio and having their writing transformed into songs and performed by Piccolo.

About the Lyricist.
Rick Moody is the author of many works of fiction, including Garden State: A Novel (1992), The Ice Storm (1994), Demonology (2000), The Four Fingers of Death: A Novel (2011), Hotels of North America (2015), and many others. Moody has also written extensively on music, some of which can be found in On Celestial Music: And Other Adventures in Listening (2012) and in his 80-odd post (and counting) column, "Swinging Modern Sounds," on The Rumpus.
About the Musician.
Valerio Piccolo is a singer and songwriter from Rome, Italy. His previous full-length albums in Italy include Manhattan Sessions (2007) and Poetry (2014), which featured songs he went on to record again in the original English lyrics  for Poetry Notes (2016). His EPs include Union Square (2010), Suono nell'aria (2011), Ordine (2014), and Hourglass (2018). Piccolo also translates films from English, Spanish, French, German, and Russian into Italian, for which he has won the artform's highest honors, most recently the Gran Premio Internazionale del Doppiagio (the "Oscars of Italian of the dubbing industry") for Florence Foster Jenkins and at the Voici nell'ombra for The Post.
RSVP
Bookings are closed for this event.