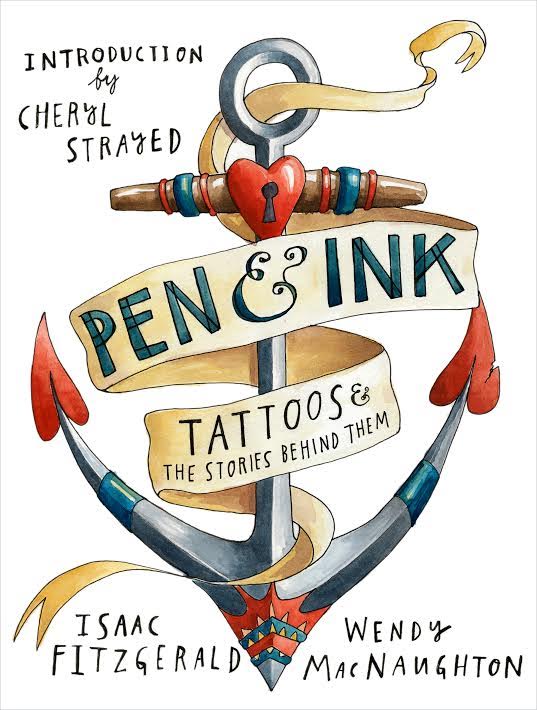 Monday Jul 13, 2015
7:00 pm - 9:00 pm
THE POWERHOUSE ARENA [Dumbo]
37 Main Street
Brooklyn, NY 11201
For more information, please call 718.666.3049
RSVP appreciated: RSVP@powerHouseArena.com
-or-
Please fill out the "Bookings" form at the bottom of this page.
---
Join us for the third anniversary of Pen and Ink, the book based on the popular Tumblr blog.  This book grants us access to the tattoos of artists, writers, rockers, and ordinary people, along with the stories that inspired their creation.  Creators Isaac Fitzgerald and Wendy MacNaughton will be joined by Emmy Favilla, Anthony Ha, Adam J. Kurtz, Conz Preti and Morgan Parker.
About Inked Magazine:
Inked is the convergence of culture, style, and art. It's the voice of "rebellious luxury" to legion of hip, edgy, and creative individualists. Packed with the latest in though, fashion, music, art, and pop culture, Inked provides a unique platform for an audience of innovators to interact in an unparalleled way.
About Pen and Ink:
"In Pen & Ink, Isaac Fitzgerald and Wendy MacNaughton have captured the fascinating stories people secret beneath their skin, how they have marked their skin and why. The revelations in this remarkable collection are, in turns, poignant, charming, heartbreaking, and honest. Like tattoos, these stories leave an impression that will linger." —Roxane Gay
"Reveal[s] the often hilarious, sometimes poignant stories behind these permanent remnants of our fleeting opinions, passions, and phases." —O, the Oprah Magazine
Learn about the history behind the tattoos of writers Cheryl Strayed, Tao Lin, and Roxane Gay; rockers in the bands Korn, Otep, and Five Finger Death Punch; along with the tattoos of the ordinary people living in our midst—from professors to thrift store salespeople, cafe owners to librarians, union organizers to administrators—and their extraordinary lives.
Curated and edited by Isaac Fitzgerald, books editor at BuzzFeed, each story features bestselling illustrator Wendy MacNaughton's exquisitely rendered artwork. At its heart, beneath its colorful skin, Pen & Ink is an exploration of the decision to scar one's self with a symbol and a story.
About the Authors and Moderator:
Isaac Fitzgerald has been a firefighter, worked on a boat, and been given a sword by a king, thereby accomplishing three out of five of his childhood goals.  He is the editor of BuzzFeed Books, and he is currently living in New York City.
---
Wendy MacNaughton is a New York Times bestselling illustrator whose books include Lost Cat: A True Story of Love, Desperation, and GPS Technology and The San Francisco Public Library in its Own Words, and whose work has alleared in places like the Times, The Wall Street Journal, Lucky Peach, and Print Magazine. She lives in San Francisco.
Emmy Favilla is the copy chief at BuzzFeed, where she regularly fields questions like "Is blow job one word or two?" (it's two) and "How do you spell yaaass?" (just like that). Prior to BuzzFeed, she was copy chief at Teen Vogue and had a handful of full-time and freelance writing and editing stints at magazines including Natural Health, POZ, Seventeen, and Blender. Emmy is a proponent of the serial comma, a huge fan of cats, and the proud owner of a tattoo of the copyediting symbol for the em dash.
Anthony Ha is a technology journalist and science fiction writer living in Brooklyn. His short story chapbook Love Songs For Monsters was published in 2014. And he's pretty good at karaoke.
Conz Preti was born in Argentina and grew up bouncing between Colombia and Brazil. She is the Regional Director of the Americas for BuzzFeed, lives with her mutt pup Violet in Williamsburg, and has 10 tattoos, the first of which she got at age 18 after promising her parents that she would only get piercings until she was in college.
Morgan Parker is the author of Other People's Comfort Keeps Me Up At Night (Switchback Books 2015), selected by Eileen Myles for the 2013 Gatewood Prize. Her work has been featured or is forthcoming in numerous publications, as well as anthologized in Why I Am Not A Painter (Argos Books) and The BreakBeat Poets: New American Poetry in the Age of Hip-Hop (Haymarket Books). Winner of a 2016 Pushcart Prize and a Cave Canem graduate fellow, Morgan lives with her dog Braeburn in Brooklyn, NY. She works as an Editor for Amazon Publishing's imprint Little A, and moonlights as poetry editor of The Offing. She also teaches Creative Writing at Columbia University and co-curates the Poets With Attitude (PWA) reading series with Tommy Pico.
RSVP
Bookings are closed for this event.