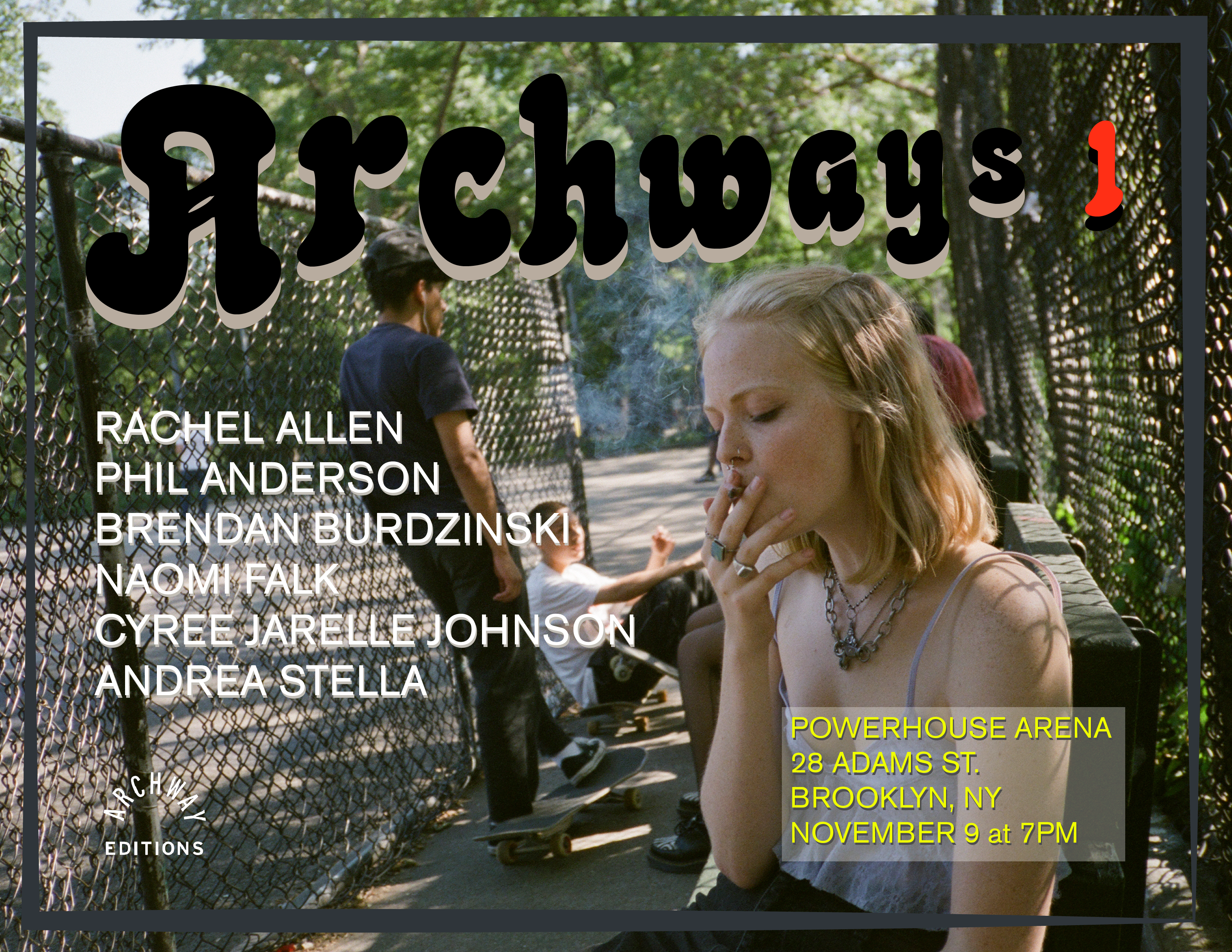 Saturday Nov 09, 2019
7:00 pm - 9:00 pm
POWERHOUSE @ the Archway
28 Adams Street (Corner of Adams & Water Street @ the Archway)
Brooklyn , NY 11201
RSVP encouraged & appreciated.
Please fill out the form at the bottom of this page if you plan on attending. Facebook link can be found here.
PLEASE NOTE: Submitting an RSVP for this event DOES NOT guarantee entrance. This is a free-access event — entrance will be on a first-come, first-served basis.
---
About the Event.
Archway Editions is the new literary imprint of powerHouse Books, the world-famous art book publisher currently distributed by Penguin Random House.
Archway's mission statement is "to publish the finest authors, at all stages of their careers, who write material which is at odds with the prevailing status quo, both legendary and emerging.  This series is designed to be a literary compliment to the trailblazing artbooks of powerHouse Books proper, pocket-sized texts that are guaranteed to alter the way you see the world."
The first publications scheduled for 2020 are Ishmael Reed's play The Haunting of Lin-Manuel Miranda, Paul Schrader's First Reformed screenplay and Last Poems by John Farris.  The imprint is genre-blind with a goal to publish unconventional books for the widest possible audience.
Archways is the accompanying reading series, which aims to bring that into practice.  Each event will be accompanied by a zine of texts read at the event, which will be compiled into annual anthologies of the same name.  They will showcase authors published through Archway Editions and elsewhere.
Refreshments will be served.
About the Readers.
Rachel Allen is a writer from New York and North Carolina. Her work has been in Best American Experimental 2018, 3:am, Full Stop, Guernica, and The Fanzine. She is an editor at Guernica and at Asymptote. In 2019, she is in residence with the Tulsa Artist Fellowship.
Phil Anderson has an MFA in fiction from Columbia University, where he also taught undergraduate creative writing. He is currently working on a collection of stories and a novel. He lives in New Haven with his partner and two cats.

Brendan Burdzinski lives and works in New York, NY. Recent exhibitions include Grand Slam, Geary Contemporary (2017), Annual Group Show, Wood Pile (2016), Cold Open Verse, presented by Blonde Art Books & Poet Transmit, Knockdown Center (2016), One Night Stand, Duty Free Gallery (2016), and Annual Group Show, Woodpile (2016). He also participated in the Los Angeles, CA exhibition Snap to Grid, LACDA (2015). Curatorial projects include Postures: Sophie Hirsch, Duty Free Gallery (2016). He received a BA in Photo Journalism from University of California at Long Beach (Long Beach, CA).His work has been featured in Cultured Magazine, Dazed, Muse, Office, Puss Puss, T, Vanity Fair and others.
Naomi Falk lives in Bushwick. Her writing fixates on art, intimacy, and the ways in which we engage and disconnect our sensory perceptions. She works at The Museum of Modern Art, is the Editorial Director of Ki Smith Gallery, and is co-founder of NAUSIKÂE NYC.
Cyree Jarelle Johnson is a writer and librarian living in New York City. His first book of poetry SLINGSHOT was published by Nightboat Books in September. He is currently an Undergraduate Creative Writing Teaching Fellow at Columbia University, where he is also a candidate for an MFA. His work has appeared recently in The New York Times and WUSSY. He has given speeches and lectures at The White House, The Whitney Museum of American Art, The University of Pennsylvania, The Philadelphia Trans Health Conference, Tufts University, and Mother Bethel AME Church, among other venues. His work has been profiled on PBS Newshour and Mashable. Cyrée Jarelle has received fellowships and grants from Culture/Strike, Leeway Foundation, Astraea Foundation, Rewire.News/Disabled Writers, Columbia University, and the Davis-Putter Scholarship Fund. He is a founding member of The Harriet Tubman Collective and The Deaf Poets Society.
Andréa Stella (she/her/hers) teaches Writing for Engineering at the City College of New York and researches how to de-center whiteness in STEM writing composition for her PhD at the Graduate Center. She spent a decade running a syringe exchange in the East Village.
RSVP
Bookings are closed for this event.