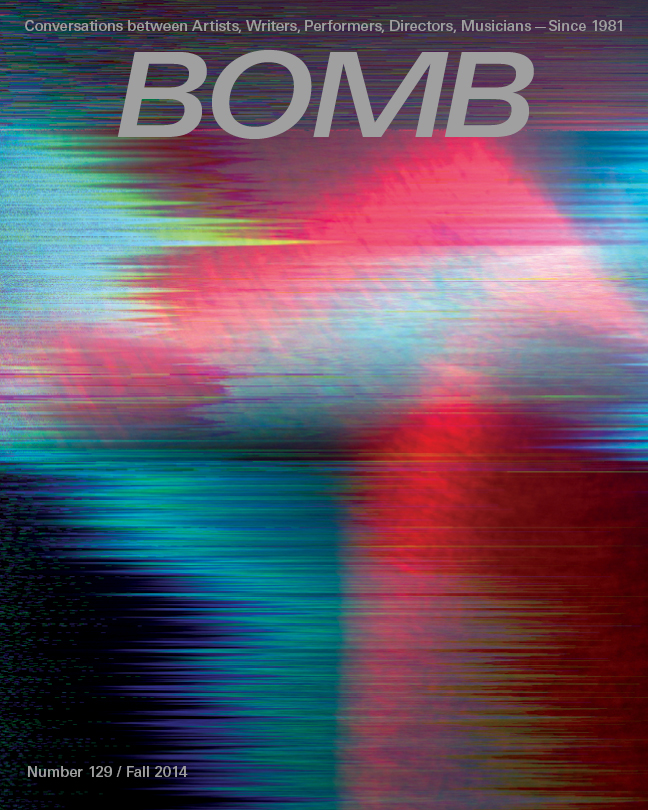 Wednesday Oct 15, 2014
7:00 pm - 9:00 pm
THE POWERHOUSE ARENA [Dumbo]
37 Main Street
Brooklyn, NY 11201
For more information, please call 718.666.3049
RSVP appreciated: RSVP@powerHouseArena.com
-or-
Please fill out the "Bookings" form at the bottom of this page.
---
Putting artists in conversation with other artist, BOMB Magazine takes over the Arena to celebrate the release of the fall issue, with Claudie Rankine, James Hoff, Eli Keszler, and more.
About BOMB Magazine: 
BOMB Magazine has been publishing conversations between artists of all disciplines since 1981. BOMB's founders—New York City based artists and writers—created BOMB because they saw a disparity between the way artists talked about their work among themselves and the way critics described it.
Bomb About us page from BOMB Magazine on Vimeo.
Today, BOMB is a multi-media publishing house that creates, disseminates, and preserves artist-generated content from interviews to artists' essays to new literature. BOMB includes a quarterly print magazine, a daily online publication, and a digital archive of its previously published content from 1981 onward.
About the Authors and Artists, from BOMB 129: 

Claudia Rankine: "Tone is an everyday kind of maneuver. It disrupts and communicates aggression, disgust, dis- respect, and humor, among a myriad of possibilities, thereby allowing language to morph into a blanket or a gun. It helps me know how to read the spaces between things. One has an ear out for it always. It's a thing to be translated."

Frederic Tuten: "In the few months before his story was to appear, he was treated differently at work and at his usual hangouts. The bartender at the White Horse Tavern, himself a yet unpublished novelist, called out his name when he entered the bar and had twice bought him a double shot of rye with a beer backer. He had changed in everyone's eyes: He was soon to be a published writer."

James Hoff: "Much of my project in the last few years has centered on taking these immaterial actors that reside within cultural networks as a starting point, attempting to reverse-engineer forms of expression or communication from them. I borrow from the historical vernacular of abstraction to render the work as abstract paintings. It allows me to talk about viruses using the language of painting rather than the technical jargon of computer programming or the hyperbole of mass media. In this way, abstraction functions as a lens, an interface."

Eli Keszler: "Drumming has its own drama too, and its own stigmas and clichés attached to it. Part of the challenge is how to confront them in some way, since they are built into it. For me that came from balancing installation with performance, and looking at it from the outside in. Having one foot in and one foot out is crucial. Maybe that is a connection between our work: we both try to look at forms from the outside and find ways to work from another angle."
(All quotes from BOMB 129 Fall 2014)
RSVP
Bookings are closed for this event.