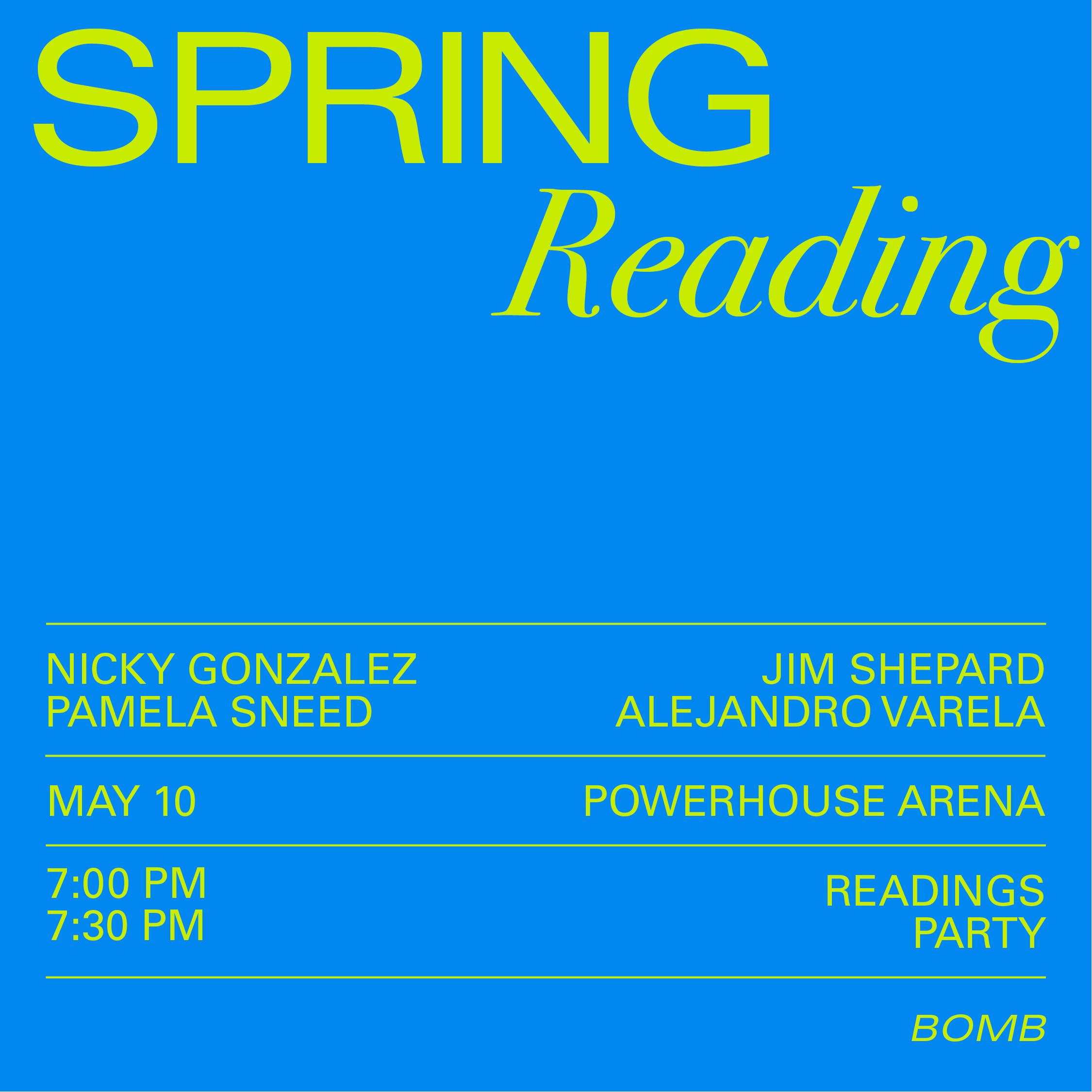 Wednesday May 10, 2023
7:00 pm - 9:00 pm
POWERHOUSE @ the Archway
28 Adams Street (Corner of Adams & Water Street @ the Archway)
Brooklyn , NY 11201
Get Tickets Here!
This event will be IN-PERSON – masks recommended. RSVP here!
---
Join us for a celebration of BOMB's Spring 2023 issue featuring readings by Nicky Gonzalez, Jim Shepard, Pamela Sneed, and Alejandro Varela.
Following the readings, we will have a cocktail party with prosecco and spring concoctions at Powerhouse Arena's bar. The spring issue will be there for sale as well as our new tote!
Event Time: 7PM–9PM
7:00 PM Reading
7:30 PM Party
This event is free, but we encourage you to RSVP so you can enter a raffle to win a free BOMB tote bag, the spring issue, and a copy of each of our reader's books!
About the authors
Nicky Gonzalez is a writer from Hialeah, Florida. Her fiction has appeared or is forthcoming in McSweeney's Quarterly Concern, BOMB Magazine, Kenyon Review Online, Taco Bell Quarterly, and other publications. She has received support from the Elizabeth George Foundation, the Granum Foundation, Millay Arts, Lighthouse Works, and the Hambidge Center. She is currently working on a novel and a short story collection.
Jim Shepard is the author of seven novels, including most recently The Book of Aron, which won the Sophie Brody Medal for Achievement in Jewish Literature from the American Library Association and the PEN/New England Award for fiction, and five story collections, including his new collection, The World To Come. Five of his short stories have been chosen for the Best American Short Stories, two for the PEN/O. Henry Prize Stories, and one for a Pushcart Prize. He teaches at Williams College.
Pamela Sneed is a New York-based poet, performer, visual artist, and educator. She is the author of Funeral Diva (City Lights Books, 2020), Sweet Dreams (Belladonna*, 2018), KONG (Vintage Entity Press, 2009), Imagine Being More Afraid of Freedom than Slavery (Holt, 1998), and others. Sneed has performed at the Whitney Museum, Brooklyn Museum, Poetry Project, The High Line, the New Museum, and the Toronto Biennale. She appears in Nikki Giovanni's "The 100 Best African American Poems," and has been nominated for two Pushcart Prizes.
Alejandro Varela (he/him) is a writer based in New York. His debut novel, The Town of Babylon(2022), was published by Astra House and was a finalist for the National Book Award. His work has appeared in The Point Magazine, Georgia Review, Boston Review, Harper's, and The Offing, among others outlets. Varela is an editor-at-large of Apogee Journal. He has a Master's Degree in Public Health. The People Who Report More Stress is his most recent collection.